The 10 Commandments of Make-up According To Tom Ford
Sep 24, 2011 - by Nicole Vardo
Thanks to the September issue of Vogue, we can all set our sights on a new way to twist up our style. Starting with the most important- your make-up according to the one and only Tom Ford.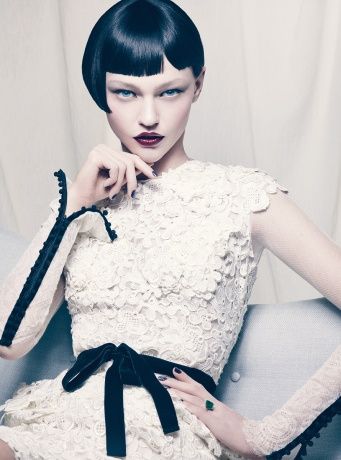 1. You dont need any sleep to look radiantif you have Tom Ford Traceless Foundation Stick and finishing powder on hand. The morning I go to meet Ford at his glitzy London HQ, he has had two hours sleep the night before. He has terrible insomnia. However, in his immaculate black suit, white shirt, and black tie, he looks crisp and fresh. I would like to know his secret, I tell him.

Powder under the eyes, he declares authoritatively. The only thing making you have bags is the light hitting the high points of the skin. If there is translucent powder under your eyes, he saysgrabbing a gorgeous glossy brown-and-gold compact and, looking in the mirror, dusting finishing powder under each eyeand you use a little stick foundation, and then the powder in moderation, the shadows are gone.

Ford is endearingly vain. For a man so famously handsome and successful, he is as insecure as a teenager about his looks. Even though he spends serious amounts of time peering into his magnifying mirror (a compulsory piece of equipment, according to Ford), its not to say, Wow, I look great; its to think, Im getting older and my eyebrows are getting longer and they need a cut, and oh, God, maybe I need a little more Botox here. So all I see are flaws when I look in the mirrorinitially, until I correct them.

The point is, whatever the beautiful 50-year-old Ford is doing, he wears makeup. And the starting point for himand so for his cosmetics lineis flawless skin. As well as stick foundation, the range includes primer and an extraordinarily light traceless liquid foundation. When I try it, it seems to magically disguise any unevenness in my skin without being visible. I usually hate foundation because its so obvious, but this feels and looks completely differentlike nothing is there at all. Everything about the Tom Ford world is perfect, says makeup artist Charlotte Tilbury, who helped Ford create the line, and that includes perfect glowing skin. I tried Fords moisturizers and serumshis collection includes skin care as wellover the space of six weeks, and my complexion seemed to spring into bloom.

2. Get a dressing table now. One of Fords favorite childhood memories is of watching his mother do her face every morning at a dressing table equipped with magnifying mirrors and spotlights at their home in the Houston suburbs. She looked like Tippi Hedren, he remembers. She didnt wear a lot of eye shadow, but there was definitely foundation, a brow, and lipstick with a very orange, 1960s cast to it. She would tease her hair up between sips of coffee, spraying on the Aqua Net, as its called in Texas.

Tom Ford isnt about on-the-go makeup. When my box of his new products arrivesmahogany-handled brushes (manufactured by the worlds finest brush factory, in Japan), blushers, powders, kohl pencils, nail colors, lip glosses, and lipsticksthe need for a dressing table is suddenly pressing. I have to spread it out all over my bed just to take it in. You cant put this makeup on in the subway or in the car ever, Ford had told me. Because if you paint your mouth on slightly crookedly, you no longer have a straight mouth, you have a crooked mouth. Why would you do that?

3. Manners maketh makeup. Ford is famously old-fashioned about putting on your face in public. If a girl needs a touch-up, he says, she should go to the powder room. There are, though, exceptions. If you have a gorgeous hand and gorgeous mannerisms and a gorgeous compact . . . theres a very well known beauty, I cant say her name, but I used to see her a bit for dinner, he confides. Shed lay out a compact, a lip brush, a lipstick, and it was like part of the knife and fork. After each course, out came the compact and the lipstick, and somehow she pulled it off, because it was so much her thing.

4. Makeup is the new It bag: Change it and you dont need a new frock. You can take a little black dress, explains Ford, and put on twenties makeup, thirties makeup, or seventies makeup, and that dress becomes totally different. 5. Thou shalt wear full on color for evening. Ford has always believed in color in his clothing. His makeup range contains every shade the Tom Ford woman needs for her face: sexy nudes, glamour reds, moody plums, midnight blues, and titanium blacks for night.

After timidly playing with the colors at home, Im ready to give them a trial outing. The occasion: insanely fabulous tickets to see Alicia Keys at a one-night-only performance in London.

The look starts with nails. I take a bottle of African Violeta luscious dark-fuchsiato Coco Nail Bar on Portobello Road, just about the only place you can get a simultaneous mani-pedi in London. The manicurist whispers that she feels honored to be using the first Tom Ford polish. Once my nails are done, I feel the beginnings of a Bianca Jagger moment coming on: The exotic dark pink reminds me of the lacquered, lipsticked icon in her heyday.

It seems right to make up my eyes more daringly than usual. I pick the palette of lilacs and purples, Violet Dusk, and gradually layer on each shade, topping it off with the shimmery sequin finish. (Each eye-shadow compact contains four shades of varying intensity and texture in a given color harmony, and represents a complete look curated by Ford.) I add a shot of peacock green along my upper lash line, using the Metallic Moss kohl pencil, and gently shade my lips with the muted Pink Dusk lipstick. Ive somehow managed to pull off an updated disco-chic look, rather than descending into the Priscilla Queen of the Desert territory I had feared.

I throw on a bias-cut, original 1970s black jersey dress, Moroccan gold earrings, gold Manolos, and grab a dark-brown patent clutch with gold trim. I feel dressy and fun with my lacquered nails and glittering eyes. When I run into a makeup-free Phoebe Philo at the after-party, I momentarily doubt my violet eyelids. But only momentarily. It is so much fun wearing brights that I vow to try the tantalizing greens of the Sahara Haze palette on my next night out. 6. If you dont have a long neck, draw it. Ford believes you can create any shape of face you want using his Shade and Illuminate palettea compact containing a brightening lifting cream and a darker sculpting one. If I know that one cheekbone is higher than the other, I can put highlighter on the lower one, he says, showing me how to do it, and suddenly my cheeks look symmetrical, because the light bounces off the lower one better. Ford says you can even create a jawline like Linda Evangelistas. If you dont have that fabulously strong jaw, you could basically highlight where your neck is and shade where your chin is, and you would have a really strong look. In case this sounds a little intimidating, Ford reassures me that Charlotte Tilbury will be personally training the beauty advisers at every one of his counters worldwide so they can show women exactly how to do this. 7. Change your eyebrowsavoid plastic surgery! Ford is eyebrow-obsessed. He believes eyebrows are the one thing you can dramatically change on your face without going under the knife. To that end, he has included an angular Brow Sculptor, which allows the user to get a much sharper line than with an ordinary eyebrow pencil. The formula is soft, so its great for gentle filling.

8. Old Hollywood glamour is the best Hollywood glamour. Despite his other job as a movie director, Ford admits he often feels the current Hollywood standard of beauty is tragic. He says Hollywoodized womenwhether they are in London, L.A., or New Yorkwho all look exactly the same are like Barbies. Real women shouldnt look at any of it or think about any of it. Instead, he tells me, women should do the same as I did when starting my brand: What colors do I always like? What was my favorite period of makeup? What am I comfortable in? What time in my life did I think I looked my most amazing? What was I wearing? And from just thinking about those things, you can start to put together who you are. Then stick with it. It doesnt mean your shoulder or heel shouldnt change a little, but it gives you a base. 9. Bitter Bitch is the new Vamp. Enough said about the sexiest chocolate-brown nail polish Ive ever seen.

10. Its chic to wear jeans and a T-shirt and be made-up. Ford tells me that the coolest 20-something girls in his London office come to work in high-street clothes and immaculate makeup. They grew up in the hip-hop moment of nothing, so theyve reacted against that and want to be glamorous. They want a lacquered lip. Ford shows me a crimson lip gloss that recalls the Dallas and Dynasty starlets. Its fun, fabulous, the perfect orangey red. Ford has always loathed lip gloss, so it took him a while to get to the point where he could add one to the line. His strikes me as different, more grown-up: saturated and opaque, yet not sticky.

Putting a face on suddenly feels chic again.
Credit: Fall 2011 Vogue September Issue