Runway Bridal Dress: Bandit Steals Amy Winehouse's Wedding Dress
Nov 01, 2012 - by Emily Draznik
Two dresses belonging to the late singer Amy Winehouse, one being her wedding dress,  have been stolen from the singer's former home in North London just one month before they were to be headed off to auction.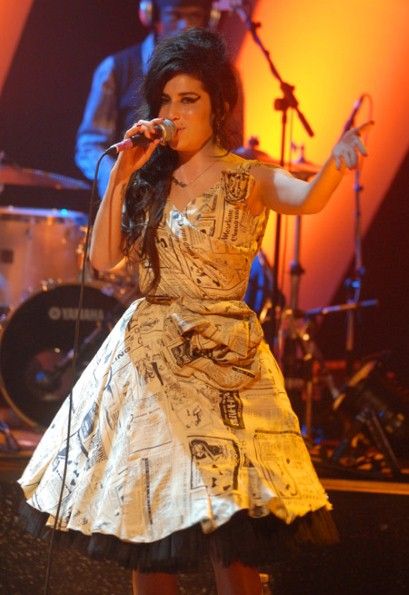 While the late singer Amy Winehouse's belongings were being tagged and prepared for storage in her former North London home, two very important garments were found missing from her closet. A Moschino newspaper print dress and the anchor-print mini dress that Winehouse wore to marry ex-husband Blake Fielder-Civil in 2006 were both found to be stolen during inventory. These two garments were only a month away from being auctioned off to benefit The Amy Winehouse Foundation to the estimated tune of $210,000.
The thief must have had knowledge that the two specific dresses had a sentimental value to the singer. Garments worth a fortune were left alone in the closet, while the two iconic dresses were the only ones found to be missing. Amy's father Mitch Winehouse elaborates, "Her wedding dress was only a little cotton thing, a hundred quid at best in the shops. Whoever nicked it realised its significance and knew it had an extra value."
Since the singer's death from alcohol poisoning in July 2011, her home has been left as a shrine to her fans. Now it is being prepared for sale and there was a two day inventory period when it was believed that the garments were stolen. Currently Mitch and his crew is looking through everything else to see if the thief took anything additionally.
Whether it was a Winehouse super fan or high-class cat-burglar who stole the wedding dress is still up for determination. Thankfully it is no longer Halloween so we can never confuse potential burglars with those happened to be dressed up as the former singer. Although if you saw a strangely authentic costume running around this holiday, you will no longer have to ask them where they got it.
But in a somewhat controversial hommage to the late Amy Winehouse, designer Jean Paul Gaultier sent beehive clad and cigarette toting models down the runways for his Fall 2012 couture collection.