Azealia Banks & Diplo Class Up The Cover of Vibe
Aug 10, 2012 - by Daily Mister
Despite having a magazine cover prematurely banned in 7 countries, raptress Azealia Banks  stars on Vibe Magazine's Aug/Sept issue clad in Dolce & Gabbana & strewn across mega producer Diplo. Inside the mag she talks about Kanye West, Twitter beefs & more, all with a deliciously foul mouth.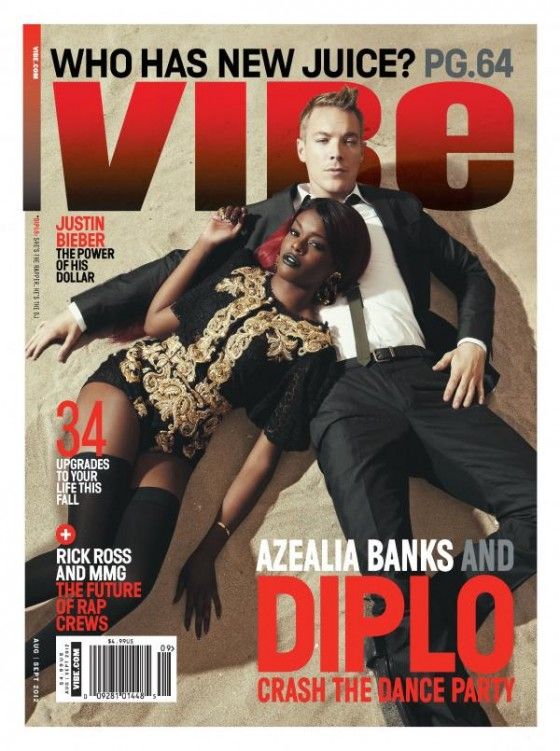 Do you regret getting into these Twitter clashes? Of course, because its e-thugging Who wants to look like that? But how else am I gonna reach yall? I dont have a T.I. to get on a radio show and defend me; Im the one behind me. Yall expect me to agree like, Oh yea, Im wack. I only have one song. Thats one song yall niggas dont fucking have. You might win some, but you just lost one.
Kanye certainly doesnt think youre wack. Tell me about the time you guys first met in London last year. He hit me up like, Youre mad talented. What do you eat for breakfast? The whole conversation was pretty densetwo Geminis in one room. So it was so many ideas flying.
We spent the whole day together, but the best part was dinner. Were eating out the same plates with chopsticks, and hes freestyling for me. I was like, Oh shit, this is real! You know how you smile so much your face hurts? .
We suggest you check out the full story at Vibe.