From no-chip gel polish to snakeskin manicures, nail art becomes more extravagant with each passing month. Whether you're a Minx girl or like some good ole' fashion Milani glitter polish, it's easy to glam those nails in no time at all. But what about the bold, beautiful and absolutely insane nail art out there that hardly ever gets noticed? We have everything from the tame to alarming in our outrageous nail art gallery after the jump.
Yes that is coral, replacing the need for a fork, spork, chopsticks or eating utensil of any kind.
Photo: FLBL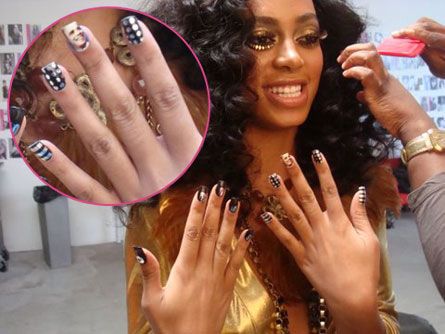 We love Minx nails at FashionIndie, especially when President Obama's face is in the mix. Solange is a fan too.
Photo: The Frisky
This delicate pattern reminds me of the upholstery you may find on a shabby chic couch while antiquing.
Photo: Wildammo
Love candy? Skip the calories and feast your eyes on this sugary sweet and colorful nail art instead.
Photo: ODDEE
Even though Music Month at FashionIndie is over, you can still show love for your favorite tunes with nail art that will prevent you from doing much of anything.
Photo: Weirdomatic
You're as cold as ice, You're willing to sacrifice our love.
Photo: ODDEE
The Ruffian Manicure will always be in our hearts and on our fingers.
Photo: I'm the It Girl
Would a chic Parisian woman ever wear these hand-painted tributes to her city? Probably not, but I would, like, ASAP.
Photo: NailsMag
Ornately scary and 3-D, these are a must have for this coming Halloween.
Photo: Nailsmag
Not to be one-upped, I tried to pierce my own nail in 3rd grade after noticing a girl in my class had one. It cost me scissor privileges, but I looked (sort of) fly.
Photo: Nail Designers
First came the ombre hair and now the nails. Definitely a bigger fan of the latter.
Photo: NDP
Wop-bop-a-loom-a-blop-bam-boom, Tutti frutti.
Photo: Foolsavenue
For which one of these nail art designs would you sacrifice the ability to perform basic survival tasks?