Björk, whose relevance in our world is more for dressing like a bird than for her music, is putting out a new album in a bizarre new fashion. Her forthcoming album, Biophilia, is to be released as an "app album." She's actually writing the songs in tandem with the production of the app for an interactive platform between song and listener. Which begs the question, will there be a round of Angry Björks?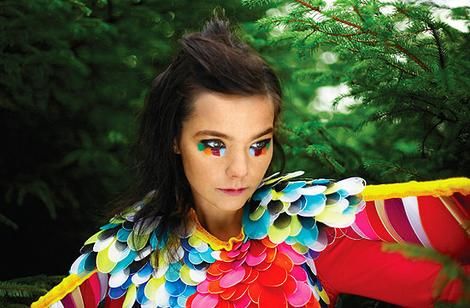 The whole alppum (as I'll now refer to it) is really one "mother app" that houses 10 mini apps that correspond with each song,  letting the listener interact with the themes and meanings within the songs. Each song app is a game, some will even allow you  create a new version of the song!
For one song, Virus, the game is a close-up study of cells being attacked by a virus and the goal is for the listener/user to halt the oncoming virus before it destroys the cells. If you want to hear the rest of the song, you must endure the virus as it takes its course.
Scott Snibbe, the interactive artist with whom she collaborated gives us insight into the idea, "Björk's put herself way at the forefront here by saying, 'We'll release this album and these apps at the same time and they're all part of the same story.' The app is an expression of the music, the story and the idea."
And the alppum will grow and evolve even beyond the release with new updates periodically.
Um, Angry Björks pretty please! I cannot shake the vision of the Swan Björk catapulting into a brickwall. Thanks.
Image: FashionIndie original
Link Love: Guardian