Buckler's show on Friday took place outside of their store on Grand Street. For the occasion they shut down the entire block between Greene and Mercer Streets, creating some curiosity from passersby as to why there was a mini- army of gorgeous, well-dressed men parading down the street.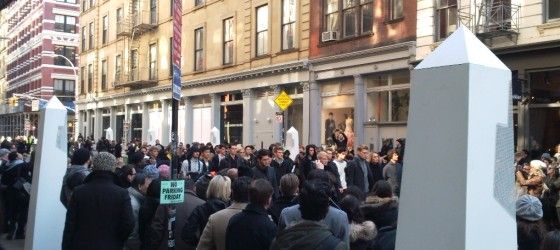 The street show was part of designer Andrew Buckler's influence for the fall collection, urban art. Entitled "Anonymous Art,"  Buckler wanted to shine a light on the artists who use the streets as their "medium to communicate messages, discussions and where they question the conventions of art."
The clothes came in a predominately dark palette, with an occasional shock of yellow as seen in a Parka, a pair of pants and an ear muff. The pieces were intended to serve interpretations of classic utilitarian pieces such as the hoodie and the cargo pant.
Unfortunately I got lost on the way to the presentation (a wedged heel is surprisingly not the best walking shoe in SoHo), but saw enough from my vantage point -- perched on a storefront stoop like a rare breed of blogger pigeon -- to witness the art unfold. And luckily the weather cooperated so the models didn't have to use their yellow Buckler Parkas to brave a snow or rainstorm.