Victoria's Secret Angel Candice Swanepoel Talks Summer Style & Shares Her Fitness Secrets
Jul 31, 2012 - by Samantha Lim
We spent the morning doing poolside yoga (sort of) and indulging in spa treatments at NYC's James Hotel with the stunning supermodel and Victoria's Secret Angel Candice Swanepoel.   Swooning over the new Body by Victoria beauty & lingerie collections, we chatted with Candice about her summer fitness secrets, her head turning style (including a growing vintage collection), and how she maintains such an incredible body.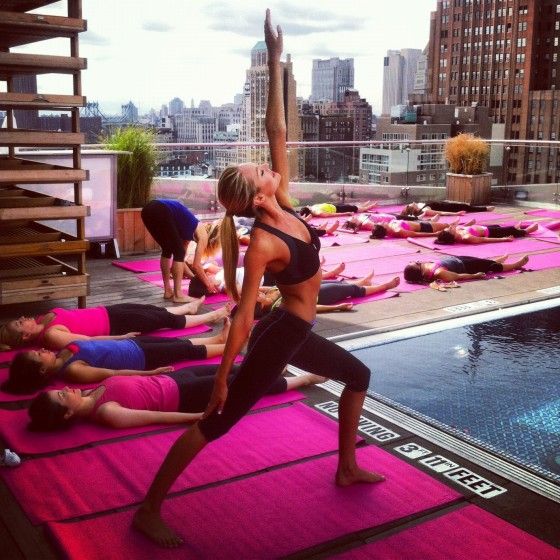 SL: This is so much fun, are you a yoga buff? 
Candice Swanepoel: No actually, I just started doing yoga to calm my mind a little bit and is a good stretch as well.  I used to do ballet so I miss being really flexible.
What's your summer fitness regimin?
I love running and playing racquet sports on the beach.  Occasionally I'll travel with little ankle weights and do lunges and things like that if I want a little more toning in my muscles.
You must think about staying fit year round. 
I started modeling when I was 15, so I think that being fit and conscious of my body is just programmed in my mind. It is actually a hobby of mine at this point to work on my body in different ways and see things change.  Even when I'm walking up the stairs, I'm like "clench!". I hate that desperate rush of trying to get fit in a certain amount of time, it is easier to think about it year round.
When are you squeezing in some time to relax? 
I'm going away soon and planning not to do that much at all.  I'm going to Brazil with some friends, my boyfriend, and my dog to just relax.
And what do you think of the new Body by Victoria collection we're checking out today? 
Body by Victoria has been one of my favorites forever.  There is just something about the fabric, it is comfortable and really forms to your shape.  In this new one, they have added a little lace so you can feel comfortable but still very feminine.  If it shows a little, it is still cute, and if you get caught in an unplanned moment you are prepared.
Ok so we may have missed the actual yoga class, but that doesn't mean we couldn't make up our own zen-like moves! Here's Candice showing off her new skills, while I play photographer.  
It sounds like a perfect fit to your personal style.  How would you describe the way you dress? 
Crazy!  I change it all the time, I'm inspired by so many things.  Even just walking down the street in New York. I'll see something on a girl and be totally inspired.  A lot of my personal stuff is vintage that I've collected from Paris over the years.
What are your summer wardrobe staples? 
I don't wear anything too crazy.  I love nude colors and a lot of white.  Denim shorts and dresses are definitely a summer staple.  And I wear a lot of hippie and bohemian style things.
For more of Candice and her hot body secrets, check out our interview from earlier this summer.