The Supreme s are unarguably the greatest girl group of all time. They were the second biggest musical act of the 60s - behind only The Beatles - with 12 number one hits under their svelte little belts. A part of what contributed to their success was their unparalleled glamour, which is the subject of a new exhibit at Philadelphia's African American Museum.
"This exhibit is about three young, black girls who dared to dream," said Mary Wilson, a founding member of the legendary group, during a press preview last night for Come See About Me: The Mary Wilson Supremes Collection.
The 1960s were a period of serious social upheaval, with the civil rights movement and women's liberation in full wing. Before Mary Wilson, Florence Ballard and Diana Ross rose to prominence in 1964, representations of  beautiful, poised and sophisticated black women were few and far between.
There was Lena Horne, the tragic Dorothy Dandridge and Diahann Carroll. That was about it.
[caption id="attachment_274082" align="aligncenter" width="560" caption="The black dress on the left was by a young Bob Mackie."]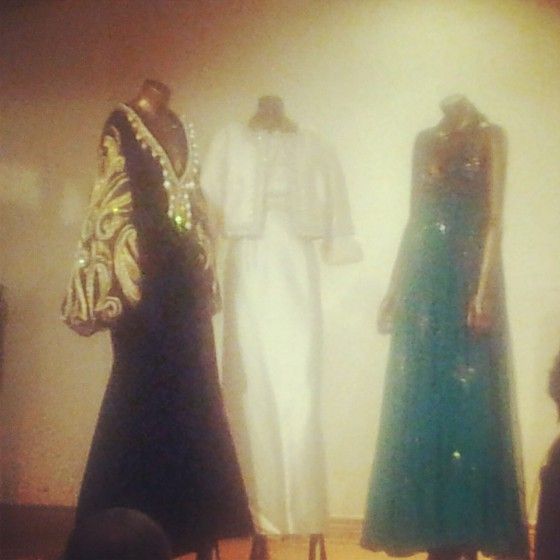 [/caption]
But the Supremes' enormous crossover appeal broke down racial barriers as they became staples on The Ed Sullivan Show and even endorsed their own white bread. "The NAACP were none too happy about that," Wilson joked.
At the height of their popstar powers, each of the girls' heavily beaded and sequined gowns cost as much as $2,000. Traveling was a production in itself with wig boxes, hat boxes and huge trunks full of gowns -- also known as the only way to travel.
For nearly 50 years, Wilson has been the keeper of the Supremes' gowns -- as members came and left the group, she held on to what she could. The result is Come See About Me. The exhibit contains 30 of their most glamorous dresses and includes rare video footage, album covers and other three-dimensional artifacts.
When asked what made the gowns so compelling, Mary Wilson simply responded, "Us."
Curated by the African American Museum in Philadelphia, Come See About Me will run from January 25 through June 30 next year.