DANSK Magazine Preview, Spring/Summer 2010 Issue
Feb 04, 2010 - by Fashion Indie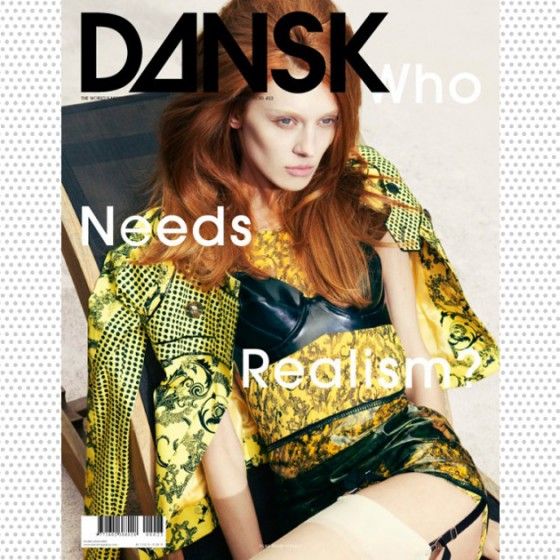 We've got the ultimate preview of the latest issue of DANSK Magazine just for you. It features VH1 staple Brigitte Nielsen, Donatella Versace and a few booty shots from a muscled up hunker. Definitely worth checking out. Full editorials and spread previews after the jump.
DANSK SS 2010 Issue Feat. Brigitte Nielsen & Donatella Versace Who Needs Realism?
Top model Olga Sherer covers the issue wearing Versace, shot by Joachim Mueller-Ruchholtz, Styled by Anders Sølvsten Thomsen. The issue features interviews with the style icon and myth Brigitte Nielsen, the legendary designer Donatella Versace, and fashions crown prince, Christopher Kane.
This issue is a sort of counterattack on the unfortunate taste for realism, pragmatism and normality, which has suffocated the essence of fashion for too long; an essence which has always been and should forever be about the magical, the wonderful, and that which is beyond your reach, said Editors-in-Chief, Uffe Buchard and Kim Grenaa.
Redirecting the spotlight to the fabulous and enchanting elements of fashion, DANSK speaks to Donatella Versace about the return of the baroque print, the Versace legacy, and the appointment of Christopher Kane as designer at the newly re-launched Versus. In his own interview, Christopher Kane talks religious cultism, Jenny Schimizu, and working for Donatella Versace.
Exceptionally, DANSK persuaded the iconic Danish actress Brigitte Nielsen to pose for an impressive editorial, marking her first high fashion shoot in two decades. In an in-depth interview, she reflects on her look, her 1980s top model career and remembers her friends, Helmut Newton and Gianni Versace.
Brigitte personifies the spirit of this issue: a larger-than-life, out-of-this-world beauty and character, which transcends trends, time and reality. Brigitte is one of the most charismatic figures in fashion history with one of the strongest signature looks of our time. This is the return of Brigitte Nielsen, commented Buchard and Grenaa.
Brigitte Nielsen
Brigitte Nielsen by Jam / Fashion Editor: Elizabeth Sulcer
Kink
Olga Sherer by Joachim Mueller-Ruchholtz / Fashion Editor: Anders Sølvsten Thomsen
Hair Apparent
Suzie Bird by Justin Cooper / Hair: Olivier Lebrun
Rapture
Katlin Aas by Scott Trindle / Fashion Editor: John McCarty
Big Hunk
Miss World
Heidi Mount by Dan Martensen / Fashion Editor: Michelle Cameron
New Agenda
Thomas Hoefnagels by Bruno Staub / Fashion Editor: Jean Michel Clerc
The Other Man
Bastiaan Ninaber by Joachim Mueller-Ruchholtz / Fashion Editor: Anders Sølvsten Thomsen
Light Fantastic
Ty by Alexander Sainsbury / Fashion Editor: Toby Grimditch
Trunk Show
Jacques by Kevin Mackintosh / Fashion Editor: Christian Stroble
Gone Shopping
Adama Diallo by Oliver Stalmans / Fashion Editor: Anne-Stine Bae
The issue includes 150 pages of editorial as well as interviews with Jim Goldstein, Louis-Marie de Castelbajac, Martyn Bal, Katie Eary, Hannah Marshall & Hannah Martin, and Louise Amstrup.
DANSK was founded in 2003 and is currently distributed across the globe. The relaunch of DANSK for autumn/winter 2009 became the biggest-selling issue to date. In November 2009, DANSK launched its blog DANSKmagazine.com. Published by advertising agency Style Counsel, DANSK organises the annual DANSK Fashion Awards and publishes DANSK Daily, the official newspaper at Copenhagen Fashion Week.
Also featuring:
WORDS Who needs realism? / Editorial note / By Uffe Buchard Man Pants / Lingerie for men / By Anders Christian Madsen Boot Camp / Military in womenswear / By Susanne Madsen The Bold and the Beautiful / Interviews with Jim Goldstein, Louis-Marie de Castelbajac, Zenia Jæger, Hanna Hedman, and Malcolm Pate / By Anders Christian Madsen Special K-atie / Interview with Katie Eary / By Duncan Campbell Cycling Short / Azzedine Alaïa shorts / By Susanne Madsen Martyn-ism / Interview with Martyn Bal / By Anders Christian Madsen Thick Red Line / Lip liner / By Victoria Herbert The Cult of Kane / Interview with Christopher Kane / By Susanne Madsen & Anders Christian Madsen Big Hunk o Chunk / Chunky male models / By Anders Christian Madsen La Donatellaaah / Interview with Donatella Versace / By Susanne Madsen Im The Female James Dean Gone Platinum / Interview with Brigitte Nielsen / By Anders Christian Madsen Strawberrygate / Yves Saint Laurents strawberries / By Victoria Herbert The Worlds Worst Interns / Intern anecdotes / By Susanne Madsen
FASHION
Camouflage / Elinor by Bo Egestrøm / Makeup: Henrik Steen The Radicals / Carmen by James Meakin / Fashion Editor: Chloe Beeney Fumes / Tyler McPeak by Torkil Gudnason / Grooming: Paco Blancas Cover Girl / Marcelina by Bo Egestrøm / Makeup: Anne Staunsager A New Shade of Orange / Amanda and Sylvester by Henrik Bülow / Fashion Editor: Melanie Buchhave
ON SALE 11th FEBRUARY 2010