Designers: Last Chance to Submit for "Are You Runway Ready?"
Jan 21, 2010 - by Marcy Clark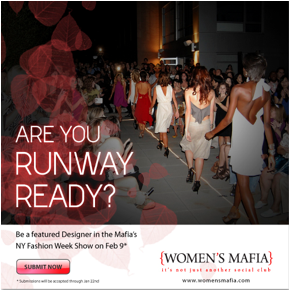 Our friends at the Women's Mafia are hosting a full roster of un-missable New York Fashion Week events, including their signature Fashion Show & Fashion Week Kick-Off Party on February 9th at Tela Design Studio. This February the Women's Mafia Fashion Show will feature the winners of our "Are You Runway Ready?" contest.
Established and up-and-coming Women's Wear designers are invited to submit an application and low-res images of Fall/Winter 2010 looks. Only a few select designers will be chosen to win coveted spots in a Women's Mafia Fashion Show and a PR and Branding package worth over $10,000. Runners-up will win a profile on Womensmafia.com. Submit an application at www.womensmafia.com.