Drake and Chris Brown Sued for $16 Million After Club Brawl
Aug 16, 2012 - by Emily Draznik
Remember back in June when rapper Drake and singer Chris Brown got in a nightclub brawl over shared love interest Rihanna? Well that night is coming back to bite them in the a** as the club WiP is suing the rapper duo for $16 million.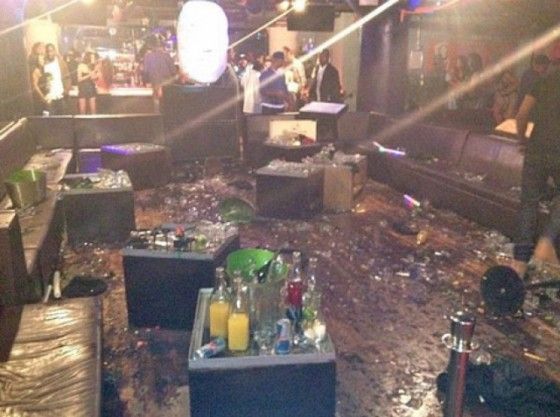 Singer Chris Brown and rapper Drake got in a serious tiff at the beginning of the summer in New York City at SoHo club WiP over pop star Rihanna. Now the enemies are getting sued for $16 million by the club siting the adversaries instructed their posses to join in on the brawl using weapons out of anything they could find.
According to most reports, the fight started when Chris Brown sent a note over to Drake's table saying, "I'm f*cking the love of your life" around 4am on June 14th. It was Drake and Brown who first started to fight and "within seconds, defendants filled an already packed nightclub full of flying glass shrapnel.".
As a result of the fight, the nightclub temporarily lost its license to sell liquor and lost a $4 million deal due to the bad press surrounding the fight. On top of that, the club is being sued for $20 million by basketball player Tony Parker for suffering a scratched retina.
According to the club the two stars, "should have foreseen that their notoriety and celebrity would ensure that their acts had far reaching and devastating effects.".
Apparently two famous dudes can't have a feud anymore without it turning into a game of Celebrity Death Match. Well, at least when it doesn't involve a rapper's army of security guards and throwing bottles of Ace of Spades  at each other.