Wild Styles & Indie Art at FASHIONCLASH Take Over Maastricht
Jun 20, 2012 - by Samantha Lim
Maastricht turned the Netherlands into a wildly independent fashion epicenter last week,  holding the 4th edition of FASHIONCLASH - a European clash between fashion, art, theater, cultures, disciplines, audience and visions.
FASHIONCLASH Maastricht provides a place for emerging designers and artists from all over the world to showcase their work to over 2000 guests.  A place for networking, discovery, and inspiration, over 100 designers from 19 countries showcased their work (see gallery below for a dabbling).  There was even a FASHIONCLASH market where guests could shop for the unique pieces by young designers like FEE, Nikki Giling, Mirte Engelhard and Pleasemachine.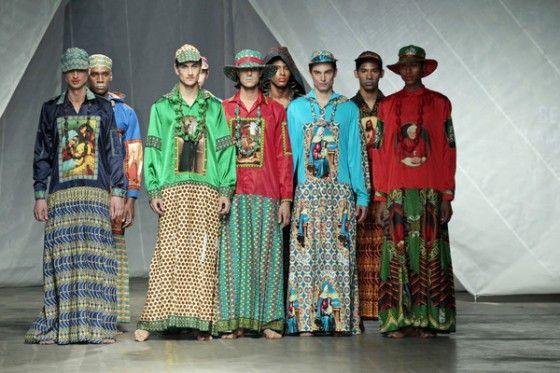 The weekend started off with the opening show and with a very magical kick off from the opening of the exhibition by Dennis Vanderbroeckand, Nina Willems and Sarah Tulp. Next was a unique interdisciplinary theatrical performance by KARMIJNROOD & Mieke Kockelkorn.  There were even theatrical encounters such as HAAX by Karel van Laere & Sonja Schoede where instead of walking, the models were dragged upside down from one end of the catwalk to the other.
A dabbling of designers showing included: Sasha Kanevski from the Ukraine, Jonathan Christopher and Femke Agema from the Netherlands, Ivana Pilja and George Styler from Serbia, Hyerim Hong  from South Korea, Pierre-Antoinne Vettorello from France, and Daniela Barros from Portugal.  Ranging between avant garde haute couture to ready to wear and men's wear, the stage also was the home to performances and theater presentations.
The former décor factory of the Mosa was also temporarily transformed into a cutting edge exhibition that showcased the art of fashion shows including designers and artists such as Elvira t Hart, Femke Agema and Sara Vrugt from the Netherlands, and Keta Gutmane from Latvia.
For more information check out www.fashionclash.nl or these cool behind the scenes FASHIONCLASH Maastricht videos