FashionIndie Sock Hop Nothing Short of a Success!
Nov 14, 2012 - by BLISS.
Last night we hosted our Hurricane Sandy Sock Hop to get warm, clean socks on the feet of those in need. After so many were left devastated in Sandys path, we wanted to make a difference by doing one thing we need in the winter months keeping those toes warm! We took both sock and cash donations and had one hoppin turnout.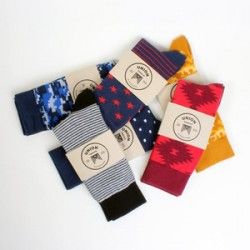 With the amazing Kristalbelli as our backdrop, we spent last night partying with so many generous people that brought donations, including full bags of socks, a few warm blankets and even some adorable underwear.
We partnered with stylish sock brand Richer Poorer, Mary Alice Stephenson and Glam 4 Good and had a great night of drinking, karaoke and gathering goods for Hurricane Sandy relief.
And since we want to make sure our donations reach the people directly, we are in the Rockaways TODAY handing out our generous donations. Follow us on Twitter @fashionindie to see what were up to, where we are and how you can help!
A big thank you to everyone who came out last night and supported such a great cause.