Fasting with the Blue Print Cleanse Day 1: The Roller Coaster
Jun 22, 2012 - by Amanda Gabriele
That's right kids, the girl who thought people who went on juice cleanses were completely INSANE is trying one herself. The wonderful folks at Blue Print Cleanse set me up with their Foundation Cleanse, and yesterday was my first day taking the plunge. If you don't know BPC, some describe it as the "cleanse for foodies" (I hate that word, but whatevs), meaning the juices are delicious. They are also vegan, gluten free, fresh pressed and raw, meaning no pasteurization takes place, making them about the purest food you can knock down the hatch. Here is the diary of my experience on the cleanse, coming from someone who really, really loves to eat.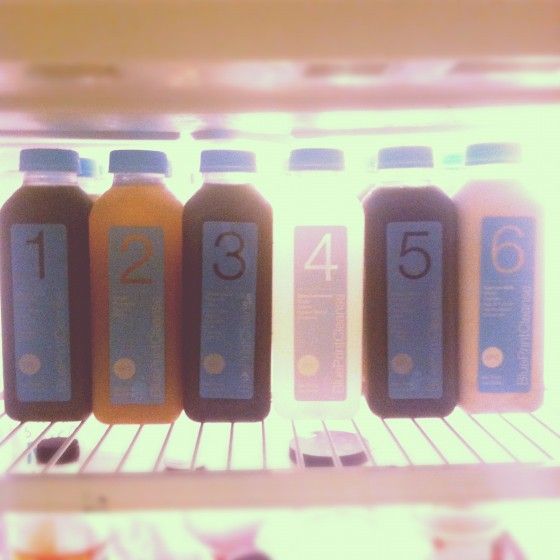 8:38 am - Not going to lie, I am following the cheat sheet and drinking 1/2 cup of coffee every morning. So sue me, it's my only addiction. Feeling good, I love green juice so the first drink went down super easy. Mild hunger headache from last night, nothing major. (Note: While preparing for the BPC, you are supposed to stick to green veggies the day before. My dinner consisted of an avocado and broccoli, i.e. the hunger headache.)
10:33 am - Just got to work, carrying four juices. It's 86 degrees and climbing, and those bottles are heavy. Workout central. Looking forward to my pineapple apple juice because I'm starving.
10:56 am - The P.A.M. juice is so good!
11:20 am - Feeling a little weak and lightheaded, but it could be because the air conditioning is turned up so f*king high in this office. It's giving me the chills.
12:37 pm - Left the office for a while to get my hair did. Almost fell over as I walked out of ARROJO. Feeling weak, someone in the office is eating spaghetti and I hate her right now. Is it time for juice #3 yet? And what is the damn difference between Celtic sea salt and regular sea salt?
12:39 pm - Figured it out. Celtic sea salt is rich in mineral content and considered healthier than other types of sea salt. Must pick some up later.
2:28 pm - I just finished my 3rd juice and my vision is blurry. Is this normal? The headache has not gone away. Must email the BPC people.
3:16 pm - BPC people got back to me, saying the blurred vision is a normal reaction to my body detoxing. I drank a glass of water after my third juice and no longer feel fuzzy. And it doesn't hurt the AC in the office was turned down. That's the real troublemaker if you ask me.
5:06 pm - Feeling so much better after getting out of the AC and pounding waters. Thinking of having my 4th juice at 5:30.
6:06 pm - The spicy lemonade is delicious! Would be yummy with vodka, but I'm going to refrain.
12:15 am - I feel like death right now. Just got home from the FashionIndie Mixtape Vol. 7 launch party, and it's been four hours since my last juice. But this cashew milk is pretty much the best thing ever. Hoping I feel well in the morning.
12:20 am - OMG there are chunks of matter at the bottom of this cashew milk! I don't think I've ever enjoyed chewing so much.
12:24 am - I feel full for the first time today. Maybe my headache will disappear? Here's hoping.
Stay tuned for my Day 2 BPC diary tomorrow!