Wearing wide-leg pants can be tricky, especially if you're not 5'10". But fear not, everyone can wear this timeless trouser silhouette if done correctly. If you only remember one rule after reading this post, keep in mind that fit is everything. Pants should be fitted through the waist and hips before expanding into wide-legged splendor. Start small and work your way to bigger flares, but don't overdo it - you're trying to look chic, not like a circus extra who forgot her stilts.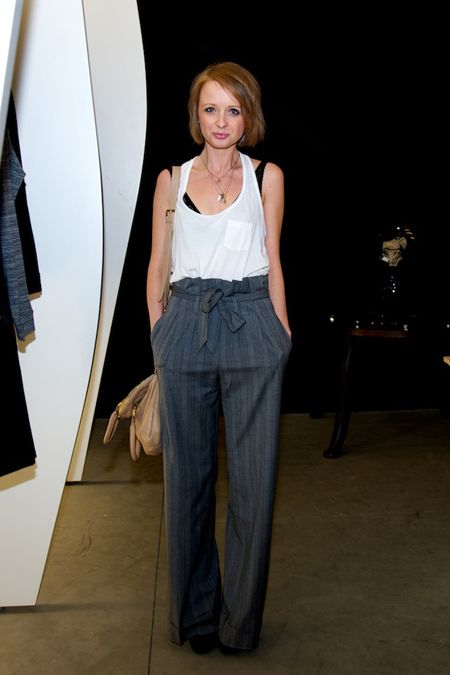 [caption id="attachment_188739" align="aligncenter" width="320" caption="Elie Tahari Spring 2011 "]
[/caption]
1. Wear a belt to define the waist. Just because you're wearing wide-leg pants doesn't mean you need to look bigger than you are. Belting the look creates a waist and shows off the feminine figure. Whether wide or skinny, there are tons of options out there for you to try.
[caption id="attachment_188740" align="aligncenter" width="320" caption="Nicole Miller Pre-Fall 2011"]
[/caption]
2. Try a jumpsuit. If you are a jumpsuit veteran and want to try the wide-leg look, this is a great way to experiment. All you need to do is accessorize wisely as the top is already picked out for you. Try something fitted through the bust and hips to avoid looking like an inmate.
[caption id="attachment_188741" align="aligncenter" width="320" caption="Monique Lhuillier Spring 2011"]
[/caption]
3. Add a feminine touch on top. One of my favorite ways to wear high-waisted, wide-leg pants is with a sheer top. Something fitted and lacy balances the masculine bottoms, creating a polished and chic look. And this peek of skin under the sheer top looks super sexy without unleashing the trashy vibe.
[caption id="attachment_188742" align="aligncenter" width="320" caption="Stella McCartney Spring 2011"]
[/caption]
4. Add a long, structured jacket. There is nothing more sophisticated than a long jacket with wide leg pants. Whether done with monochromatic pieces or contrasting solids, this is the look of a bold woman. BUT, you MUST wear heels with this one to avoid looking like a munchkin. Unless, of course, you're 5'10".
LINK LOVE: Street style photo, Refinery29; Runway photos, Style.com