In lieu of a runway show proper, Jean Paul Gaultier dug through his own vaults to recreate iconic the looks of superstars from the great eighties, and seemed to present in small vignettes of walking icons. Perhaps he chose this approach because he spent so much of this year preparing a massive retrospective world tour exhibition of his 35 years in fashion. Or does he just not realize we've moved onto the 90s? See if you can correctly guess which pop icon he's simulating on the Paris runway to see if you're ready to KISS the 80s ta-ta, and embrace the current 90s obsession.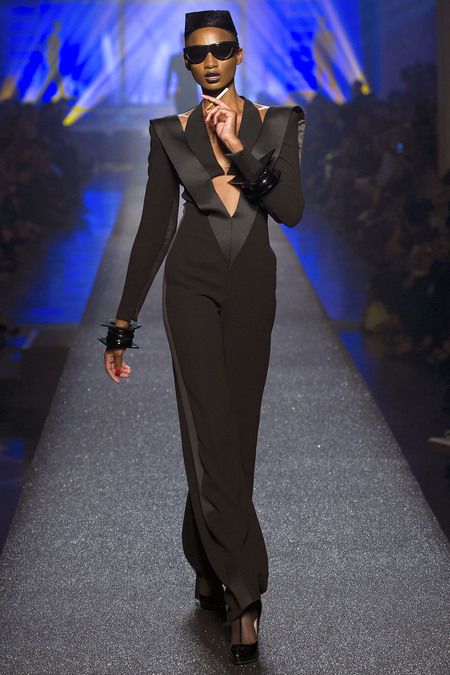 Who is this suited, flat topped, smokin' black beauty?
(click next to find out)
GRACE JONES
Who is corseted, netted and dripping in rosaries?
MADONNA
Who is pinstriped with flaming orange hair?
ANNIE LENNOX
Who is Karlie Kloss emulating, braiding fabric into her hair beneath her hat?
BOY GEORGE
This is kind of a gimme... Who does this thrilling outfit belong to?
High turtlenecked and hooped, who is she?
SADE
Who is this star suited, one legged, one armed lover?
DAVID BOWIE
Who is clad in blue leather, dancing disco?
ABBA
Here's a curveball. Who's caged up look does this belong to?
Did you think this was Madonna at first, too?
Now tally up your score. How many did you get right?
1-3 right: You'd better brush up on your popstar past so you know your future references.
4-6 right: You were likely born in the late 80s, early 90s. It's okay that you don't know it all, we're onto the 90s and beyond anyway. You're not so caught up in history.
7-9 right: You're a past master and you've done Jean Paul Gaultier proud. But it's time to move on now. Can't keep l-i-v-i-n in the 80s.