KA-CHOW! Phillip Lim Creates a Very Fashionable Comic Book
Aug 20, 2012 - by Emily Draznik
Wearing spandex and superhero capes, comic book characters have not always been known for their sartorial fashion sense. At least that was not until Phillip Lim came around. The American designer has created Kill the Night to promote the arrival of his Fall 2012 collection.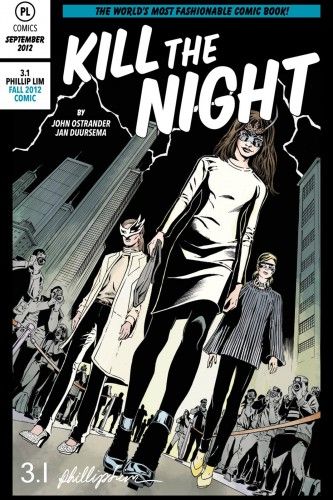 If superheros were super models, their catsuits would be by Dolce & Gabbana and their capes would be made of silk. In Phillip Lim's comic world, his characters are drawn in all 3.1 Phillip Lim. To celebrate the arrival of his 2012 Fall line, Phillip Lim has created the comic book Kill The Night and it's not just a cartoon. Drawn by Jan Duuresema (famous illustrator of the Star Wars comic series) and co-wrote by Lim and John Ostrander, Kill the Night could convert any comic nerd into a fashion junkie.
Accompanying the release of this comic, Phillip Lim is offering some pretty super contest opportunities. When you sign up online at 3.1philliplim.com, you can receive a chance to win a signed copy of Kill the Night when you shop online and at the in-store event during Fashion's Night Out. And when you pin, tweet, or post your favorite panel using the #killthenight hashtag, you also could win a $3,000 online shopping spree. So next time you are out fighting crime, at least you will look fabulous in your designer ensemble.