To be Karl Lagerfeld's cat is to live a life more pampered than most humans.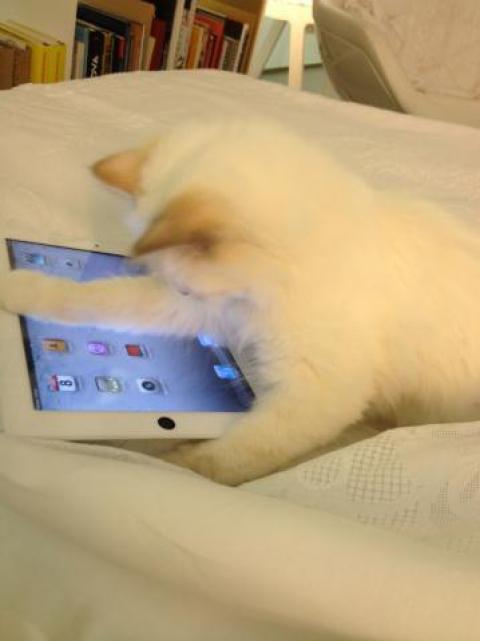 In an interview with WWD, Lagerfeld discussed European politics, the new Chanel Little Black Jacket exhibit in New York on display from Friday through June 15, blah blah blah. And then there's Choupette.
The Siamese cat has already her fair share of press coverage, being in the possession of someone not particularly known for his ability to love and/or care for other living things. Given to Uncle Karl by model/aspiring popstar Baptiste Giabiconi to take care of for two weeks while he was away at Christmas, Karl just decided to keep Choupette.
And what Karl wants, Karl takes then assumes you gave it to him anyway.
That was doubtless the best thing to happen in little Choupette's 9-month existence. According to the Kaiser, his pussy is living large:
"She is like a kept woman. She has a strong personality. She has lunch and dinner with me on the table, with her own food. She doesnt touch my food. She doesnt want to eat on the floor. She sleeps under a pillow and she even knows how to use an iPad. She has two personal maids, for both night and day. She is beyond spoiled."
I don't even know how to use an iPad and I certainly don't have two personal maids...let alone one. So among his many other hobbies and side-hustles, Karl Lagerfeld is also a crazy cat lady in the making. He's even considering dedicating a tome to his feline friend:
"We do keep a diary. When I am not there, the maids take down, in little books, everything she did, from what she ate, to how she behaved, if she was tired, and if she wasnt sleeping. In the nine months, we already have almost 600 pages. Colette had written a lot about cats. I am not Colette, but I think it could be funny to make a little book of Choupettes diary."
Dear Diary --
Today I clawed a $30,000 Chanel comforter just for kicks. Then ate caviar while Karl muttered a few words of benign sentiment. After sleeping 12 hours, I had one of my maids -- I refuse to learn their names -- lick my hind quarters clean. Then I threw my water dish in her face. It's great to be me. Suck it world! 
-- Choupette
But if you think things with the cat are getting a little out-of-control, Karl does draw the line. No little black jacket for Choupette! Because, as he puts it, "I dont like animals in human clothes. I think thats very circuslike."
And if there's one thing Karl Lagerfeld detests, it's a spectacle. [WWD]