Meet the Many Faced Monster: Lady Gaga's Multiple Alter-Egos
Aug 30, 2011 - by Jessica Lapidos
Jo Calderone has been eating the press for breakfast. The dude googles for pages! But the Lady's other alter egos have been raising brows since the start of Little Monsterdom all those years ago. Let us take a stroll, a swim, and a wheelchair's push down through the memories of fully formed personalities embodied by Lady Gaga.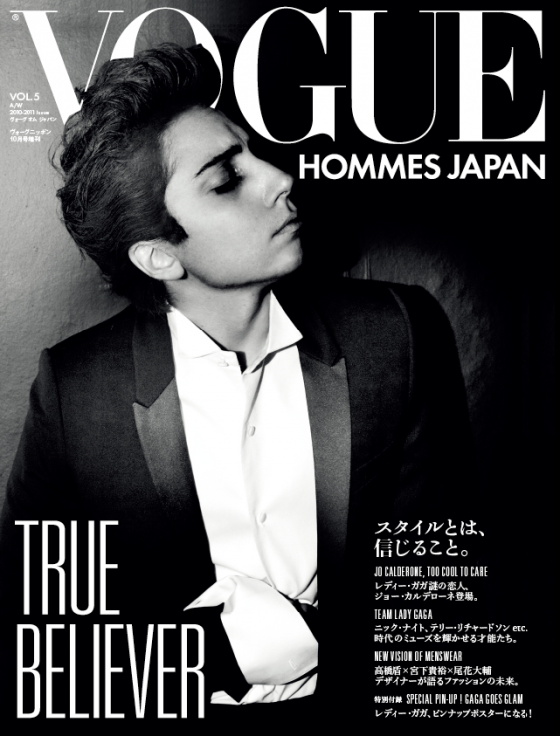 NAME: Jo Calderone
CLASSIFICATION: Human Italian male
PERSONALITY: Pissed off. Handsy. Asshole. Just like the last one.
DISTINGUISHING CHARACTERISTICS: Jutted jaw. Brooklyn accent. Dirty t-shirt or tuxedo. Greaser.
MOMENT(S) OF GLORY: VMA 2011 performance. You and I music video cameo. Cover of Vogue Japan.
LOW POINT(S): Denied a makeout sesh with Britney Spears. Not a girl, not yet a woman...
NAME: Yuyi
CLASSIFICATION: Mermaid
PERSONALITY: Real, if you want her to be. Awaiting a human lover to save her.
DISTINGUISHING CHARACTERISTICS: Fin. Gills (sometimes). No nipples.
MOMENT(S) OF GLORY: Transformation in You and I video. Controversy-centric wheelchair appearance.
LOW POINT(S): Tweet from @BetteMidler: "Dear @ladygaga Ive been doing singing mermaid in a wheelchair since 1980-You can keep the meat dress and the firecracker tits-mermaid's mine."
NAME: GAGAPANDA
CLASSIFICATION: Panda bear
PERSONALITY: Presumably lazy. Possibly vicious.
CHARACTERISTICS: Blacked out eyes. Hair like ears. Paws up.
MOMENT(S) OF GLORY: Appearance in Japan.
LOW POINT(S): Appearance on the internet.
NAME: Candy Warhol
CLASSIFICATION: Reincarnation of 60's pop art icon
PERSONALITY: Demanding. Welcoming. Free.
CHARACTERISTICS: Blunt bang. Robotic voice. Pop ate her heart.
MOMENT(S) OF GLORY: The Heart, her first Crevette aka shrimp aka short film, that served as the intro to The Fame Ball Tour in 2009
LOW POINT(S): No low to note.
And for Lady Gaga's most bizarre alter ego of them all:
NAME: Stefani Germanotta
CLASSIFICATION: High school girl from the Upper East Side
PERSONALITY: Theater geek with a penchant for burlesque.
CLASSIFICATION: Brown hair. Occasional highlights. Abercrombie and Fitch.
MOMENT(S) OF GLORY: Prom?
LOW POINT(S): That A&F zip up.