Men's Trends: The Do's and Don'ts of the Blazer/Shorts Combo
Aug 31, 2012 - by Melissa Hebin
The dandy look has been gallivanting its way down the runway regularly for several years now, but were just starting to see it on the streets. Every now and then we see a dapper glimmer of a well-executed blazer/shorts combination, and we must pause in admiration of their confidence. Modest men of the world, why are you scared? Theres nothing wrong with showing a little calf every once in a while. Loosen your tie! Let out your hair!
your leg hair, that is.
As is the case with any other trend, there are those who do it right and those who could use an intervention. This is a risky look for many. Dont be afraid, though! As long as you follow these guidelines, youre sure to pull it off.
 * * *
DO: use neutral and pastel colors.
(photo courtesy of LIFTLUXE)
Though they may be more appropriate for spring, pastels just work with this look. Neutrals are important in making the distinction between man and child; they add a sense of decorum that tones down the whimsy of the silhouette.
 * * *
DONT: wear super short shorts if youre a man.
(photo courtesy of Style.com)
This is where the look goes from preppy to pipsqueak. You dont want to be mistaken for a man-child.
This look does, however, look good on a woman. Short shorts are, as of yet, too feminine for widespread public acceptance on a man, but they sit naturally on a lady.
(photo courtesy of Planet Blue)
 * * *
DO: rock a bow tie.
(photo courtesy of tokyofashion.com)
This may or may not work for you depending on your confidence and the loudness of your personal style. When pulled off correctly, it can be extremely posh.
Dont wear this style if you arent 100% sure about it. Its one of those things that look great with the right attitude, but any second-guessing yourself will show. People respect a man who feels good wearing something a little on the flamboyant side.
* * *
DONT: go too crazy on the prints.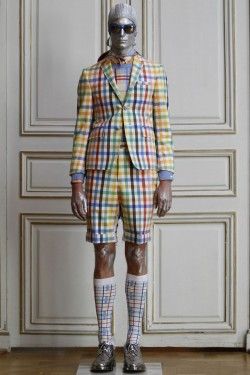 (photo courtesy of The Fashionisto)
The silhouette and casual/formal combo in this look make it inherently attention-grabbing. Too much detail on top of that can just come off as begging for attention. Have some decorum, keep it classy and tone it down.
(photo courtesy of Style.com)
If you like prints, do it subtly. Pinstripes will never do you wrong. Camouflage-print shorts in this combo have gained acceptance with the big-wig menswear types, including Ralph Lauren. They work if theyre good quality and in good condition the blazer demands a minimum level of refinement. A loud bow tie can add a zesty touch to an otherwise color-blocked palette.
*  *  *  *  *