Miami is a multi-cultural mecca, but Australian swimwear designer Lisa Blue took us around the world in 20 minutes with her Spring/Summer 2013 swimwear collection at Mercedes-Benz Fashion Week Swim.
Grecian goddesses slowly walked the runway in a trance-like manner in white, blue and gold swimsuits to oceanic sounds. The show moved onto Flamenco-style swimsuits with bright ruffles and an appearance by Dancing With The Stars' Karina Smirnoff. A chinese dragon made for the perfect intermission and introduction to the oriental segment, followed by adorable pinup-type styles in floral and nautical prints.
Color Palette: Blue, white, black, pink, orange
Mood: The mood changed during each segment of the show.
Statement Pieces: Though the headdresses were the main statement, the statement swimsuit was the floral one-piece (picture below).
Front Row Name Drops: Christina Milian graced the front row in a yellow maxi and neon pink lipstick.
Gossip: It was close to being the longest runway show ever, and could've been edited down a bit.
Runway Music: From Enya-like music to latin to oriental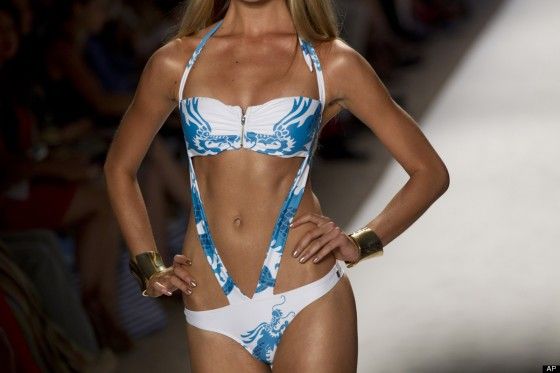 Follow @DanikaDaly on Twitter for live tweets from all the Miami Swim Week happenings.