Although everyone here at Fashion Indie is looking forward to ringing in the new year in style, no one is excited about the first hangover of 2011. Luckily, the savvy folks over at Refinery 29 have offered suggestions for the best NYC brunch spots to cure said hangover, and we have them listed for you below.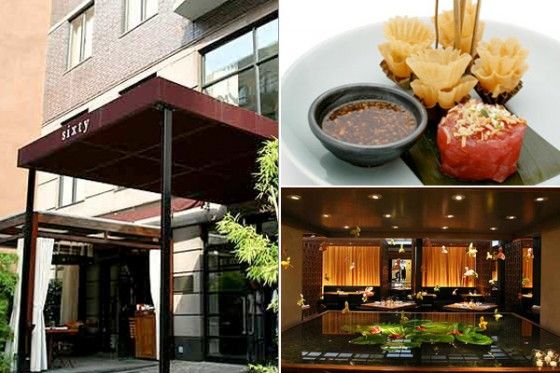 #1 Kittichal
Some say the best way to get over a hangover is to keep on imbibing, and at Kittichai, you can do that and have an Asian-style brunch that's mos def not run-of-the-mill (we love the Kaffir lime pancake souffle). Plus, there's unlimited blood-orange mimosas, lychee bellinis, or Bloody Marys for the low, low price of $25.
#2 Seersucker
There's nothing like some fried goodness to soak up the remnants of a crazy night. If that sounds familiar, then new Brooklyn restaurant Seersucker has you covered and then some. As the name suggests, the menu is full of all kinds of yummies from below the Mason-Dixon (chef Robert Newton hails from Arkansas), including grits, catfish po' boys, and fried chicken livers.
#3 Tacombi
For a tried-and-true hangover cure, Tacombi's street-style tacos are sure to fit the bill. Housed in a 2,100-square-foot garage, owner Dario Wolos (a native of Monterrey, Mexico) dishes out amazing breakfast tacos, along with delicacies like agave-glazed pork belly, Barbacoa short rib and tongue, and Achiote-rubbed chicken from a vintage VW van (there's coffee too!). The only thing that could possibly make you feel better than these tacos is a trip to Playa del Carmen itself.
#4 The Mark Restaurant
If you're ready to 2011 with a lil' splurge, a luxurious brunch at The Mark (Jean Georges Vongerichten's latest) will ensure you enter the year in style. Indulge in caviar with warm blini, or go traditional with Eggs Benedictin The Mark's leisurely settings, you'll definitely forget about those throbbing temples and welcome the year auspiciouslynothing says new you than a 4-star chef's newest restaurant.
#5 The Carlyle
The Carlyle Restaurant at the posh Carlyle Hotel is the perfect choice to live out any of your Gossip Girl fantasies. Say hello to 2011 with a bit of panache and partake in the opulent menufeaturing lobster omelets, eggs benedict, and Carpegna prosciutto with cantaloupe and balsamic reductionwhile you lavish in the dining room's sumptuous surroundingswe can't think of a more decadent start to the year!
#6 Egg
Egg is usually on everyone's brunch listand for good reason, it's the place to be if you're craving a fresh, down-home breakfast to cure those alcohol-induced blues. It's truly an easy go-to for all tasty brunch things. Not so easy, however, are the perpetual lines. So, make sure to hydrate before you go, because we're pretty sure the half of Williamsburg that's up in time for brunch will have the same idea.
LINK LOVE: Refinery29