P-Art-Y Basel! Our 5 Favorite Events at Art Basel
Dec 06, 2011 - by Samantha Lim
Celebrating its 10th birthday this year, the festivities at Art Basel Miami almost outshined the actual artwork.  With 18 other local art fairs simultaneously going on around town, over 260 galleries showing the works of over 2000 artists  and 50,000 creative enthusiasts from around the world, South Beach and downtown Miami's Design District were the country's  creative mecca this first week of December.  Our week was jam packed, with back to back versions of the most fun party ever, sandwiched between the best art exhibit ever Heres a rundown of our favorite events: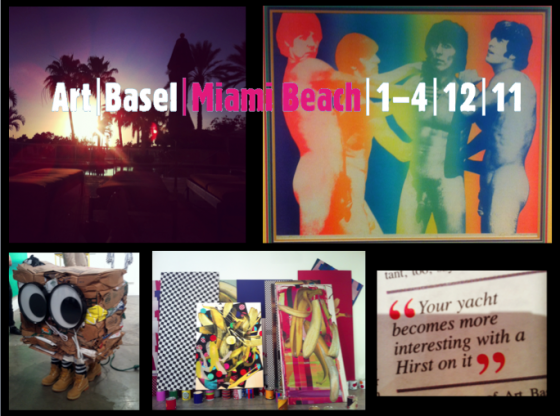 Actual Art Basel:
Held at the actual Miami Beach Convention Center, this huge hall was filled with 2,000 of the worlds leading contemporary artists. An almost overwhelming mall of inspirational and creative works, the untrained buyer can get swallowed in for hours gazing at works from the biggest players in the art world.
Peter Brant and Sotheby's Tobias Meyer Host Ferrari Party for Luca di Montezemolo:
The newest trend to hit South Beach design is through suped up, ultra sleek, uber trendy parking garages.  Yes, you heard me right. The Herzo & de Meuron designed  1111 Collins parking garage was the party hot spot on opening night, hosting Peter Brant and Sotheby's Tobias Meyer's Ferrari Party honoring their chairman Luca di Montezemolo.  VIP's Stephanie Seymour, Val Kilmer and Damien Hirst helped celebrate the launch of the latest Ferrari 458 Spider. Showcasing both new and classics, the luxe car company provided guests with red scarves, while they smoked from a cigar bar, watched a 3D movie and danced to a performance by Janelle Monae.  It was an incredible way to kick off the week.
Bing's Art of Night Parties (our absolute favorite!):
Showcasing the celebrity works of photographer Seth Browarnik, the events thrown by Bing  were some of the more elaborate of the week.
On Wednesday night, the iconic Susanne Bartsch  transformed the beachfront space of the Shelborne Hotel  with an over the top party that blew our freaking minds. Some of the highlights included 50 disco balls, a runway full of Lady Gaga lookalikes, a dancing stage of costumed performance artists, giant inflatable swans ridden by androgynous models in S&M gear and a drag queen of the night sporting 20' long sleeves who conducted the party from atop the high dive.  VIPs included Gabrielle Union, Pharrell, Ivana Trump, Paul Shaffer, Alanis Morissette, Mario and Ramona Singer, James Rosenquest, David Barton, and Menin Hotels' Keith Menin and Jared Galbut.  Fashion favorites DJ Mia Moretti and Caitlin Moe kept the crowd dancing, after which everyone went downstairs to Andre Saraiva's pop up karaoke club Paris Paris. 
 On Friday night, graffiti artist Finok transformed the background of the Shelborne pool with street renditions of the Cantina and Diving Board while guests like Bryan Greenberg, Gabrielle, Union, and Tyson Beckford sat back and listened to the sounds of Theophilos London and Young the Giant. The crowd went nuts when the artists stripped down and jumped into pool themselves, getting into the pool party spirit of Miami.  Havaianas commemorated the evening by selling special edition graffiti flip flops in the hotel gift shop.
Louis Vuitton Launches Art.sy at SOHO Beach House
Talk about a star studded affair: Pharrell Williams, Val Kilmer, Naomi Campbell, Paris & Nicky Hilton, Kat von D, Owen Wilson, Stefano Tonchi and Adrian Brody were among many other young starlets (and budding art collectors) who joined Louis Vuitton and power women hostesses Wendy Murdoch and Dasha Zhukova at the SOHO Beach House to celebrate the launch of Art.sy, a start up that educates, curates, and refers artwork to the art enthusiast (think Pandora, but for art).  We danced the night away to DJ Jus Ske while munching down on an endless beach buffet, all while trying to navigate ourselves on computers set up beachside showing off the new art site.  The party continued late into the night at Le Baron and was capped off with a live karaoke set at popular spot of the week Paris Paris.  
The Poltrona Frau & Wallpaper* Design Miami/Baccarat Party:
The debut of Baccarat's limited edition lighting collection, which features pieces by designers Philippe Starck, Michele de Lucchi and Jaime Hayon, was celebrated in the new Poltrona Frau Group showroom -- the largest furniture showroom in North America. DJ Sinatra kept the crowd of South Beach's ritziest clientele, including our very own Lookbooks.com editor Cator Sparks in this phenomenal Barak Obama themed caftan. Other key guests included Adolfo Barattolo, Steven Burks, Tony Chambers, Giulio Cappellini, Marianne Goebl, Marva Griffin, Federico Materazzi, Giampiero Di Persia and Dario Rinero.