Perry Ellis Search For The Sexist Guy Next Door
Jun 16, 2010 - by Daily Mister
Now through July 2nd, Perry Ellis is looking for the best guy to rock the runway this September.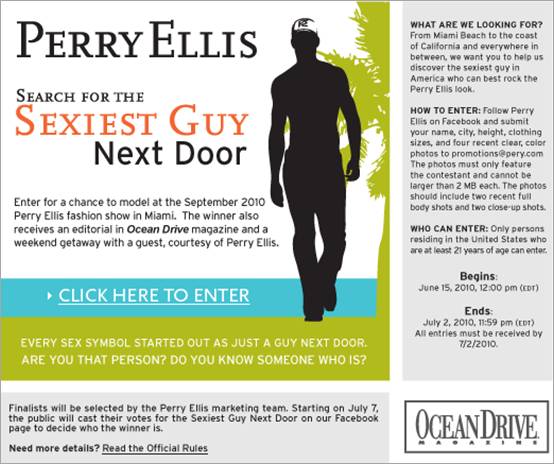 Perry Ellis is scouring the country to find the sexiest guy to model in the September 2010 Perry Ellis fashion show in Miami. The lucky guy also receives an editorial in Ocean Drive magazine and a weekend getaway with a guest, courtesy of Perry Ellis.
To submit yourself or other handsome man as the sexiest guy next door follow Perry Ellis on Facebook and submit your name, city, height, clothing size and four recent clear, color photos to [email protected]. The photos should only include the contestant and cannot be larger than 2MB each. The photos should include two recent full body shots and two close-up shots.
Finalists will be announced on July 7th for friends and family to cast their votes on the Perry Ellis Facebook page.
he final winner will be announced on July 22nd based on the finalist receiving the highest number of Fan Page visitor votes.