Manhattan based fashion parties are rarely your average affair, due in part to a heavy concentration of the country's most prestigious event planning firms.  We've gotten to know one of the most sought after -- not to mention best looking (more on that later) -- event planning companies in the business, PTL Events: Catering & Staffing.  From their attractive staff to their surprisingly Christian foundation (PTL stands for "Praise the Lord"), we've got the inside scoop as to why Anna Wintour wouldn't dream of throwing an event without them.    
Working hard has never looked this good.
The PTL team is professional, polished, and perfectly behaved. Their A+ attitudes are no doubt because PTL provides the best rates and books the best gigs in the business, therefore getting the cream of the crop when it comes to emerging models and actors, who often turn to catering to supplement their incomes and fit around their casting schedules.  Whether they are manning the boutique doors of Celine or YSL, fully outfitting Anna Wintour's signature Met Ball, or landscaping 40+ events across the country for Fashion's Night Out, the gentlemen at PTL  raise the bar when it comes to exceptional event execution.  We chatted with their founder, model turned entrepreneur Seth Whalen about his moral foundation, his event execution, and what makes PTL the best in the business.
Seth Whalen, Founder of PTL Events
What made you start PTL and how did you differentiate your business from other "cater waiter" businesses? 
I started PTL with the goal of creating jobs for my friends that could pay their bills while they were in the city pursuing their dreams. I wanted to create a company that actually cared about its employees, paid them well for a job done in excellence, and be a company of integrity and solid character.
How did PTL grow into the full service company it is today? 
PTL started as a staffing company that provided all types of servers from cater-waiters to bartenders to chefs and captains. Clients requested my staff as brand ambassadors/reps, promotional models, and attractive yet experienced quality event staff. Two and a half years ago, PTL was asked to do it all for some of its clientele. They didn't just want our amazing staff, but also our food! Hence, PTL Staffing morphed to PTL Staffing & Events to what it is now, PTL Events: Catering & Staffing.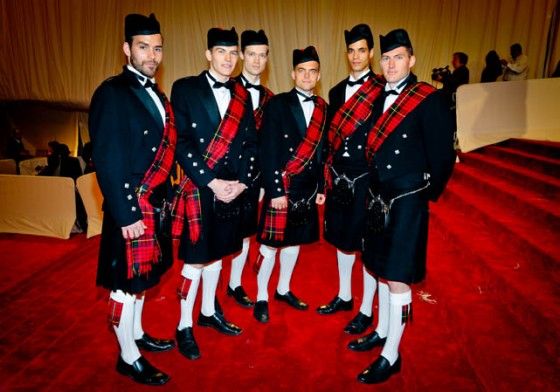 Met Ball Madness -- where real men wear kilts.
Tell us about your Christian background and how it affected your business in NYC.   I wanted to express the values and principles that Christ embraced and taught. To be above reproach, to be honest in my business dealings, to be a company of integrity, loyalty and character. To show grace, mercy and forgiveness in a city and industry that can be demeaning, ungrateful and certainly, unforgiving.
And those values trickled into the business side of things? 
I wanted my staff to be able to trust in PTL that if PTL was given any gratuity for them, that they would actually receive it. That they would be paid accurately, appropriately and justly for the work they had done.  The better you treat your staff, the better of a job they will do for you, hence, bringing the level of professionalism to a higher standard earning you happier and more clients. To me, it was common sense from my upbringing: " Do to others whatever you would like them to do to you. This is the essence of all that is taught in the law and the prophets" -Matthew 7:12
PTL can handle the heavy lifting
Is that how you chose the name "Praise the Lord Staffing"?
I named my company PTL because I cannot do anything for my life, my business, or my marriage without going to the source of my strength which is Jesus. He anchors me, saves me and always comes through, sometimes in ways that I don't realize or understand at the time.  I try to instill in my staff, no matter their upbringing or faith, to work hard and do it in excellence. Keeps me sane, focused and cool under pressure.
What about when you're in an event planning disaster?  Whenever I book my staff or book an event or when a client asks for an almost impossible last minute request, I stop and pray for a moment asking God, my heavenly Father to come through in a miraculous way because I cannot do it on my own. Then I always give credit where credit is due, hence PTL, Praise the Lord!
Why should boys have all the fun? PTL ladies for MAC Cosmetics 
Standing by Whalens side is his wife Kristen Whalen, a fashion photographer, who he credits as his sole inspiration (we can see why, she took all the images in this story and she has even shot us here!).  On the edge of their 5 year anniversary, they are currently glamping a fashion term for fancy camping in the Hamptons and are plotting another escapade later this August, the fashion industrys standard month off.  In the mean time, well be hard at work attending events all around the city, chatting up the handsome staff asking whether they are PTL crew or not.  For research purposes, of course.
To staff your next event or to get to know more about PTL, check out their website here.