Red Carpet Report Card: Rosie Huntington-Whiteley in Style Stalker
Oct 09, 2012 - by Amanda Gabriele
In this edition of Red Carpet Report Card, Im grading Rosie Huntington-Whiteley on her Style Stalker look worn to a private party with her mom in Los Angeles. See how she looked after the jump.
Rosie will be rated on the below categories, five being the highest and 1 being the lowest.
What grade did Rosie receive? Check out page two to find out.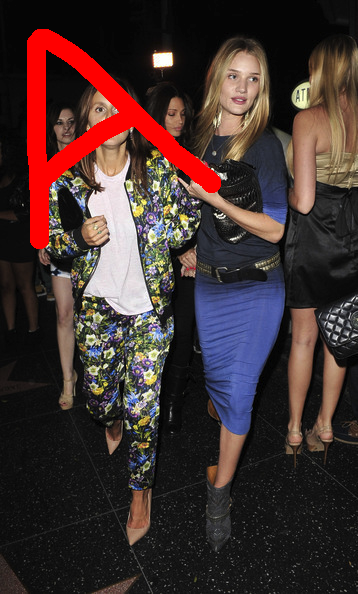 Now if Rosie was going to a party in NYC, I might say this look is too casual for nighttime. But as LA is more laid-back, I love what she's done with this dip-dyed dress. The studded belt and Isabel Marant boots add the perfect amount of edge while the python clutch classes thing up a bit. The hair and makeup is super simple, letting her natural gorgeousness shine through. I love that she's escorting her mother through what seems like a ton of paparazzi. It's the perfect off-duty model look if you ask me.