Steve Madden Says His Shoes Look More Expensive Than $700 Jimmy Choos
Sep 24, 2012 - by Amanda Gabriele
Last Thursday, I trekked through the touristy crowds to Macy's Herald Square to celebrate the flagship's newly debuted shoe salon and to chat with Steve Madden himself about how to look stylish while staying warm in the cooler fall months. Check out his fall footwear tips in the exclusive interview after the jump.
What do you think is the biggest shoe trend for fall this year? I think the biggest trend for fall is combat boots.
What are your best tips for staying stylish when the cold weather comes? Boots work well with all of the outerwear right now, so it's a good time for them fashion-wise. Rubber boots are great for the snow, and we make some styles that are waterproof. We have one called the Tsunami that is very cool, and it's selling very well.
What do you think of the sneaker wedge vs. the regular wedge? I think the sneaker wedge is great, we have a bunch of them this season. It was a big trend in the 90s, but it's better now because it was a little boxy back then.
What's you favorite type of shoe on a lady? You know, I can't say there is one favorite shoe, I like a lot of things. But if I had to choose one Steve Madden shoe right now, I would choose a pair of little dress booties with heels.
What's a good tip for the busy city girl to keep her feet comfortable? You gotta buy a lot of shoes. You have to change them up, you can't wear the same pair every day. They get worn out, but that's the great thing about our shoes: they're not super expensive, so you can buy a lot of them. You could buy five or six Steve Maddens for one Prada. I went to a Bat Mitzvah, and this woman, a friend of mine, bought her daughter a pair of Jimmy Choos, and I was like my shoes are so much better. They look more expensive and she paid $700. It's so silly.
What do you think of the new Macy's shoe salon? It's very exciting. There is no store like Macy's on 34th Street, it's great for New York.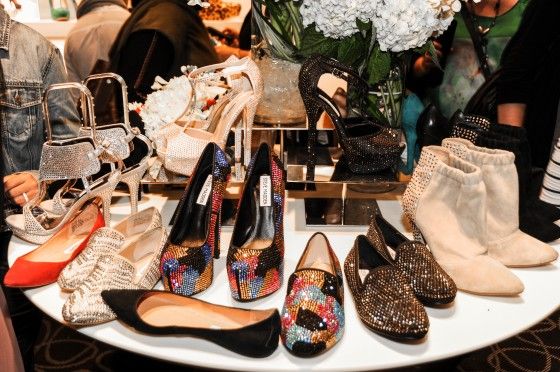 Steve Madden loves boots for fall, and we are obsessing over this Jeffrey Campbell pair, the perfect addition to your cool weather wardrobe.