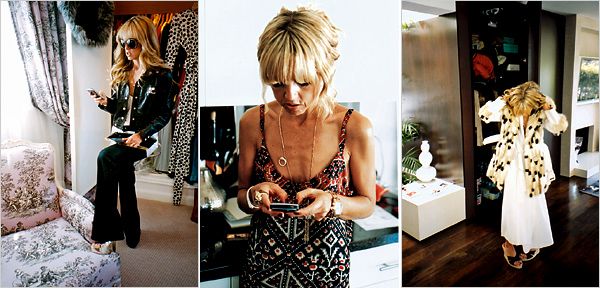 (photo credit: Andrew Durham for the NYT)
There are a few fashion rules every good fashionista knows:
1. Black is the new Black
2. 0 is the new 2
3. And above all you don't fuck with Anna Wintour. EVER! If she wants your first born, you better believe you're going to give her your first born.
See what Oprah is to the entertainment community, Anna Wintour is to the fashion community. She can make you and just like that she can break you!
News comes today that Rachel Zoe's has been dis-invited to the MET Costume Institute Gala a.k.a the Oscars of fashion. Zoe was originally an invited guests of designer Brian Atwood of Bailey's-but now she says she was never planning to make the gala on Monday because of filming for her new reality show. She is either lying to make herself look better and thereby digging a bigger hole for herself with Anna Wintour. OR. If this is the truth, and she never planned to attend the biggest night in fashion, she is the stupider than I thought. Either way she's about one bad outfit away from being booted from the fashion inner-circle.
Why might la Wintour be so peeved with Zoe? For making Nicole Richie and Lindsay Lohan fashion icons? No. It might have to do with this quote Zoe said in the New York Times Magazine last September:
"Anna Wintour is one of my heroes, but they say that Im more influential. As great as it is, Vogue wont change a designers business. But if an unknown brand is worn by a certain person in a tabloid, it will be the biggest designer within a week. When I worked with Nicole [Richie], there were things that she wore that designers had to remake for another season because there was such demand.
This is the fashion equivalent of the Beatles saying they were bigger than Jesus. Although what Zoe said may be true in a matter of moving clothing in retail, your not supposed to say that aloud. Because for the foreseeable future Anna Wintour is the most powerful person in fashion-regardless if this is a fact or more of a myth built by the media. Hopefully this incident will alert the fashion community that Zoe is has lost her magic touch.
( Ed. note: Although I pray for her demise, I look forward for her reality show on BRAVO. I'm sure her celebrity cilents will be thrilled that she is whoring them out for the cameras for her own self gain. Shouldn't it be the other way around!? )