HUGE congrats to Paul McCartney and Nancy Shevell McCartney for tying the knot today!!! In a private affair with just friends and family including Ringo (duh) and Barbara Walters (Nancy's second cousin who allegedly set them up years ago in the Hamptons), they wed at the same civil union office in London that Paul and Linda - his beloved first wife -got hitched in decades ago. Nancy wore, most fittingly, Stella McCartney - a just-above-the-knee long sleeve buttoned bright white dress. Perfect for a modest wedding of two happily ever after individuals. It's real love, and we couldn't be happier for them.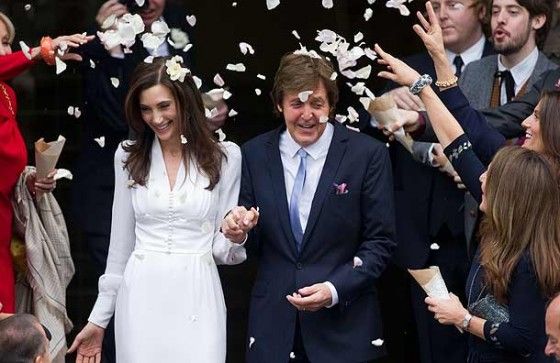 Sir Paul McCartney looks his absolute best in years (especially since Leatherface Mills-McCuntney royally effed with our main man). I've got a feeling that won't happen this time around. An inside source I know grew up with Nancy as a surrogate aunt, and according to her, she's the absolute kindest. At 51, she's an independently wealthy career woman, so money can't buy her love. And I saw her at his Yankee Stadium concert - she didn't stop dancing for a minute.
Nancy, thank you girl for being our knight's white shining armor. Let the ballad of Paul and Nancy continue in beautiful holy matrimony.