The Great Gatsby Costumes Designed by Miuccia Prada
Aug 22, 2012 - by Emily Draznik
The 1920's were a glamorous era before the tragedy of The Great Depression ensued. Famous for large fur stoles, sequins, fringed frocks, and vintage flapper style, the 20's had a unique style that was embodied in the film adaptation of the novel The Great Gatsby directed by Baz Luhrmann. For the film, designer Miuccia Prada gathered looks from 40 years of the Prada and Miu Miu archives. 
Baz Luhrmann, the director of The Great Gatsby,  worked in the past with Miuccia Prada on the film Romeo & Juliet  and now the duo is back at it again. The Italian designer pulled from 40 years worth of Prada and Miu Miu to gain inspiration for The Great Gatsby. The mens clothing was designed by label Brooks Brothers, but the iconic 20's fashion was done by the Italian queen herself.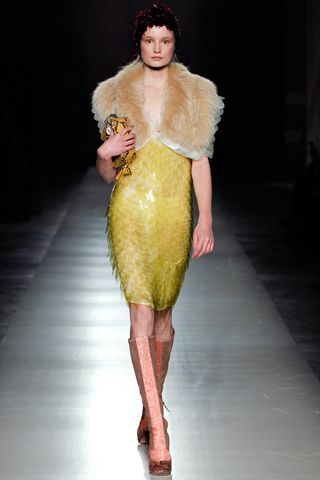 With drop waists and fur stoles, the costumes for The Great Gatsby were almost as iconic as the novel itself. Written by F. Scott Fitzgerald, the novel tells the story of people who party their life through the 1920s, honestly a life we wouldn't mind having of our own. And as equally stylish as the movie, designer Miuccia Prada has designed the costumes. The release has been pushed back to next summer, but the trailer has us begging that it was sooner. The Great Gatsby, it's costumes, and it's iconic actors are sure to make the film an instant classic upon release and we can't wait to see the final product.