Catherine, Duchess of Cambridge is, as I'm sure you're all aware by now, pretty goddamn perfect. Now that she and hubby Prince William have traversed the pond on their visit to Canada and later this week California, we North Americans can finally be a little closer to her royal fierceness. FashionIndie is proud and a little ashamed, to bring you every wrap dress, wedge and fascinator on her stylish adventure with our Kate Middleton Transatlantic Lookbook, updated regularly for your viewing/stalking pleasure.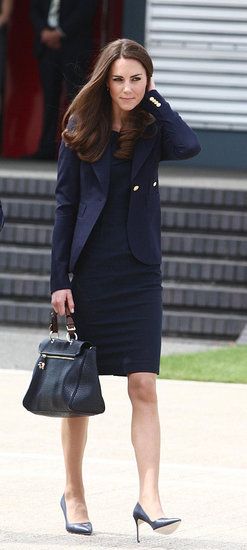 Photo: Fashionologie
Giving executive realness on her way through Heathrow in a Roland Mouret shift and Smythe blazer with a 2011 Mulberry Polly bag and Manolo Blahnik pumps.
Photo: Fashionista
Changed mid-flight, the Duchess disembarks in Erdem Resort 2012 and LK Bennett pumps.
Photo: Fashionologie
Will is clearly ecstatic at seeing his wife turning it out in go-to designer, Issa paired with an LK Bennett wedge.
Photo: Fashionista
Flawless, thou name ist Catherine. The princess wore a Reiss dress, a Lock and Co. fascinator and featuring, appropriately enough, maple leaves and a brooch on loan from the Queen to celebrate Canada Day.
Photo: Fashionologie
Kate wraps it up in Issa.
Photo: Fashionologie
Paying a bit of an homage to Princess Diana -- in an appropriate fashion -- Kate wore one of her favorite designers, Catherine Walker with Tabitha Simmons pumps.
Photo: Fashionologie
Kate feeling a little blue in Erdem.
Photo: Fashionista
Reminiscent of a young Jackie O, Kate steps out in a Joseph shift and a pink tweed jacket.
Photo: Fashionologie
Alexander McQueen has never failed the Duchess before and she continues to wear Sarah Burton's designs for the label to great effect.
Photo: WWD
Kate's LK Bennett heels and Marlene Birger dress may not have been ideal street hockey attire, but that didn't stop her from standing on the sidelines and cheering on Will as he did his best not to look like a royal tool. Still, would have been awesome to see her hip check Will into the crowd in a platform heel.
Photo: Fashionologie
After a day of activity which included observing a game of street hockey perched atop a sensible heel and... canoeing -- because she's the goddamn Duchess of Cambridge and she can do anything -- Kate kept it casual with a Smythe blazer, ruffled blouse, J. Crew jeans and Imperia espadrilles by Pied a Terre.
Photo: Celebrity-Gossip.net
Despite Mother Nature blowing up both her spot and her Jenny Packham dress, Kate Middleton looked radiant -- while giving face to the camera, thank you -- upon arriving in Calgary where she and Will attended some sort of rodeo.  The Duke and Duchess leave for California today where hopefully the only rodeo they'll see will be followed by the word "Drive."
Photo: Fashionologie
For her last day in Canada, Kate chose this Catherine Walker skirtsuit and a shellacked conch, which looks like the lady's version of the Snooki bump.
Photo: Huffington Post
There's nothing I love more than Kate Middleton getting off of a plane. She knows exactly how to descend a staircase -- it's something they teach you from a young age in England...and in gay camp. She and Will arrived in L.A. Friday afternoon, hair blowing and arms bared in a Roksanda Ilincic Peridot dress.
Photo: Huffington Post
Diane von Furstenberg was reportedly very happy when she learned that Kate had picked up one of her dresses for her trip to the states. DVF was probably also contented by the final product. And by the looks of that adorably goofy expression, so was Will.
Photo: Huffington Post
Though she looks lovely in her Jenny Packham dress, call me crazy, but I think Will's stealing the show. Gentlemen, take note: a white pant, white button down, navy blazer, and brown loafer = effortless chic.
Photo: Fashionologie
For their last outing across the pond, the BAFTA "Brits to Watch" event, the Duke and Duchess of Cambridge got to rub bony elbows with Hollywood's A-list. Kate, who knows exactly what she's doing by picking Alexander McQueen for her finale gown, managed to upstage red carpet MVPs Nicole Kidman in Elie Saab Haute Couture and Jennifer Lopez in something with cut-outs and an ugly sleeve. There's royalty present, Jenny, let's keep it off the block.
Well, twas a whirlwind week and and a half and an unprecedented success for the young royals on their first trip to North America as a couple. Kate rose to the challenge, donning many a memorable ensemble and Will was there looking charmingly befuddled by her side the entire time. Which were your favorites?
I know, I know, it's hard to choose. But take a stroll down Memory Runway and revisit her looks in the rest of the Kate Middleton Transatlantic Lookbook. While you're at it, try not to get too sad now that they're gone and all we're left with are some Kardashians and a Lohan.