Very pungent fruit. The Butyl Acetate smells like bananas. The Ethyl Acetate smells like pears. Mix a few more natural ingredients that don't include formaldehyde, and you've got yourself a Priti little nail polish that wont harm you. Plus, we're digging on this green.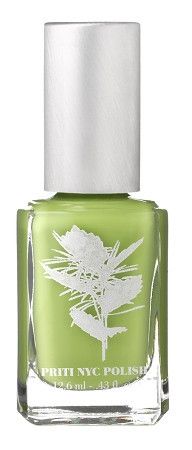 I found it at for $12.50 at Kaight Shop, the eco-minded boutique with spots in the Lower East Side and Brooklyn.
Priti NYC doesn't just stop at good-for-you polish. No, since the company was formed by a pregnant woman on a mission for nail polish that wouldn't disturb the health of her child, she also developed Soy nail polish remover - lavender and blossom scented. It actually leaves your nails feeling smoother, not like they've been stripped away.