Anti-Gloss
Indie favorite Kitten Magazine takes us to the circus this month with their latest spread. Style notes to keep an eye on include bright spandex and electric blue nail polish.  I sort of wish more people we're brave enough to rock these looks on the regular. But alas, you're all cowards. jk.
Popularity: 2% [?]
Michelle Trachtenberg is officially on my bashed list.
Aside from staring in one of televisions most unintelligent attempts to justify bitchism amongst today's young women, Michelle has a jewelry line (yet another celebrity designer) and a, dun dun dun, FASHION BLOG!!!  Bitch you just stepped into a mean old territory reserved for unemployed writers, stay-at-home mommas, and me. I will give you a few seconds to end your attempt to speak as if you know anything about anything and allow you to slink away from the online spotlight to star in Eurotrip 2.
Why is it that celebrities feel they can be a jack of all trades? Scarlett's singing, Fergie's acting, and just about every celebrity is designing. It would be really nice if these celebrities stopped trying to be a little bit of everything and just focussed on their craft.  Then maybe they wouldn't suck so bad and might get better roles or at least be more respected.
Michelle, from one blogger to another (sorry I just vomited a little in my mouth), please quit your attempt to be in touch with an online audience. No one wants to read about what you wore on Gossip Girls (okay some people might), but we definitely don't care about your cheesy jewelry line. Instead of spending your time at home crafting over-priced knick-knacks, get your ass out to industry functions, charity events, or other spots where you can get photographed and noticed. Build up some more recognition for your most profitable brand, you're not half-bad face and perky rack.  No one is expecting you to blog or design. We just want you to act. So get you're butt out their and whore the shit out of yourself to the industry. That will surely prevent you from having time to use your hands to designer or blog.
Popularity: 1% [?]
Ponystep.com recently featured this photoshoot inspired by the 1987 cult classic, The Lost Boys.
Alright, maybe I'm missing something but this is definitely not the type of shoot I was expecting. No blood, no fangs, no half naked vampire groupies. And where the fuck are the Corys.
For a proper homage to the classic check out Lost Boys 2 - The Tribe. It's coming straight to a DVD near you and it features a Cory.  Thank god someone knows how to treat the 80s right.
Popularity: 1% [?]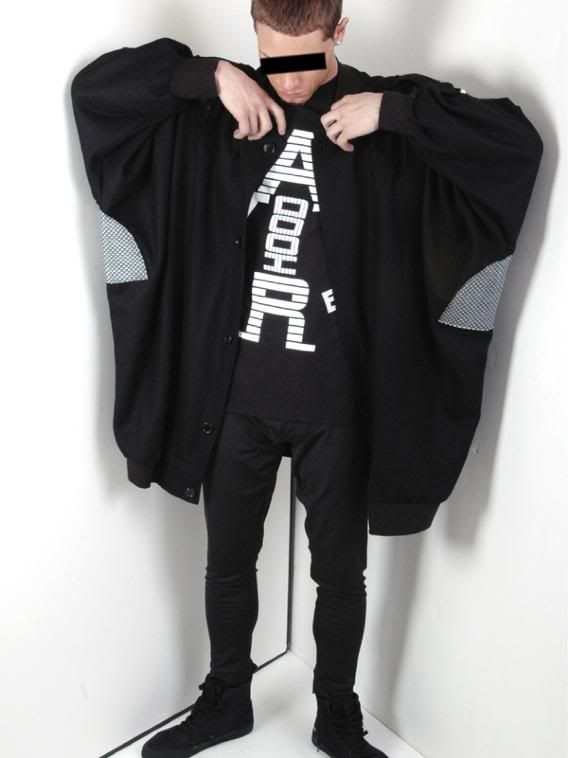 The Market got a chance to step into the world of Hood By Air recently, interviewing the brands poster-boy designers Shayne Oliver.  He tries to explain the difference between hood and ghetto, tells us about the future of the brand, and share his design inspirations.  We have bits of the interview below…
"Whether he's co-hosting a party with Roxy Cottontail, or chillin' with Vashtie at a 1992 affair, Oliver has become a part of the backdrop of the new LES scene."
A label's name usually captures the designer's aesthetic. What's the story behind "Hood By Air"?
It's a multi-faceted name. It has to do with the sensibility that my friends and I had acquired from being involved in fashion but being from a different background than many of our industry peers. It's like Men In Black (when the aliens were trying to appear like humans). We learned to appreciate, not condone where we came from (the hood), and incorporated the hood look into our style of dress and vice versa. So instead of it becoming streetwear, it evolved into street fashion. This is what Hood By Air works to epitomize. To us, this is the future.
I also believe that being "hood", not ghetto (huge difference), is skill: to make something out of what you have. Instead of becoming a victim to your circumstance, find the pros and run with it… to find your way out of it!
The pieces have an unusual mix between edgy and chic– something even more unexpected from a boy who grew up in Minnesota. What would you cite as your inspiration growing up?
I was born in Minnesota, but grew up mostly in St. Croix and Trinidad. My grandparents served as a huge inspiration to my views (in terms of fashion). My grandmother used to be a label-obsessed seamstress and my grandfather was a don dada.
In Minnesota I was inspired by the hood girls, they all dressed like their boyfriends (who were usually vice lords) with better hair.
St. Croix is where I first learned the concept of "getting dressed". Everybody hung out in malls. The sneakers, the clothes, the music (The Fugees' The Score had just dropped)… so much fun!
Besides the don dadas, Trinidad is a lifestyle inspiration for me. They are very free and work hard to be happy…. to me, Americans work hard to appear to be happy.

What would you say inspired the Fall '08 collection?
The goths and punks of Astor place, Wu Tang Clan and Joan of Arc. I wanted to play with the dark side of hip-hop.
Are there any trends in menswear that you love, or on the other hand, would like to send out into fashion exile ("hammer pants" style)?
Trends I don't really know. I like when people acquire their own classics; hood boys in skinny jeans, that's kinda' cool (if you fit them right).
We should do away with exact interpretation dressing. If you're gonna' do it, apply something new. If you don't, at least be good at it… Oh, and the Keffiyeh scarf.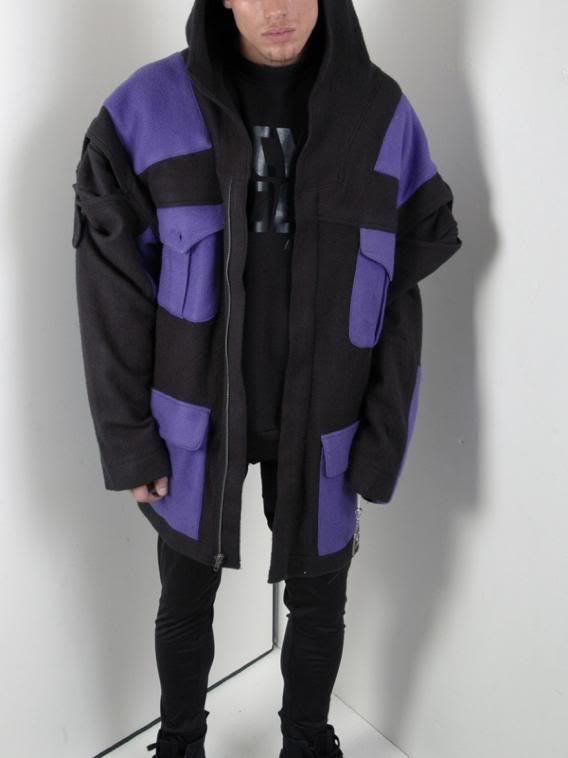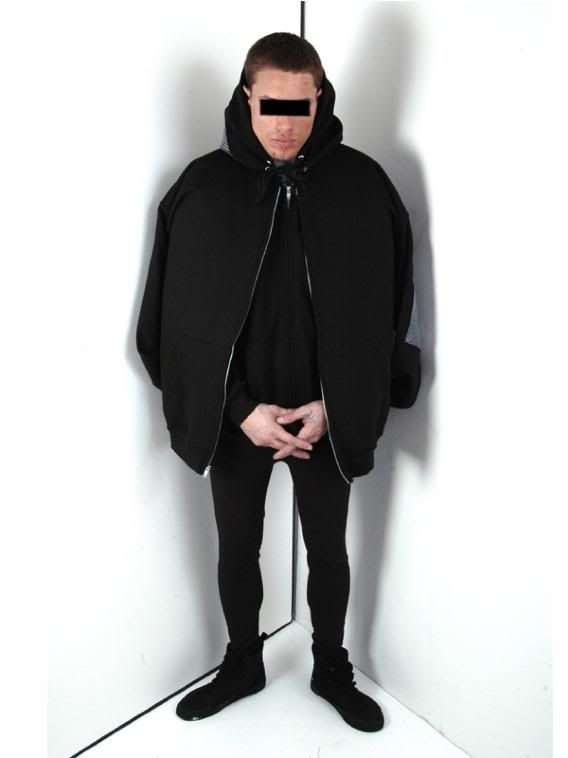 This is literally just the beginning; what can we expect in the near future from Hood By Air?
Art, multimedia, events… they are all in the works. I want to make Hood By Air an obtainable product of our lifestyle. I just want it to be good.
Written by Virginia Jackson-Reed  for The Market
Popularity: 2% [?]
We are love the Blonds and the warrior feeling looks that hit the runway in their fall 2008 show.  Coutorture had some fun with the collection during their last photo shoot, lucky.
Popularity: 1% [?]
Shopbop may have just taken a page from the glossies with their latest spread, "Sultry Swim". I may be wrong, but I think this is the first time I've ever seen a man make it into one of their campaigns. So basically, buy the swimwear, cause the boy will come soon. You can shop the collection of swimwear at shopbop.com.
Do you like Shopbops sexier shoots?
Loading …
Popularity: 1% [?]
Who the hell made this the default photo for hot young starlets in Hollywood? Got Lohan? Bring out the chair. Doing a shoot with Alba? Grab the chair. O'Donnell's in the building? Quick hide the fucking chair!!!
Boo to GQ for being so fucking unoriginal on this recent shoot with Mila Kunis.  I really think you should a) fire your photographer, b) stop thinking this is a sexy pose, and c) head to the house of the  photographer you just fired and slam him over the head with this chair.  Of course, if this was your decision (which it most likely was) then you guys are idiots for thinking this constitutes a proper spread in any magazine.
Popularity: 2% [?]
Anna Wintour and nebish new boss, Si Newhouse enjoy their bit of parody in the Observer. The Observer went on to craft four articles on the death of the glossy. Yes, we know it's already a cliche subject, put you can't deny that the little blogger is becoming tomorrows publisher. Hell our site already get's more monthly readers than Paris Vogue and it's only a matter of time before we grab Vogue's throne…
BY DOREE SHAFRIR"There's not one path anymore," David Hirshey, executive editor of HarperCollins and former longtime deputy editor of Esquire magazine, said the other day. "Thirty years ago, you worked at a newspaper, you moved to a magazine, and then you wrote books or screenplays. Today you can be a blogger who writes books or you can be a stripper who wins an Academy Award for Best Screenplay." MORE >
BY JOHN KOBLINIn the next five years in Graydon Carter's world, you'll walk onto a plane, or a subway, or a soon-to-be-invented mode of transport, and you'll tuck a little electronic book under your arm. Inside that little book, which will be very expensive at first but soon will cost $150, there'll be a series of mylar "pages," and there will be small buttons off to the side, and once you hit one of them, whoooosh, words and photos from Vanity Fair will suddenly appear. MORE >
BY MATT HABERIt's still possible to practice the dying art of old-school magazine journalism. But if you love it, like David Samuels, it will probably break your heart. MORE >
BY CHOIRE SICHAThe great Leibovitz realized she was never a journalist but made news with magazine covers. An artist who was once fascinated with her subjects lately seems largely fascinated with herself. MORE >
Illustration by Victor Juhasz
After the jump, Is Anne Lebowitz the real culprit in this Lebron/Vogue race mess?
You can't deny how similar her photo looks to the "Army Enlistment" one we found and considering that Anne is the oldest photographer on the block, I'm sure she must remember when these babies hit the street back in pre-Civil War Kentucky (okay, I'm not sure how old Anne is or if she's from Kentucky, but it seems to fit)…
Popularity: 1% [?]
So Jezebel came clean today on their April Foolery.  But in the interim they received a shit load of hate male for making people believe that they actually did get in bed with Conde Nasty.  Pretty hilarious comments on their site today, but this gem really floats my boat…
"Hi Gals! That was so fantastic when you suggested that we really start getting acquainted. Hi, Jezebels! My name is Perez Hilton. Now, before you go any farther, you should know that that is a french name and it's pronounced "Pa-RAY Heel-TONE." I have to do that with everyone I meet because when you are descended from Joan of Freaking Arc (pardon my french!), it's important to set people straight. Don't you just love the Internet? Anyways, for the record, my dress size is a 27D and my shoe size is a 16 and a half. Who says that the french are all petities? At least here in Illinois we proud descendants of the french come in all shapes and sizes. Take that picture I am enclosing. I am a proud Lady of Size who is not afraid to declare my feminine features. Fat and happy, that's me. Except when I am partying with my friends Dr. Peppers, Red Bulls, and Cheetos. Then I'm not so happy because I know it's going to catch up with me later. Dutch oven style, if you know
what I mean. Love you, love your new Site! Perez "Puffy" Hilton."
Who's the prettiest tranny in the world?
Popularity: 1% [?]
Jezebel was purchased by Conde Nast. The site for Celebrity. Sex. Fashion, Without Airbrushing has finally called it quits and sold it's soul to the devil and made it's way into hell. Yay, they sucked anyways.  If you want fashion that's not controlled by Wintour, be sure to keep it here.  If you want editorials reminiscent of that issue of OK Magazine your dog just shit on, well Jezebel.com's for you.
Oka, I know it's a big joke, but for one full day Jezebel looked like it was being run by the Fashionista Girls. Thank god it was only a joke.
Popularity: 1% [?]
Whether they're interviewing young designers or talking about the hottest name in music, CHEEK Magazinehas become one of our favorite destinations for youngish fashions. Check out picts from their latest spread….
Popularity: 1% [?]