Copenhagen
Refinery just posted a great review of Copenhagen Fashion Week Fall 2008 collections. You can read the full story here or check out our favorite bits below.
Just as New York Fashion Week was drawing to a close, the Danes were revving their engines, readying for what's fast turning into one of Europe's most anticipated style events—Copenhagen Fashion Week. In fact, the stuff we wear has become Denmark's fourth largest export (pork and windmills still top the list), and it was evident that the pool of export-worthy designers is growing, as this was the city's biggest Fashion Week to date with over 40 designers in the ranks.
As expected, there was the fair share of commercial, beige, peculiar, and bohemian. But there was also plenty that caught our eye, both from a few newcomers as well as the latest from old faves like Henrik Vibskov, Designers Remix, Stine Goya, Annhagen, Baum und Pferdgarten, and Wood Wood. Here's more of the good stuff from Copenhagen Fashion Week.


Best Behavior
Best Behavior is yet another collection that's set out to prove casual can always be cool, comfortable, and surprisingly sophisticated. Best Behavior's collection was equipped with all the standards: baggy, drop-crotch pants in a light jersey, black-leather leggings (which have been present at essentially every CFW show), jersey jumpsuits, oversized shirt-dresses in a sheer white linen, and some chunky knits in various shades of gray and, of course, umber.


Peter Jensen
Peter Jensen belongs to that infamous group of Danish-born designers who headed to London in the '90s to jumpstart their careers because Copenhagen was still relatively invisible on the fashion map. But now that Denmark is squarely in the sartorial trenches, Jensen and his comrades are embracing their roots and returning home to show their offerings.  Jensen sent out 24 unforgettable looks that captured the designer's love of irony and nerdy fashion. Models took to the runway in kooky footwear (courtesy of Camper) and showcased a wide array of fair isle sweaters, plaid suits, corduroy trousers, over-the-knee shorts, and wool pullovers emblazoned with bunnies and foxes.

Selected Femme/Homme
We all know that sometimes clothing aimed for a strictly commercial market can be, well, a little Dullsville. But Selected, a label under Denmark's biggest fashion conglomerate, Bestseller, was a welcome addition to CFW because it affirmed that commercial doesn't have to mean bland and lackluster. The label's first-ever runway show (and first womenswear collection) served up tuxedo trousers with T-shirts, skinny jeans, and loose-fitting casual dresses for the ladies. The men's collection was decidedly stronger, with cool denim looks and some perfectly tailored 3-piece suits that had a modern edge.


Jean Phillip
If Hedi Slimane and Rei Kawakubo of Commes des Garcons had a style child, Jean Phillip Dyremose would be it. The young Dane founded Jean Phillip just last year at the ripe fashion-ready age of 21—and at his first time at CFW, he showed his affinity for dirty-looking skinny boys in very, very tight pants, super-fitted, super-flash tux coats, crisp white shirts, skinny ties, and bondage-inspired vests. The appropriately titled Andro Collection played the unisex game quite well, although the four strictly women's looks that were shown weren't nearly as inspired. Let's just say if this newbie sticks to menswear, he's destined to make his mark sooner than later.

Won Hundred
This season, the young label showed that it's ready to kick it up a notch—designer Pernille Schwartz showed a shapely collection of highly structured dresses and coats alongside some streamlined denim looks. The strictly black-and-gray collection (with a few bursts of It shades purple and umber) was edgy without being eccentric. But the kicker in this collection was the coats—from an awesome mini-leather zip-up to a men's penguin-tux-inspired wool coat with an asymmetrical zipper—we wanted them all.
VOTE OR DIE

3
hate-/love+
| Link to | Got Indie?


WeAreTheMarket.com shares their review of Wood Wood during Copenhagen Fashion Week.
Scandinavian design has been influencing us for some time in both the interiors and fashion arenas. So we finally decided to get on over to Copenhagen for the CPH and Gallerie Shows, to soak up some Nordic influence and meet some cool people and cool brands.
We caught the Danish brand Wood Wood's fashion show earlier this evening. For it's 7th collection, called the "big bang" collection, Wood Wood  considers serious issues such as global warming, Armageddon, and the futuristic idea of space colonization. For men, classic and casual streetwear– basic tees, classic shirts, chinos, jeans, knitwear and sweatshirts– are twisted into interesting silhouettes. Fabrics range from classic mix of dark navy corduroy, light denim chambray, check flannel, to lambswool knitwear. Womenswear reflected a tomboyish edge using menswear materials, colors, and shapes. We personally love the plaid knee length shorts! Pics after the jump.
And always known for their exciting collaborations, Wood Wood teamed up again with heritage outerwear maker Penfield with a new bordeaux-red leather jacket.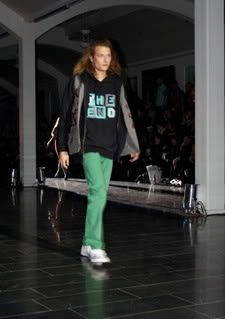 VOTE OR DIE

2
hate-/love+
| Link to | Got Indie?


Looking for all the classic indie goodness you've come to love.
CLICK HERE to be taken to our old site and view some classic posts.
VOTE OR DIE

-1
hate-/love+
| Link to | Got Indie?