London
Second runner-up: Xiao Xiao Dong
First runner-up: Rachel Chan
Kumiko Tani
Stefano Beruschi
Shao Yen Chen
Last week was the Central Saint Martins Fashion Design BA show. "An eclectic mix of inspirations could be seen in all the students' collections, taking everything from the ultra-futuristic to the performance-based, cubism to print-on-print and embellishment to minimalism," as stated by Dazed Digital.
David Swetman
Hyung Soo Kim
Winner: Alithia Spuri- Zampetti
Emma Hedlund
Craig Lawrence
Alice Kirkpatrick
Particularly exciting collections came from David Swetman, Hyung Soo Kim, Kumiko Tani, Stafano Beruschi, Alithia Spuri-Zampetti, Shao Yen Chen, Xiao Xiao Dong, Emma Hedlund, and two Dazed favourites: Craig Lawrence, a young knitwear designer who makes knitwear for Gareth Pugh, and Alice Kirkpatrick, who appeared in Matt Irwin's film for Armani Exchange last year. The L'Oreal New Talent Award for 2008 went to Alithia Spuri-Zampetti; first runner-up was Rachel Chan and second runner-up was Xiao Xiao Dong.
VOTE OR DIE

-1
hate-/love+
| Link to | Got Indie?


Alternative Fashion Week kicked off full throttle with about a thousand gathered in the audience to witness an eclectic celebration of contemporary fashion. First out was Kate Edwards with an outer-space inspired womenswear collection of figure-hugging dresses in metallic shades. Sabine Fouchier's lounge-wear and tea dresses came perfectly complemented with the designer's exquisitely detailed head-dresses. A thumping urban collection that attempts to recreate the energy of a gig by Victoria aka Tory Harley really impressed the fuk.co.uk crew, including fashion stylist Richard Shoyemi. Great outfits here include a 1920s style dress made from multi-coloured paperclips and a shift dress made from slides. These fused with digital printed leggings, dresses and pantaloon trousers all hit the fashion zeitgeist on the head.
Pretty Pervy
The extravagant and the extraordinary are always welcome at Alternative Fashion Week and they came in tank loads today courtesy of Robert Miller of Pretty Pervy. Based in Barnet, Robert's speciality is creating fantastical garments from latex rubber from natural sources. 'Does my bum look big in this?' takes on a new dimension - Robert has literally pumped volumes of air into the arse end of skirts and dresses to cartoon effect. A black floor-sweeping gown comes with an in-built latex gas mask (very Dr Who and a bit scary).
Big Richard
Kaori Matsubara
Underwear from Down Under: that's what Lloyd Perry's Big Richard collection of men's briefs delivers and it gave us a proper eyeful of lots of lean lads in branded underpants. Kaori Matsubara sent out 'Latex Dreams', a well-styled range (impressive beehive twisted, plaited hair) of gently crafted latex dresses with concertina pleats and gentle details. A mini dress with a love heart neckline and red tear drops stood out as well as a dramatic ball and chain affair and a stunning latex kimono.
Rachel Hines graduated in 2007 and has developed her streetwear collection since. It has a unisex feel and features animal prints, nylon jackets, washed knee-length denims accompanied by animal print neckerchiefs, coloured Wayfarer shades and perspex animal pendants. Rachel is well-focused and has a wide selection of her wares including cushions and T-shirts on sale at the Fashion Market which is open throughout Alternative Fashion Week.
Stephanie Tsang
Chelsea College of Art
Keerthi Ravi delivered a vibrant collection entitled 'Fashion Curry' with paisley prints and tailored tailcoats and shorts. Isabella Pepper's 'Comradeship and Interaction' collection includes an origami-like black coat dress, and asymmetric pleats on garments punctuated by angled hemlines. Stephanie Tsang's collection is inspired by Transformers - which she translates into futuristic creations including tunnel-style trousers and sleeves. Finally, Chelsea College of Art's Design and Textile Department completed the catwalk line up with 'Revolution Collection' flooding the catwalk with a sea of inspired student creations.
(Courtesy Fuk.Co.Uk)
Written by Marian Buckley
VOTE OR DIE

0
hate-/love+
| Link to | Got Indie?


Fashion Week London had quite a few stinkers in my opinion but there were a few of those 'tea guzzlers' that caught my eye and made feel all creamy inside like Oreo's.
Todd Lynn was one of those designers. In todays fashion world, the line between masculine and feminine has been blurred, and I don't just mean the bedazzled girly boys on the subway or the hairy chick in plaid at your local auto body repair shop. I mean a door being opened up to a whole new spectrum of tailoring and styling, giving menswear a softer line and women bolder shapes and textures.
Lynn's designs embody that idea without rubbing it in your face. In viewing his collection, I felt like a was seeing a designer deconstruct and explore the endless possibilities of the dress suit. Good Stuff.
-Z'maji The Glam'rist
VOTE OR DIE

0
hate-/love+
| Link to | Got Indie?


Alright indies, here's the final wrap up of London fashion week by Mode et Utopie. If you're not on this site, get on it. The coverage is always on point and Riz's opinions are always so sharp.
Christopher Kane
Christopher Kane defied our expectations yet again this season. His fall collection clearly conveyed that he was beyond the re-mixed denim he concentrated on in the spring, and even farther beyond the bandaged, neon body-con creations of three seasons ago. The element of surprise this fall, were the strands or panels of paillettes, the models were practically dripping in these spangles of ornamentation. But they were not sprinkled, they clustered in areas around the body, almost armor-like, contrasting with the airiness of the clothes that carried them. An interesting direction for Kane – but we now know with him we can never expect the eternal return of the same.
Is admittedly one of my favorite designers. The way in which he is able to reveal and conceal the body all at once, with such grace, is astounding. The critics are saying Schwab's pieces are less wearable this time around, and I think ultimately I do prefer last season's anatomical references. Quite interesting is the fact that this collection is said to be inspired by Charlotte Perkins Gilman's The Yellow Wallpaper, a canonical work of Victorian feminist literature. Again Schwab commits himself to an aesthetic that, in its deference for the human body, its content as well as its form, points us to the contingency of madness or hysteria, a psychic heterogeneity that is complex to grasp, that perhaps we wear unconsciously as a second skin.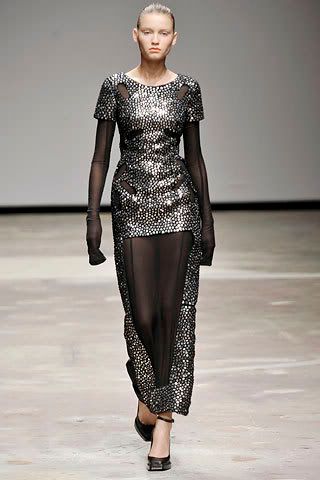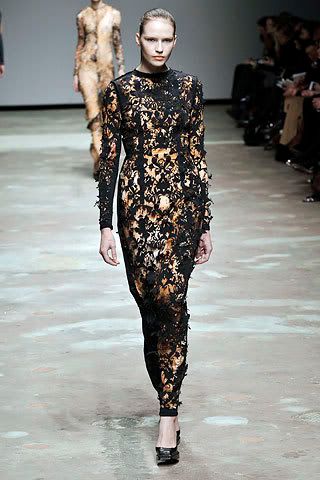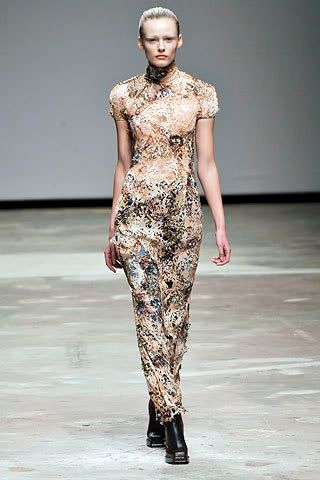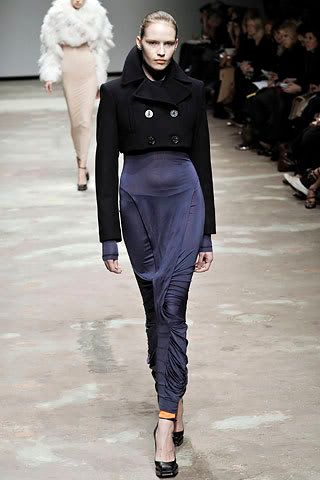 Todd Lynn, Erdem and more after the jump…
VOTE OR DIE

0
hate-/love+
| Link to | Got Indie?


TheMarket tipped us off to one of London Fashion Week's main looks. The Chunky Sweater.
At one of the most directional shows of London Fashion Week, the Man Show, chunky knits met sporty looks and some rather wacky looks.
Three new names joined Topman Design this season.  First out was Kesh, a streetwear label with a mature approach to urbanwear. Wool plaid skate shorts, quilted sweatpants and a patent-sleeved baseball jacket were both saleable and cool. Next up came James Long, whose harness-like accessories have already garnered countless pages of editorial. Texture was central to the collection, with oversized curly sheepskin jackets and three-dimensional knitted stitch structures twisting their way around chunky sweaters.
Hans Christian Madsen was the last of the new names to show, with a collection inspired by naval military clothing. Knitwear was a strongpoint for Madsen - the oversized cardigans, T-shirt sweaters and textured Fair Isle patterns all highlights. A sporty element also ran through the collection. Topman Design closed the show with a collection that focused on technical fabrics, sportswear influences and layered styling for protection against the elements - the latter arriving as windcheaters, crinkled coated-nylon trousers and padded plaid shirts, a creative update for a commercial bestseller. Oversized stitch-banded knitted coats were another highlight, and the palette of burgundy, cobalt, magenta and vivid Kelly green colored the wearable winter brights. (wgsn)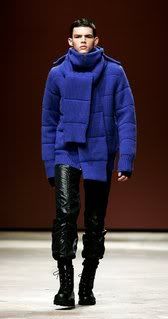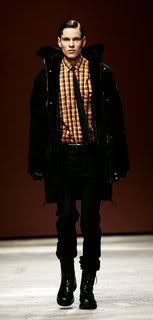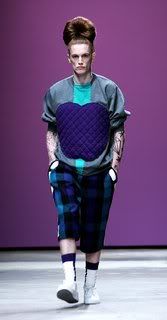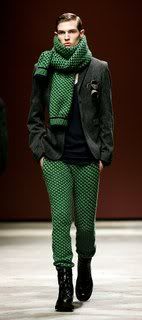 (photos: Coutorture)
VOTE OR DIE

0
hate-/love+
| Link to | Got Indie?


Yesterday at London's Fall Fashion Week, the collections of Giles Deacon and Gareth Pugh were screaming McQueen. Deacons line, inspired by horror flick The Masque of The Red Death, featured "femme fatales in a gothic disco" as put by the designer. Models walked out in puffy satin vests, webbed looking sweaters, billowy floor sweeping capes, and insecticidal dresses complete with white face makeup, black lipstick and in some cases, gauzy veils tied around their faces. There were several dresses that appeared to have been slashed, and large itchy looking furry pieces. The dark blood reds, blacks, blues and grays only added to the grim feeling, however the collection was still pleasing, if not totally consistent.
Gareth Pugh was also channeling some good ol' Alexander in his line, where the models looked like warrior queens from Predator in samurai dresses made from zippers, safety pins and PVC, among other things. The focus was strong, emphasized shoulders in dark grays and black. Though as a show it was obviously a spectacle to watch, most of the looks were unwearable, for instance a hoop-skirt dress made entirely from goats hair. There were however some looks that succeeded, like the over-sized beaded sweater on top of basic leggings, and a crosshatch patterned, long sleeve leather dress over matching straight leg trousers.
VOTE OR DIE

0
hate-/love+
| Link to | Got Indie?


Christopher Kane is a London-based designer, who graduated from Central Saint Martin College of Art in 2005. He quickly became a household name after his MA collection won him the Harrods Design Award which consisted of showcasing the collection in one of Harrods windows. His next collection consisted of short bandage dresses in neon which was critically acclaimed for it's major contributions to the "fluoro" trend in the Summer of 2007. Kane has worked as a consultant for Versace, created a capsule collection for Topshop, and is now collaborating with Lancome to create a limited edition Juicy Tube lip gloss called "Burns Night" set to launch later this month.
His Fall 2008 show showcased more of the genius that is Christopher Kane. His tight bodice style dresses were flirtier than usual and were adorned with large circular sequence in colors of red, grey, and beige. Containing with his bondage look, models in body hugging knits walked down the runway. This collection is looser than his previous and shows versatility in fabric selection and the use of feminine shapes.
VOTE OR DIE

0
hate-/love+
| Link to | Got Indie?


Topshop's Unique 2008 Ready-To-Wear collection was surprisingly aimed more at an older generation this time around, instead of the rebel teen. Leather leggings served as the base for many of the looks, placed under parkas, tweed dresses, and full blouses. The palette remained mostly the same throughout, grays, blacks and the occasional dusty blue or brown. The looks evolved from black leather work wear, to patterned shift dresses, to chiffon evening wear, to Peruvian inspired knits. Overall a very put together, more grown up collection then we're used to seeing from them. For all of you Americans loving the line, but not digging the dollar-pound exchange rate, not to worry; Topshop will be opening its flagship New York store on Broadway in October.
VOTE OR DIE

0
hate-/love+
| Link to | Got Indie?


Hey Indies,
Our wonderful site has been nominated for the 2008 Fabbies (Fashion Blog Awards).
We are up against 15 other sites in the Indie & Niche category, but we all know we're the best, so go vote (it's on www.fabbie.org).
If we don't win, Daniel will never show his face again and we would hate for that, so do it!
VOTE OR DIE

0
hate-/love+
| Link to | Got Indie?


Looking for all the classic indie goodness you've come to love.
CLICK HERE to be taken to our old site and view some classic posts.
VOTE OR DIE

0
hate-/love+
| Link to | Got Indie?