Views of Fashion
With brick-and-mortar stores for Narciso Rodriguez, Donna Karan and Ralph Lauren under his belt, Jeffrey Hutchison has established himself as a go-to architect for luxury retailers. Hutchison learned the ropes working with Peter Marino, who architected the Chanel and Louis Vuitton stores, and in 1999 he struck out on his own, establishing the firm Jeffrey Hutchison & Associates in New York. While at Marino, Hutchison worked on the Barneys flagship store, and today he continues to cultivate the storied retail institution's architectural image.
Describe your aesthetic.
"While I have worked in many styles and genres—from classical to minimal—I feel it is more important to allow the aesthetic of the project to reflect the image of the brand than imposing a particular aesthetic. That said, my work does have a number of consistent attributes, such as the creative use of light and implementing rich and luxurious materials. And all the work I do strives to create an emotional connection between the consumer and the location."
What are the current trends in retail architecture?
"While there is still a big push for retail brands to maintain the same image from location to location, I believe this is in the process of changing. The consumer is starting to get "consistency fatigue" in both what the stores look like as well as the merchandise being pretty much the same. To address that, I always try to respond to each project individually and give it a unique design without losing the overall language of the brand."
What architectural elements do consumers respond to?
"Probably the biggest response comes from good lighting and its creative use. In retail design a lot of people talk about the importance of lighting but so many brands just don't follow through. Consumers not only need good lighting to see the product (try distinguishing a black pair of pants from a blue pair in a poorly lit area), but they also want to feel comfortable in the space.
Lighting has so much do with the emotional characteristics of the design, and I always make it one of the highest priorities when we design a store. I want both effective lighting but also creative designs that people can respond to. Wherever possible I also include the use of natural light through windows and skylights because the quality of natural light has a big impact on how people emotionally connect to the space."
If you had a dream project, what would it be?
"I would love to design the entire customer experience for Richard Branson's Virgin Galactic, which is for air travel into space—the ship interiors, the lounges and everything related to your physical experience. It would be like designing the first Pan Am airplane and lounge back in the 1930s. It would be fascinating to develop a design that involves new technologies but speaks to the bygone eras of the luxuriousness of air travel."
Who are the architects you admire?
"Definitely Peter Marino, for whom I used to work. Also, David Chipperfield and Thierry Despont."
What are your upcoming projects?
"Currently, I am working on a new flagship for Barneys in Chicago, which will open in 2009. I have also designed a new store concept for Dooney & Bourke, the first of which just opened in Macau. We are doing many new locations for them, implementing this new concept and working on its evolution."
Content source: JC Report. 
Popularity: 1% [?]
Prestige Hong Kong seems to keep itself on our radar with another amazing interview with another huge fashion influential. First Karl, then Ford, now Chloe.  She explains the correct spelling of her name (it's seven-ee), how it was to work with Tadanobu Asano, and why LA sucks.
Below are some of our favorite excerpts from the magazine. Read the full interview here.
What are the greatest misconceptions about Chloë Sevigny?
Well, the pronunciation of my name, first of all [laughs].
[Blushing] Forgive me. At least please tell me I'm close with Se-VEE-nyee.
No, it's very off [laughs]. It's Seven-ee. The "g" is silent. It's okay. In America they all get it wrong as well. I always say just do the number "seven" and the letter "e." It's easier.
Tell me about the campaign shoot you've done for Japanese brand Uniqlo with actor Tadanobu Asano?
Uniqlo is a very big chain in Japan and there's only one in America so far, in New York. They've approached me every year. The first year they had [musician] Kim Gordon, [photographer] Terry Richardson and others. Previously they've done campaigns with about 10 people in each one, so I kept saying no. This year they approached me with just Tadanobu Asano. I always thought the ads looked really great and that it wouldn't do any harm.
Asano's a huge star in Japan. How was he to work with?
I don't know who he is but apparently he's very cool over there. I like that Japanese style of, you know . . . giving gifts, but then of course I felt guilty in that I had nothing in return to give to him. I should have thought ahead, considering I was working with a Japanese actor and knowing the way they always do that, but . . .
Unfortunately we couldn't communicate very well because he speaks no English and I speak no Japanese. So I didn't really get to know him aside from the things he gave me that were very cool.
Such as?
[Laughs] He gave me some socks, which . . . I always love some hosiery [laughs]. He gave me this cardigan made of cotton, and I have a big collection of cardigans, it was kind of like T-shirt material. Then he gave me this little thing that you wrap around the waist, it looks like a pair of sleeves, like a flannel to wrap around your waist but it has a zipper in it. It's just like a long scarf, or a pair of really long sleeves that you tie around the waist. It's quite clever. I thought it was very cool.
Are you pretty savvy on the Asian culture front?
[Laughs] I think I'd rather not say for fear of sounding ignorant. I don't know how even to acquire information about things going on in those countries. I don't feel like there's much coverage. I even heard the other day through someone I know that Yohji Yamamoto's son or daughter is now designing a line, and we don't even hear about that yet. That should have more coverage, especially for someone who's doing something really innovative in the way they are.
Did you go to the Murakami exhibition this week at the Brooklyn Museum?
No, I'm not a big Murakami fan. I really had very little interest in going to see that.
What about Cai Guo-Qiang's exhibition at the Guggenheim?
I did see that. Of course, yes. I was very impressed. I think to see art on that scale is just very rare, and I was kind of blown away and there was lots of crowds. I went one day when it was raining and there was a line about five blocks long to get in and I just thought, forget it, I'll have to come back another day [laughs]. And luckily the next time I went back it wasn't as busy. It's unbelievable though. I've heard the crowds have been really big there, every day, which is pretty amazing. I kind of wished that the "place cards," you know, the things that explain what the art's about, I kind of wish I hadn't been reading those and just let myself interpret it in my own way. I felt reading the cards took away from the experience a little, somehow. They were very informative but almost too much, you know, just spelled it out so eagerly for you.
Coincidentally, we're running a shot in this month's fashion section of the ballet flat you designed for Repetto's 60th anniversary. I love your design.
Thank you. I was actually just inspired by the old Vivienne Westwood shoes and the Comme des Garçons shoes, you know, with the straight platform across, not really a wedge, more like a lift. I guess that's like a traditional Japanese style.
How did you get to collaborate with them?
They gave me a list of the designers and I thought it seemed like a pretty good cross-section of people and we agreed. It was funny. When I was in Paris, outside the store – I had never been there before – there was a line outside the store to get in and I had to queue up behind the velvet rope. While I was in the queue I was like . . . [mock delirious] God, they're my shoes in the window! Can I cut the line? [Laughs.]
I've been strolling around Soho and I see Kate Moss for Top Shop clothes, Olsen twins stuff, Natalie Portman shoes, there's Jovovich-Hawk. This celebrity-designer market is getting competitive, isn't it?
Yes, I agree with you, but I think there's so much variety. For instance, what Kate Moss is doing for Top Shop is very mass market produced. And the Olsen twins is very high end, high-end fabrics, very expensive. Natalie's is a very small niche and what she's done is very personal. What I tried to do with Opening Ceremony, I hoped people would be able to recognise that I put a lot of work into it, rather than it just being something I approved. It was very thought out and very personal for me as well.
It seems you have a love/hate relationship with fashion. Can we expect more fashion from Chloë Sevigny?

No, absolutely not. I'm taking a big break from fashion. I'm not going to do another line. It was a one-off. We decided maybe in a couple of years we'll do a boy's line, but I think for a little while I should step out of fashion and concentrate much more on the film work. The problem – well, it's not a problem – but I had signed on to do this HBO series called Big Love and . . . the problem with Big Love is that it's not a regular schedule like network television. They have you on a retainer and you're not allowed to do other work because they say, "Well, we might need you." So for the past three or four years, getting film work has been much more difficult because people aren't as apt to hire me because they don't know if I'll have to go back and do the series. It's been really fulfilling, a great experience, I love doing the show . . . but my film work has really suffered because of it. So I need to stay in Los Angeles for six months and concentrate on finding something to do when the season ends in November.
So you actively dislike Los Angeles.
Yes. I have to drag me kicking and screaming, as a matter of fact, to LA.
Do you feel differently about your sexuality in New York and Los Angeles?
I was thinking about that just the other day. Whenever I'm here in LA, whatever kind of confidence I've gained in New York goes out the window [laughs] . . . because the city is built around the industry or something, I'm not sure what it is, but the town always does my head in and I'm trying to get over that.
Having lived as you did for a long time with the It-girl label, is it a good or bad thing?

I'm not sure. The It-girl concept has been around forever and people don't have very long attention spans these days, so it's out with the old, in with the new over and over again. I've tried not to let that dictate me and what I'm going to do, but do what I want regardless. I haven't been like, "Oh my God, I have to be out there, I have to be present." I've never really felt like that. As where, a lot of people when they become successful, that kind of bogs them down. Because once you get really big and on top, you have to try very hard to stay there, I think.
What are you reading?
Right now I'm reading a biography of Judy Garland, who I'm obsessed with, so I've been watching a lot of her films and listening to a lot of her records. I've been reading about fascinating women. Before that I was reading about Nancy Cunard, who was a socialite, a champion of equal rights and dated black men in the '20s and was very controversial, so I've been in kind of a "bio" moment.
What's your politics? Where do you stand on Clinton versus Obama?

I'm undecided. I tend not to get political in magazines. But I'm definitely left-leaning. The problem is, I like Obama's policies but I like Hillary's personality a little more. Not that one outweighs the other, but yeah . . .
What was Woody Allen's perception of you when he cast you, and did it change?
[Laughs] Woody Allen probably said about four words to me the entire time we were shooting. I read something about Judy Davis, who said she'd worked on a bunch of his films, maybe four or five, and he's probably said four or five words to her, so . . . I felt like I was in good company. I thought at least if he doesn't say anything to me, he must be happy with what I'm doing.
If you were me, trying to "package" you in this cover story, what's the angle, what would you say?
I think a lot of people probably assume with the fashion that I love it, that I court it, but I don't necessarily. That's not something I've really admitted before in the same way. Some people know me solely for that and it's frustrating, but at least more people are watching Big Love and I think opinions are starting to change.
Popularity: 1% [?]
Were the 80s the golden age of fashion? In this month's Vice, Renata Molho, a wild child Italian who styled countless models during the time, seems to think so. You can read the full interview  or check out some great excerpts that Jezebel picked out below.
On being a young, low-on-the-totem-pole stylist:
"I instantly learned that the difficult parts of this job are the small ones. When you have the amazing dress and the famous photographer, you don't really have to do any work."
On the vibe in Milan in the 80s:
Easy money, constant partying, and one out of two people in the street was a foreigner. It was a very superficial atmosphere, but it was vibrant. The fashion money funded the arts. Think about the Fiorucci store that was entirely painted by Keith Haring. There was a sensation that everything was possible."
On why no one should go to fashion school:
"These schools today are pretty useless. They are very theoretical. What do you need theory for? Nothing. What you need is experience, to have lived and seen and done other things in life. I taught for a while and I used to tell my students: 'Seeing one picture by Chagall is much more important than reading all the issues of Vogue ever published.'"
On Giorgio Armani, whose biography she penned:
"Studying him and talking to all the people in his life, I think I managed to understand the reasoning behind some of his actions. There's a telling episode in his life. When his life partner, Sergio Galeotti, died, the only daily that mentioned AIDS was Rome's Messaggero. Immediately after that, Armani canceled his advertising account with that paper. It became something of a media scandal. Researching him as a person, I see that as an act of love aimed at the preservation of a man's dignity rather than an act of spite."
On what happened after the magical '80s ended:
"Everything turned into a soulless homage to other things we had seen before. Think about the era of successive revivals that began after the 80s. For example, even today in most runway shows the music is nothing but a mix of 60s, 70s, and 80s music. It's a big empty hole. Nothing is exciting anymore, and most things are tremendously boring. Often, the best things are written by unknown editors and journalists, while the big names seem to sign things off with their left hand. Haven't you noticed that nobody expresses an opinion anymore?"
I sort of wish I wasn't born in the dead center of the 80s. It might have been fun to do what I do now back then. Of course, I'm pretty sure that would have been impossible, since I'm not that great of a writer and blogging didn't kick off till a few years ago. Skip that the 00s rock, fuck the 80s and their inferior technology.
Drinking Milan [Vice]
Popularity: 1% [?]
Christina María Aguilera, 27, was born in Staten Island, New York, to an army sergeant and a Spanish teacher. Her star potential was obvious from an early age, and she joined the cast of the Disney Channel's The New Mickey Mouse Club at the age of 13, along with Britney Spears and Justin Timberlake. Six years later her first, self-titled, debut album reached No 1 in the US charts. She has sold more than 25 million albums worldwide. Aguilera is married and recently gave birth to a son, Max. She is also the face of Stephen Webster jewelery.
"I am a visual artist. In fact, the first thing I do when I start a new album is to get the look together. I keep hundreds of tear sheets from magazines, make them into big mood boards, then get into the character. I call it method singing."
"I don't have a lot of patience when it comes to shopping. I'm more like: "Bring me lots of options." Trends don't particularly interest me, either, but I have put a lot of effort into planning my new wardrobe. I have loads of wig-heads for hats, and a shoe wall filled from floor to ceiling. It even has a ladder on wheels, a bit like in an old library, so I can scoot along and get what I want quickly."
"I don't believe in fashion faux pas. Every look I did was important at the time. When I was in the Lady Marmalade video it was all about being over the top, sexy and playful. The big hair, the make-up, it was so much fun. Would I do that today? Probably not. It was a different time, a different place for me."
" Everybody has an opinion on what I wear, especially about the outfits that were perceived as being very provocative. Some people were really closed-minded and judgmental. Fashion should be fun; lots of people take it way too seriously."
"It was a no-brainer becoming the face of Stephen Webster's advertising campaign. It was love at first sight when I first saw his work, and he is such a charismatic person that we became friends instantly. Stephen is a rock star in his own right - he has this amazing versatility which really suits my chameleon ways. I am his muse, which is an amazing compliment. It's nothing calculated, I'm just myself, I play by my own rules. But it is always flattering when someone appreciates what you're doing."
I wonder if she knew she was being objectified?!?
"Being objectified in magazines comes with the territory. You have to take it with a pinch of salt, but I don't like it when the papa- razzi get to the point of being dangerous. They'll park their cars in the middle of the road, they speed, it's insane to witness what goes on. I think that is horrible. In terms of reading bad opinions, I tend to see all negativity and criticism as a good thing because people are at least talking about me, so they must care in some way."
Popularity: 1% [?]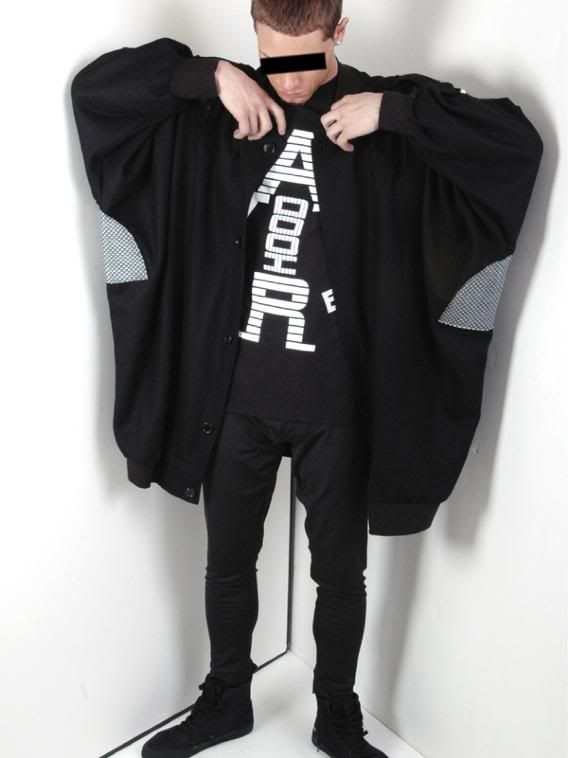 The Market got a chance to step into the world of Hood By Air recently, interviewing the brands poster-boy designers Shayne Oliver.  He tries to explain the difference between hood and ghetto, tells us about the future of the brand, and share his design inspirations.  We have bits of the interview below…
"Whether he's co-hosting a party with Roxy Cottontail, or chillin' with Vashtie at a 1992 affair, Oliver has become a part of the backdrop of the new LES scene."
A label's name usually captures the designer's aesthetic. What's the story behind "Hood By Air"?
It's a multi-faceted name. It has to do with the sensibility that my friends and I had acquired from being involved in fashion but being from a different background than many of our industry peers. It's like Men In Black (when the aliens were trying to appear like humans). We learned to appreciate, not condone where we came from (the hood), and incorporated the hood look into our style of dress and vice versa. So instead of it becoming streetwear, it evolved into street fashion. This is what Hood By Air works to epitomize. To us, this is the future.
I also believe that being "hood", not ghetto (huge difference), is skill: to make something out of what you have. Instead of becoming a victim to your circumstance, find the pros and run with it… to find your way out of it!
The pieces have an unusual mix between edgy and chic– something even more unexpected from a boy who grew up in Minnesota. What would you cite as your inspiration growing up?
I was born in Minnesota, but grew up mostly in St. Croix and Trinidad. My grandparents served as a huge inspiration to my views (in terms of fashion). My grandmother used to be a label-obsessed seamstress and my grandfather was a don dada.
In Minnesota I was inspired by the hood girls, they all dressed like their boyfriends (who were usually vice lords) with better hair.
St. Croix is where I first learned the concept of "getting dressed". Everybody hung out in malls. The sneakers, the clothes, the music (The Fugees' The Score had just dropped)… so much fun!
Besides the don dadas, Trinidad is a lifestyle inspiration for me. They are very free and work hard to be happy…. to me, Americans work hard to appear to be happy.

What would you say inspired the Fall '08 collection?
The goths and punks of Astor place, Wu Tang Clan and Joan of Arc. I wanted to play with the dark side of hip-hop.
Are there any trends in menswear that you love, or on the other hand, would like to send out into fashion exile ("hammer pants" style)?
Trends I don't really know. I like when people acquire their own classics; hood boys in skinny jeans, that's kinda' cool (if you fit them right).
We should do away with exact interpretation dressing. If you're gonna' do it, apply something new. If you don't, at least be good at it… Oh, and the Keffiyeh scarf.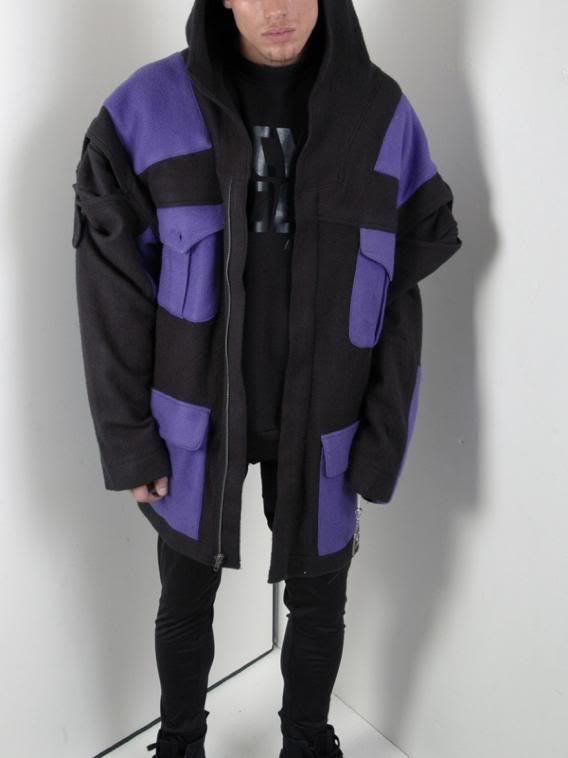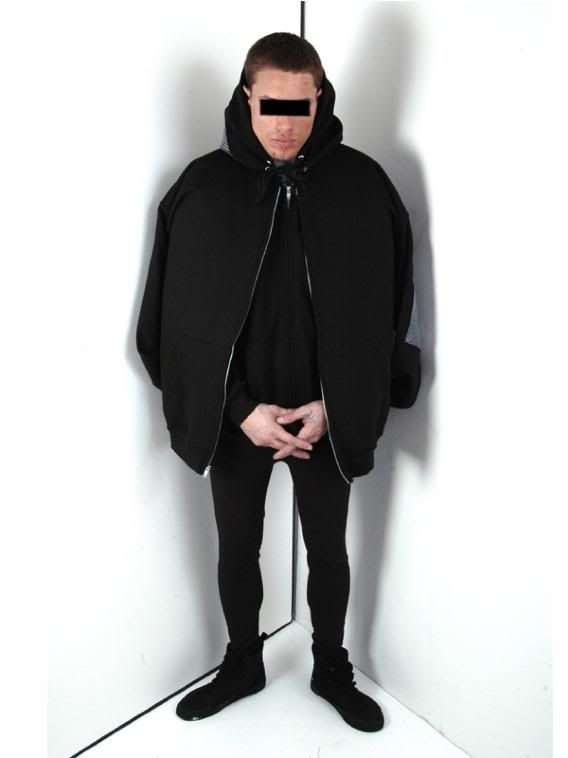 This is literally just the beginning; what can we expect in the near future from Hood By Air?
Art, multimedia, events… they are all in the works. I want to make Hood By Air an obtainable product of our lifestyle. I just want it to be good.
Written by Virginia Jackson-Reed  for The Market
Popularity: 2% [?]
New York-based photographer Dom Smith has fused his striking photographic aesthetic with his love of fashion to create a unique range of T-shirts under his own AntoineDom label. Smith's tees are cut longer and slimmer than most of the mass-produced men's tees on the market, making them the perfect complement to a pair of skinny jeans and boots. The images adorning the jerseys are taken from Smith's extensive portfolio and include fashion portraits as well as still lifes. Particular favorites of ours are the trash bag caught in barbed wire and the pensive, black frame-bedecked "officer."
Content courtesy of JCReport. 
Popularity: 1% [?]
 "My work is very personal to me. I improvise and allow myself to loose control and see what happens if I do not think so much about practical things. I am really fascinated by all the ways you can highlight, distort and transform the natural silhouette of the body with clothes and accessories. I build my garments by hand from a couple of basic bricks which I multiply and attach to each other in different ways to discover the shape that I want. In that sense I approach fashion more like a sculptor then a tailor."
"The handcraft process and the handmade feeling is also very significant. I am interested in almost every traditional handcraft method. I do experiment a lot with different materials and techniques, but it is through my heavy wool collage knitting that I have found the ultimate way to express myself. It is a freedom to be able to make your won fabric while working. For me it is the absolute challenge. All the levels of skills you have to pass before you can even think about starting to improvise. It is the real thing and everything that the modern fashion industry is not."
Popularity: 1% [?]
When Target announced in January that Rogan Gregory would be designing a collection under its GO International banner, the response from the green community was a resounding: huh? After all, Gregory has, especially under the auspices of his 100 percent organic Loomstate brand, emerged as one of the fashion industry's model citizens of sustainability. Retailers such as Target, meanwhile, boast reputations a little less sterling—to put it mildly. Cheap duds designed to be worn a few times and tossed aside may delight the trend-obsessed, but for those in the eco-know, so-called "fast fashion" is an affront to all the less-is-more values held dear by proponents of conscious consumerism. Those folks cheer initiatives like Loomstate's T-shirt recycling extravaganza, which kicks off next week in cooperation with Barneys New York and the Sundance Channel show "The Green," but Rogan for Target had them scratching their heads. "It's complicated," says Gregory, in effect summing up the oxymoronic conundrum of shopping green. "In order to make any real impact, you have to reach the mass market. Sustainability can't be a cult taste; it can't be a luxury. And Target has been a great partner, in fact, because they pull this whole organic thing into the mainstream." In other words: Cool your jets, greeniacs. Rogan's GO clothes incorporate healthy percentages of organic cotton, linen, hemp, and bamboo, making the collection something of a landmark in the drive to convert fast fashionistas to the eco cause, whether they realize they're being converted or not. Here, Gregory talks Target and drops a few clues to the environments obsessing him most at the moment.
Given your commitment to the green movement, were you at all wary about collaborating with Target?
I knew that I'd only do a collection like this one if I had guarantees that it could be done in an ethical way. I'm against the idea of just, you know, adding more stuff to the world. But Target is smart, and the way this project has worked out, they've initiated one of the largest, if not the largest, runs of certified organic cotton ever. That, to me, is a real achievement—not only does it mean Target now has a system in place for perpetuating its commitment to organic clothes, but because of their clout, it also shows other mainstream retailers that sustainability is a realizable ideal.
Has the experience with Target encouraged you to introduce a lower-priced version of Rogan?
I've always wanted to do a lower-priced line. The way I've justified my prices on Rogan is that I only make a few of each thing, I make them from the best materials and with the best people, and if you wear a pair of jeans for four months straight, like I do, then the cost averages out. But not everyone approaches their wardrobe that way, and not everyone can afford a pair of $100 or $200 jeans. My sister's an academic, and over the years that I've been designing, she's asked me, "What are you doing? Who is this for? Is this an art project?" Maybe the most gratifying thing about having the collection out at Target in May is that I know my sister will be able to go into the store, and for $100, walk out with a bunch of stuff.
It seems as though you've been hitting on all cylinders since snagging the CFDA Award last year. There's the Target collection, and this Loomstate project with Barneys and "The Green," plus the everyday workload that goes along with designing Rogan, Loomstate, and A Litl Betr. I'm assuming you aren't getting on the surfboard much these days.
I'm probably going surfing tomorrow, actually. But, yeah, I'm busy. There are a couple jewelry collaborations I'm not quite ready to talk about yet, some plans in the works for a fashion week something or other, and then the big project right now is that I'm opening my new store in May.
What should shoppers expect?
Well, the space is automatically spectacular—the building itself is kind of a landmark. It's got character, and inside, there's 20-foot ceilings. I'm doing the whole thing in black, reflective surfaces, very clean and cool. I like that mix of the old and the new—soulful modernism, I guess I'd call it. I think I love designing spaces more than I love designing clothes, to be honest. So I've got a lot of projects, but the store, that one's kind of my baby.
Rogan will open at the corner of the Bowery and Bond Street next month.
Popularity: 2% [?]
We did the designer discovery and NYLON beat us to the interview. Sometimes, we think they just steal our designers. So we decided to be the "better person", and post their interview, cuz it wasn't too bad, I mean, we would have done it better…
What is the Quiet Hero aesthetic?
An honest sauciness, an attempt at pure translation from mind to ink, a tenacious following of paths off our map. Confidence in our purpose, a love of all things, taking joy in the rough-and-tumble of living.
What inspires the eclectic designs/illustrations?
One part world-traveler, one part 144 pounds of muscular TNT, and one part animal activist. Mix well around an old wooden table in a well-lit back room, add homemade popcorn, a few bites of challah, and plenty of lapsang souchoung. A splash of high-spirited argument and you've got the Quiet Hero team working in aggravated harmony.
What music do you listen to when you design?
MIA, Leslie and the Ly's, Spank Rock, Youssou N'Dour, Habib Koite, the birds in the backyard, and the occasional frantic yelps of Birdie the cattle dog as she is woken (yet again) by the mail man.
How did Operation Quiet Hero come about?
I lived in Nicaragua for a year during the Iran-Contra War and saw what war does to people. Our commando went to Iraq. Our artist is involved in animal rescue. OQH is an expression of love and compassion for those who are suffering in the world. As Quiet Hero grows, the giving itself is enough and we're trying to keep OQH a little more under the radar. We're in business to have fun being creative; giving people a hand when needed is our reward for doing a good job.

Popularity: 1% [?]
So twice a year NYC's famous Henri Bendel's holds a search for new indie designers looking for an in to the industry. Designers will start to line up outside starting at 2am in the morning. I was not going to get up that early, however I did get there at 7:30am and at that time was still 2 city blocks away from the entrance. While about a thousand people continued to add on with every hour or so.My time paid off thanks to the hands of the fashion gods and my brilliant reps at Bui-Lavry PR who helped me display and sell my treasured head pieces. Bendel's is giving me a time slot to host my own Angel Lust trunk show near the end of April, which will coincide with the debut of my items on "Gossip Girl" !!!I'm going to write more about the event on my personal blog along with some very helpful tips for all future designers who want to stand in line. Visit me http://angellustpr.blogspot.com/-Kristen May Anastasia
Popularity: 1% [?]
One short year after debuting his collection at New York Fashion Week, Chris Benz is a star in the fashion world and a force to be reckoned with. Known for his bold eye for color and his easy, carefree silhouettes, Benz is making waves and living the New York dream, and he's soaking up every minute of it from the stoop of his West Village tenement building.
Indie favorite, shopbop.com got the chance to sit with Benz on his collections, inspirations, and New York's influence on his design.
shopbop: You consistently choose bold colors for your collections. What's the inspiration behind your color palette?
Chris Benz: I really can't say. I just try to use colors that feel right to me. There's no mystery or mathematics to it, it just materializes for me. In that way, color is one of the best parts about design for me!
sb: Your stoop obviously plays a big role in your New York experience. How does it influence your designs?
CB: A stoop is such a New York manifest. It really is about seeing the street, and in my case, a very funny mix of West Village neighbors and drag queens. It's about seeing people today, seeing how they are layering, seeing how real clothes are worn. I think there is a great decompression when you can sit and watch people, which helps alleviate the vacuum of fashion.
 For the full interview visit Shopbop.com
Popularity: 1% [?]
We got the pleasure of speaking with Caroline Flach of Kcoline. We learned about how one moment changed her life, her design concepts, custom fitting, and process.
FI: How did you decide to come to New York over staying in France to pursue a career in Fashion?
CK: I came to NY because I met a very nice man ( my current husband, Andrew) in the south of France. I decided to come check out the city and instantly I got amazed by people's outfits, just people on the streets dressing freely, you don't see that in France, unfortunately. It really was a shock for me but I didn't decide to do fashion immediately, it incubated in me for a long while… I started first to dress a little more crazy, then more and more. Meanwhile, I happened to have a close friend who was also a very good designer who hired me for a couple of jobs. She really developed my sense of fashion, from crazy to feminine, and creative. "De fil en aiguille" I started to make my own creations, my own patterns, I wanted to do a ton of things but not really designing, I thought I couldn't.
Then a friend told me about etsy… and it was EXACTLY what I needed! I gave it a try and after a while, in something like 4 months, it started to work. I have been living happily ever after, I sell everything I make, customers are really happy, I get a lot of friendly supporting messages and feedback. I had to adapt myself to the internet and learn a lot, but now, things are smoother.

FI: What is your process in creating a piece?
CK: I like working with my hands, I like independence, I like handmade, home-cooking, small, unique, I try to be responsible for what I do, I am not a control freak but I like good results.
FI: How did you decide on producing one of a kind pieces rather than mass-marketing them

CK: I am actually looking right now to get some of my pieces made: anyone interested?!!!
FI:It's amazing that you do custom made orders, how did you decide on that?
CK: Custom orders are great because I like to give form to people's wishes, they are just more work and a lot of interaction with the customer about fabric, style, and details. It is funny too because they have to take their own measurements and sometimes they are all off, so I tell them. Since it is over the internet you really have to make sure that they will be happy with the result.
FI: Both your apparel and accessories are beautiful, do you prefer to make one over the other?
CK: I don't have any preferences doing accessories versus clothing, I like to make furnitures and objects too. Anything that I can get my hands on.

FI: As a designer, what do you want your line to represent?
CK: Well, tough question. I want my line to represent who I am. I am only trying to show off the best of me though.
Popularity: 1% [?]
Gritty, dangerous and filled with the type of people you wouldn't want to take home to mama, the New York party scene has long been the subject of shutterbug Nikola Tamindzic, whose enjoyed quick rise to fame as one the cities best nightlife photographers.  We got a chance to sit down with Nikola and talk about the death of Ambrel, Gawker stalking, and the new Home of the Vain.
FI - Ambrel.net was always one of my guilty pleasures. Why did you give it up?
NT - It became repetitive and stifling, in a way. It's a natural thing, you know - but that's what happened: it was a strictly nightlife site and I didn't feel like it could be easily overhauled to include everything else that I'm interested in and all the other things I shoot most of the time. Over the last 2 years of Ambrel.net's existence, nightlife photography was taking up no more than 10% of my shooting time. So it was logical to create an outlet for all that stuff, which is what Home of the Vain is.
Also, over time, the style got totally ripped-off: the swirly lights, multiple lights, whatnot. It would be ridiculous to think that I have the patent on those couple of really basic photographic techniques; but you can just tell when you look at the new nightlife sites popping up left and right, that they're either referring to Bronques' style (ie. super minimal snapshot thing) or mine. The problem is not in technique, obviously, but in point of view, and I'm struggling to find an interesting point of view in the stuff that comes my way.
I mean, we're all referencing same visual cues we've seen before, and that's all well & good. The question is: why do it at all? Because it's in vogue? That's not good enough - there has to be a need to tell a story, to find a story and put it to film, otherwise your photos are only as good as the boobs of the last drunk girl you got naked in the bathroom of Lit. (Yeah - nightlife photographers are overwhelmingly male, unfortunately.)
FI - House of the Vain seems so much more artistically driven than Ambrel. Are you over the nightlife shots?
NT - As I mentioned, it's the in thing to do now, and when you realize there are more people shooting at a party than people being shot, you ask yourself - well, what's the fucking point then?
So, I'm sure I'll come back to it sometime: it's an inexhaustible subject. But for now, I'll take the camera out to parties only on special occasions, and in the meantime I might try this radical new concept - actually going out to hang out and have fun. Shocking, right?
Home of the Vain features (and will feature) a lot of the people seen in my nightlife work, but in a very different context, so it's a natural extension. Basically, I think whatever I shoot - portraits, parties, editorial, fashion, even fucking landscapes - I'm always telling the same story from different angles. They all may look fairly different, but they belong to the same world. So, the fun thing about Home of the Vain will be mixing archive stuff with photos taken the previous evening, as well as putting very very different photos next to one another - quiet city shot after a crazy nightlife photo and so on.
I'm curious to stretch the narrative, you know? See how many things I can cover and still maintain a coherent story. Helmut Newton's Sex & Landscapes book was pretty influential in that regard, and I recommend it heartily.
FI - You been praised as one of the greatest (on Fashion Indie "THE" Greatest) nightlife photographer of our day. Does the attention ever get to you?
NT - The fact that it takes very little to get to that point is more bewildering than anything. I started shooting nightlife in earnest when I moved to NYC in 2004, and immediately got the gig with Gawker. (Because my Halloween costume for Nick Denton's party was photographer - yeah, that lame. Whatever, I just moved and was couchsurfing.)
And to this day I believe that I got both that job, and all the accolades later, because I had that desire to tell a particular story, nightlife as I see it, rather than the way camera sees it. Know what I mean? I wanted more than a bunch of photos of pretty people getting ridiculous. I always refer to Suede's Dog Man Star album as a pretty good way to describe what I wanted in musical terms.
My idols as far as nightlife work were Henri de Toulouse-Lautrec, Brassaï, Lee Friedlander. And actually, you can't see much direct influence on my ethics or esthetics in those, but all of them had a clear idea of the story they wanted to tell, and they doggedly pursued it - you can tell their work in a second.
People are so undemanding, so unambitious in artistic sense - sure, hustling will get you money and drugs and plenty of ass, and it often takes hustling to be really successful, but it doesn't say anywhere that you can't have all those benefits and actually create something you really care about, and something others can relate to, right? You can do both. And everyone seems to think about PR first, and about putting photos of everyone who showed up at the party second (so they pass the word around) - but few both