Artists
Looking stylish would probably be the least of your worries during a terrorist attack, but then again you're not Paris Hilton. Trendsetters like her might trade in your duct tape and Cipro for the Urban Security Suit. Designed by Tim Smit, the USS is made of neoprene, though it's also lined with body-molded Kevlar to ensure you can stop bullets while turning heads. There is also a gas mask, in case of deadly chemical release into the air.
And if the USS isn't your cub of fashion, there are always the rifles, chainsaws, machine guns, and artillery shells. But, these aren't your normal army weapons, these are branded with big designer names: Louis Vuitton, Gucci, Fendi, not exactly what you would imagine for a rocket launcher or an electric chair, but way more stylish than the AK-47. There is also a Pac-Man grenade!

Louis Vuitton for Guantamano Bay
Popularity: 2% [?]
Photo by Hedi Slimane
Popularity: 1% [?]
Annie Leibovitz has enjoyed a career as one of the most celebrated celebrity photographers of our time, responsible for countless shots that have included a who's who of celebs, rock stars, and political figures. Recently, as in before all the Miley Cyrus bull shit, Leibovitz shot Giselle Bundchen and Lebron James for a cover of Vogue that had many in the fashion world and media question the photographers ulterior motives in many of her shoots.
In my opinion, Leibovitz career has been tarnished by her brazen attempt to objectify African-Americans as wild, King Kong-ish beasts, but photos from her over 14 years at Vanity Fair suggest that maybe the lack of love for brownies started a long, long time ago. Check out the photos below from some of Vanity Fair's most famous Leibovitz cover shots. The first panel is the front page which is what the buying public sees. The second and third panel are usually tucked away from the viewers eye. It's called the Annie Leibovitz Black Bump and it's the perfect way to include a darker skinned person in a photoshoot (allowing Annie and Vanity Fair to maintain their "We Love Black People" stance) without giving them prime real estate on the front cover.

Angela Bassett gets the black bump
As does his wife Jada Pinkett Smith

Thandie Newton Gets the cover but darker skinned Omar Eps gets the bump
Too tan for Anne. Rosario Dawson gets pushed back
Samuel L. Jackson and Don Cheadle get pushed to the back of the bus
Rosario Dawson and Kerry Washington get the bump
Zoe Salanda gets the bump (and the worst outfit) America Ferra barely makes the frame
Eight high profile covers, 12 top "brown" celebrities pushed to the side. Do you see a problem with this picture?
Popularity: 1% [?]
Agyness Deyn, Derek Lam and a slew of other celebrities play host to a private preview of Andy Warhol's Double Marlon at The Soho Grand tonight. This event will be filled with a who's who of fashionable types and celebs so it's only appropriate that we crash it. Nothing says true Warhol more than rebellion (or is that commercialism).  In a day when so much of Warhol's work has been bastardized it's refershing that there is still appreciation for his art, unaltered and not attatched to a national campaign for the GAP.  You probably won't get in, but if you're the hotness you never know.
Andy Warhol's DOUBLE MARLON
8 - 11PM
The Soho Grand
Penthouse Lofts
310 West B'WAY
Popularity: 1% [?]
It's no secret that Uniqlo is one of my favorite fast retailers to date. The store is a gallery of some of the best t-shirts you can find in the city at a price that is hard to pass up. Of course, just cause it's a gallery, doesn't make it art?
To celebrate their UT Project, in which the released way too many t-shirts for the shopping public, Uniqlo is unveiling The UT Gallery: a one-off exhibition space filled with portraits showcasing the collection.
According to Vogue, the exhibition features some 200 works, which were shot by photographer Matt Irwin. Along with stylist Nicola Formichetti, he embarked on a grass-roots search for starring talent, spotting his subjects in places as diverse as the streets of London and New York to MySpace. The images show up-and-coming artists, models and designers wearing some of the 700 UT Project Ts, including those by Eighties artists Keith Haring and Jean-Michel Basquiat.
So the question still remains, is this really art or just a marketing ploy to sell more t-shirts? Where are the limits of commerce and art and if this is art, what is it's message?  Personally, I don't see the enjoyment of having photos of hipster types in t-shirts on my wall, do you?
The UT Gallery opens in London at Unit 4 & 5, The Old Truman Brewery, Dray Walk, London E1; call 020 8247 9200 for further information. (April 30 2008, AM)
Popularity: 1% [?]
[Spotted by HoodyByAir.com]
Popularity: 1% [?]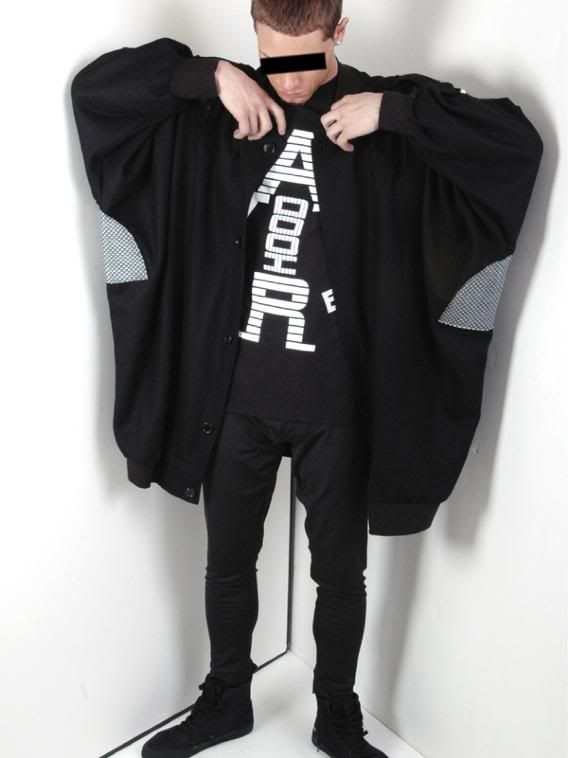 The Market got a chance to step into the world of Hood By Air recently, interviewing the brands poster-boy designers Shayne Oliver.  He tries to explain the difference between hood and ghetto, tells us about the future of the brand, and share his design inspirations.  We have bits of the interview below…
"Whether he's co-hosting a party with Roxy Cottontail, or chillin' with Vashtie at a 1992 affair, Oliver has become a part of the backdrop of the new LES scene."
A label's name usually captures the designer's aesthetic. What's the story behind "Hood By Air"?
It's a multi-faceted name. It has to do with the sensibility that my friends and I had acquired from being involved in fashion but being from a different background than many of our industry peers. It's like Men In Black (when the aliens were trying to appear like humans). We learned to appreciate, not condone where we came from (the hood), and incorporated the hood look into our style of dress and vice versa. So instead of it becoming streetwear, it evolved into street fashion. This is what Hood By Air works to epitomize. To us, this is the future.
I also believe that being "hood", not ghetto (huge difference), is skill: to make something out of what you have. Instead of becoming a victim to your circumstance, find the pros and run with it… to find your way out of it!
The pieces have an unusual mix between edgy and chic– something even more unexpected from a boy who grew up in Minnesota. What would you cite as your inspiration growing up?
I was born in Minnesota, but grew up mostly in St. Croix and Trinidad. My grandparents served as a huge inspiration to my views (in terms of fashion). My grandmother used to be a label-obsessed seamstress and my grandfather was a don dada.
In Minnesota I was inspired by the hood girls, they all dressed like their boyfriends (who were usually vice lords) with better hair.
St. Croix is where I first learned the concept of "getting dressed". Everybody hung out in malls. The sneakers, the clothes, the music (The Fugees' The Score had just dropped)… so much fun!
Besides the don dadas, Trinidad is a lifestyle inspiration for me. They are very free and work hard to be happy…. to me, Americans work hard to appear to be happy.

What would you say inspired the Fall '08 collection?
The goths and punks of Astor place, Wu Tang Clan and Joan of Arc. I wanted to play with the dark side of hip-hop.
Are there any trends in menswear that you love, or on the other hand, would like to send out into fashion exile ("hammer pants" style)?
Trends I don't really know. I like when people acquire their own classics; hood boys in skinny jeans, that's kinda' cool (if you fit them right).
We should do away with exact interpretation dressing. If you're gonna' do it, apply something new. If you don't, at least be good at it… Oh, and the Keffiyeh scarf.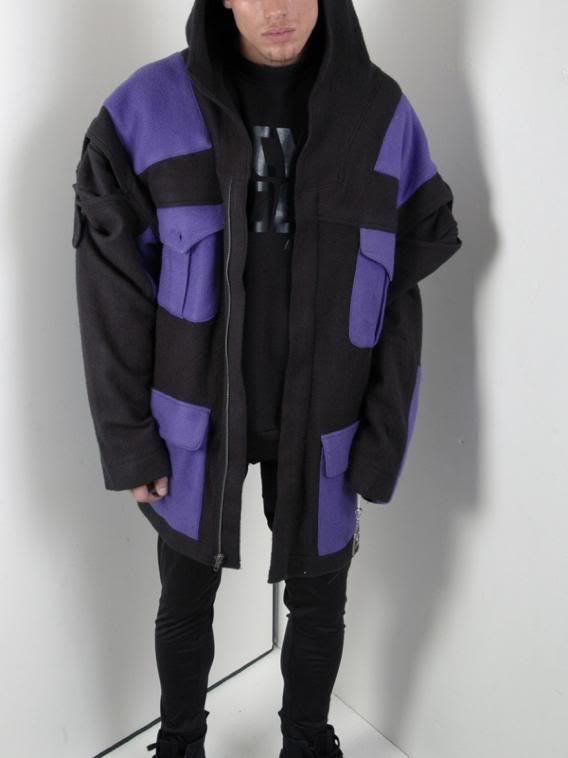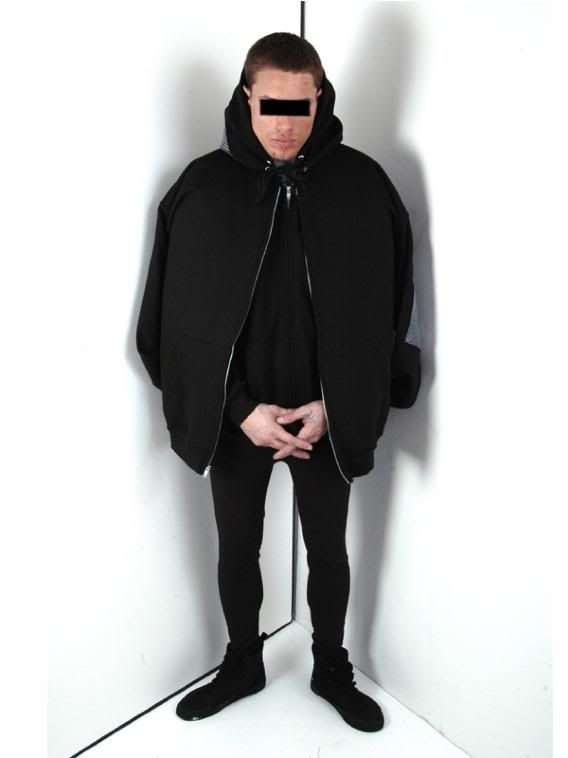 This is literally just the beginning; what can we expect in the near future from Hood By Air?
Art, multimedia, events… they are all in the works. I want to make Hood By Air an obtainable product of our lifestyle. I just want it to be good.
Written by Virginia Jackson-Reed  for The Market
Popularity: 2% [?]
Does anyone remember the greatest collaboration of 2007? Christian Louboutin and David Lynch hadlocked heads and created a show, Fetish, which showed five limited edition pairs of shoes by Louboutin alongside five signed photographs of the shoes by Lynch. As if Louboutin's day-to-day footwear weren't fetishistic enough, the pair together had taken the theme to an entirely new level. Some erotic images from that show…
Popularity: 2% [?]
Photographer duo Zoren Gold and Minori started their collaboration in 2000. Their shared curiosity of mixing each of their different skills took them on a journey of discovering the new venue of photographic image making.
Their approach to photography is not only about capturing the moment of physical reality, but it is to unveil their freedom of individual/alternative reality.  The fascination of what is possible in image making had lead them to experiment with improvising different mediums as well as keeping the spontaneity to unlocking their fantasy.
Popularity: 1% [?]
The Anti-Advertising Agency is at it again. This time the dudes that want us to remember that we don't need everything we're marketed are gearing up to get some hispanicals on their team. No lo necesitas stickers  (translated "I Don't Need It") make the perfect gift for your over spending Mexican-Columbian friendlies.  Want them? Here are the rules…
As always, available FREE - just send a self addressed stamped envelope to:
The Anti-Advertising Agency
c/o Eyebeam
540 W. 21st St.
New York, NY 10011
I can put 5 in an envelope without an extra stamp. If you want more, send extra stamps. If you want to send a little donation too, that's fine - we'll use them to make a whole new sticker that's in the works. If you want the english version, I still have some I can send out and they are always free. All I ask is that you send me back some photos of where you placed them.
Care to print your own? You'll want this EPS file. For printing we use Sticker Guy and VGKids because they're punks and they're a deal.
Popularity: 1% [?]
You've gotta love the Lower East Side and it's undeniable art scene. 8-bit water is oh so indie.
If anyone knows who's responsible for this piece, please let us know so we can give proper praise.
Popularity: 1% [?]
Does this offend you? If you're Louis Vuitton (and maybe Paris Hilton) it does!
In October of 2007, artist Nadia Plesner decided to create an art piece dealing with the genocide in Darfur. She created the above illustration that are on t-shirts and posters, with a 100% of the profit going to the organization "Divest for Darfur"
"My illustration Simple Living is an idea inspired by the medias constant cover of completely meaningless things.
My thought was: Since doing nothing but wearing designerbags and small ugly dogs appearantly[sic] is enough to get you on a magasine[sic] cover, maybe it is worth a try for people who actually deserves and needs attention…If you can't beat them, join them. This is why I have chosen to mix the cruel reality with showbiz elements in my drawing."
Truth be told she's not actually making fun of Louis Vuttion, simply celebutantes dependence to Louis Vuitton. Well LVMH didn't really say it that way and on Febuary 13th sent a cease and desist letter. Which in layman's terms means 'take that down before we sue your ass!' However Plesner is sticking by her right to express herself as an artist. And as of April 15th a LVMH has brought lawsuit against her.
Support Nadia Plesner and her awesome t-shirts and posters.
Popularity: 2% [?]