Ask a Stylist
Planning a trip to the hairdressers and not sure what to ask for to make sure you're bang on trend this season?
Look no further, as Lisa Shepherd as given us her trend predictions for the spring summer season 08!
Fringe Benefits

We knew it would take off as soon as Kate Moss was snapped with a full fringe last year. Fringes are set to stay popular this spring and moving into summer. Whether it is full one, short or cut to the side.
The real benefit of fringes is they can easily be pinned back with some trendy clips or a chunky hairbands, which is all hot this season.
A Curls Best Friend
Un-plug those straightners girls as curls as set to be huge this spring/summer. Inspired by Keely Hawes 80's perm in TV show Ashes to Ashes and other celebrities following suit. However summer is not the time to go experimenting with a perm unless you have very fine hair. The great thing about curls is there is so many ways to wear them! Loose, big, corkscrew or beach waves…all will ensure you're bang on trend.
Creative Up-dos
Spring/summer 08 is the season to get your creative head on.
Braid, plait, twist, and curl your hair, adding an exciting twist to standard ponytails and up-dos. To make it even more interesting get some contrasting highlights through your hair. They'll really make a difference in styles with plaits and twists.
Big hair, you are beautiful
Amy Winehouse started it, and since, big hair's had many followers, Natasha Bedingfield, Nicola from Girls aloud and it's been all over the catwalks. Add volume with a beehive, rollers or simply by blow-drying your hair upside down.
Whatever style you choose; make it big, bold and beautiful.
Blonde Bombshell
This season, just like the clothes on our backs, hair color is all about being bright, bold and luxurious. Expensive looking colors are hot right now–such as honeys, golds and ice white blondes that are shiny and vibrant are set to be everywhere, this 2008.White blonde is a celebrity favorite (think pixie Geldof and Agyness Deyn) but it's not for everyone, so ask your stylist for advice before you take the plunge.
Pixie Crop
Weather reports tell us the good news that the British summer is set to be warm, which makes the pixie crop perfect.
Celebrities have gradually been getting shorter and shorter the further into 2008 we go. Katie Homes and are great examples of how short, masculine hair can look effortlessly sexy.
Again be careful when going this short, it doesn't suit all face shapes, round faces be warned.
Content courtesy of GirlzNight Mag. 
Popularity: 19% [?]
Greasy hair can turn a first date into a last date, warrant painfully disapproving glances on the bus or, worse still, merit the nickname "chip pan". So, why are increasing numbers of well-groomed women washing their hair only once a week? They have a secret weapon, of course – dry shampoo, ideal for creating fashionable retro dos, such as the Amy Winehouse beehive, that rely on a bit of grit for staying power.
Well, perhaps, it's not quite so secret any more. Boots reports a 45% rise in sales of dry shampoo in the past year, suggesting that, far from being an excuse to go all Swampy, the new generation of dry shampoos offers a practical alternative to a daily wash and blow-dry. Rumour has it that Miuccia Prada's handbag is never without a trusty can of Bumble and Bumble's Brown Hair Powder.
Bumble and Bumble Hair Powder
For hair artists and soap dodgers, with a can for every colour
In fact, Klorane Dry Shampoo was credited with helping stylists to create Kirsten Dunst's deliciously powdered coiffeur in Marie Antoinette – a look that has since garnered its own underground following in clubs and on the burlesque scene.
But can this timesaver really substitute a proper shampoo and conditioner? "Ideally, hair should be washed on a daily basis," says the trichologist Philip Kingsley. "Think how dirty your face gets at the end of the day – you can imagine how dirty your hair will be after a few days."
Content courtesy of TimesOnline.
Popularity: 3% [?]
Sun, sea and sand, does wonders for boosting your mood, but it also does wonders at destroying your hair.
We're all wising up to the fact that we need to slap on high factor sun cream to protect our skin, but how many of us remember to look after our locks?
You may love the suns power to lighten your hair, but those UV rays actually break down protein in your hair leaving it looking dry and frizzy.
Even that much needed dip in the pool causes damage due to all that chlorine that discolors and weakens your hair. Resulting in it looking lank and feeling like straw.
So how come all the A-lister's manage to stay red carpet gorgeous when relaxing by the sea?
I'm here to offer you a helping hand by answering your most frequently asked questions about holiday hair.
Do I need to prepare my hair before a holiday? If so, what's my action plan? For example – get a cut, give it a treatment, pack the right products …
Let's face it – you want your hair to look its very best on holiday, so I always recommend you have any color topped up about a week before, get your cut trimmed and if you have time have a Nanomax Hydrate treatment which will place moisture attracting proteins into your hair which help to lock in any moisture – one of the key things you lose on a sunny holiday.
Do I really need to protect my hair in the sun – what will happen if I don't?
Well, it is up to you of course, but if you want to keep your color the same and don't want to end up with really dry hair, then it is better to use some protective products or wear a trendy headscarf or hat! Try Clynol Sun Shield Oil. It does depend on the condition and color of your hair – you may want it to lighten up a bit, or if it is really fine in texture then the salt and sun will help give more texture to the hair and in turn give you more body, but you do run the risk of damaging your hair so that it loses strength.
Can I use my regular shampoo and conditioner or do I need specific products like swapping normal shampoo to moisturizing?
Your hair can always take a higher moisture content shampoo and conditioner. Ones designed for 'after sun' are great as they totally remove all traces of chlorine or protective product Try Clynol Pure After-sun Hair & Body Shampoo (250ml) Then use a more intensive conditioner than usual (Try Intense After-Sun Mask) if you have time leave it on for a bit and sit out on the balcony to let the heat encourage it to nourish your hair!
Best holiday protection tips? For example, wet your hair with tap water before diving in the pool because wet hair soaks up less chlorine than dry hair. Or, handle with care when wet etc.
Wet hair before the pool is great advice, but ALSO rinse your hair with clean water immediately after the pool – or if possible the sea so that traces of chlorine or salt don't stay in your hair.
Is aftercare important?

Keep hair moisturised so use a masque – like Kérastase Masquintense
Problem hair – how does hot weather affect curly, colored, coarse and fine hair and what's the solution at home or in-salon?
Very humid conditions will generally make your hair curlier and can make already curly hair very frizzy.
Fine hair can look lank in humid weather and by flyaway in dry hot conditions.
Wavy hair can straighten itself in hot and dry conditions.
Very fine hair actually gets a better texture when exposed to the summer elements – so don't worry so much about salt or sun exposure – just make sure you have REALLY good after sun hair products, see next question!
Best summer hair care products?
There is now no excuse to be seen with dry, damaged locks when tanning on the beach, there are so many great products out there designed to help your hair in summer, it's time we put them all to use!
My ultimate favorite buy this summer has to be Clynol's ID sun care collection. Pictured below, you get everything you need to ensure super shiny summer hair, plus a bang on trend urban beach bag to carry it all in.

Content courtesy of GirlzNight Mag
Popularity: 2% [?]
As the days get longer and the evenings get brighter - I too reflect that change; by swapping my wintry warm orange toned blusher (it's a lot less frightening than it sounds) for the softer, sweeter shade of pink. As I try to resist the urge of breaking out into Aerosmith's Pink, let me tell you that pink, it's not even a question! Especially since the Spring/Summer Ready-to-Wear collections are awash with romantic ruffles, frivolous frills and flower details. It's only right that our faces should reflect this decidedly feminine twist.
As seen on the catwalk of Giles
It may not be listed in the Spring/Summer makeup trends of 2008, but I will always be a faithful follower of pink. And you too can be pretty in pink, just make sure you don't go over the top like Christina!
While I do think that Christina would not be our Christina, if she wasn't a little bit trashy; there is such a thing as wearing too much!
Tip - For a beautiful soft pink sheen on your skin, think about investing in shimmer bricks like Bobbi Brown in Rose Quartz. Use it to create a beautiful dewy sheen or as a subtle blush!
Tip - Remember that it's always best to smile and sweep your blush for a more subtle graduation in colour. Don't be shy about the shimmer! It will add depth to places that need it.
Tip - Invest in pink palettes. Though best not to wear all the shades at once. Experiment and see which shades work best for you.
But will Pink suit me?
If you want to try choose a pink according to your skin tone:
As a general rule, paler skin tones should opt for lighter shades.
Darker skin tones can afford to be a little more adventurous. Anything from pale glosses to hot fuchsias will suit you!
Those with skins that have yellow undertones should avoid very pale peach shades, as this will make you look washed out. Your best bet is to plump for pinks with a tinge of blue.
Those with olive skin can opt for cool or frosted shades of pinks. Just bare in mind that pinks with red undertones will not be very flattering.
If you want to try choose a pink according to your hair colour:
Redheads can indeed go for pinks, just as long as you keep them very sheer and subtle. Nothing too overpowering!
Brunettes look lovely in peach tones. Take a look at Kimberley from Girls Aloud. She's got a natural gloss slick over her lips with peachy pink cheeks to match.
Fair haired beauties can play with the paler shades, especially pink with hints of blue. If you have warmer tones of blonde in your hair, you should go for pink reds. While cool shades of pinks look gorgeous on platinum blondes.
As demonstrated by Christina below.
And doesn't she look better for it? Yes, much better!
Content courtesy of GirlzNight Mag. 
Popularity: 2% [?]
It's time to ditch those hairbrushes as messy hair is officially in.
Messy, elegant messy, slightly messy and casual hairstyles are all the latest rage and they have redefined what is sexy, comfortable and appealing for 2008.
Celebrities such as Alexa Chung, Kate Moss, Sienna Miller, and Paris Hilton have all be proudly parading their un-brushed locks. Why is messy hair so hot? Probably because it eliminates the need to spend hundreds of pounds on perfection. If the A-lister's aren't bothering to splash out then why should we?

But don't assume that this no hairbrushes allowed hairstyle is really easy to create.
Fashion icon of the minute Alexa Chung, confessed in her monthly Company column that her elegant messy look is not as easy to achieve as it appears. Yet it is a lot less hassle than recent 'it' hairstyles of the moment, follow my tips on how to get messy.
LET'S GET MESSY
- Wash your hair with the right shampoo and conditioner for your hair type.
- Leave the hair dryer unplugged for this style and simply towel dry your hair.
- Apply a sizeable amount of mousse evenly through sections of your hair. Use your hand to 'rough up' your hair to create some much required movement and texture.
- Once dry, use a hairspray that locks your hair into place. Adjust hair strands according to your taste. This is where you can control the level of 'messy' you want to go. Just got out of bed sexy is perfect for a night out, but tone it down a little for a day at the office.- This style looks fab pinned up or left down. If you want to pin it up, leave lots of strands out so they can frame your face and complete that oh so gorgeous messy look.
BACK TO BASICS
The natural, back to basics messy look is also enhanced by celebs going back, or sticking with their natural colour.
If you've been colouring your hair for a while and fancy a change, try reverting to your original colour. At least you can guarantee it'll suit you!
Reverting back to your natural colour should definitely left to professionals! All too often when fake blondes try to go darker back to their natural colour, the result is too warm, which makes the colour look quite fake.
Content courtesy of GirlzNight Mag.
Popularity: 2% [?]
This season, just like the clothes on our backs, hair colour is all about being bright, bold and luxurious. Expensive looking colours are hot right now–such as honeys, golds and ice white blondes that are shiny and vibrant are set to be everywhere, this 2008.Hair Colour Doctor and Channel 4's Ten Years Younger hair expert, Lisa Shepherd, who's also a massive lover of all things blonde says:
"This season is seeing a new blonde on the block! A much lighter, brighter and whiter Blonde says Lisa. "It's very beautiful, full of shine and can work for a glamorous look (Sarah Harding) or ultimate rock chick chic (Pixie Geldof or Agyness Deyn)

I believe everyone can be blonde, but before you go tearing out a picture of Agyness asking for this colour there are things to consider first!
Blonde is without a doubt one of the most popular hair colours. There are so many shades of blonde available but not everyone manages to get it just right.
Firstly your hair needs to be healthy and in a good condition in order to take in the entire colour.
It's also worth noting how high maintenance this hair colour is, it's probably wise to let your hairdresser know how long you're happy to spend on your hair and how often you want to revisit the salon. Then they can give you a style and type of blonde that requires the right amount of commitment from you!
During your consultation, your colourist will determine whether you should go for warm or cool tones to match your skin, this is important and will stop you from looking pale and washed out. Icy white is a very cool colour to go but we're all aware of how brave it is. This is not a colour to try yourself at home! If you don't want to go all the way the first time then ask your colourist for a full head of highlights using multi-tonal blondes like ice white, crystal clear and ash.
Blonde can lose its shine and turn brassy, keep it fresh by alternating your shampoo with a toner. Try Schwarzkopf Touch of Silver shampoo, which balances brassy tones.
Lisa's quick tips for Blondes:
It's important to have regular visits to the salon to make sure your blonde is always looking its best.
Keep your blonde looking refreshed in-between visits to the salon by using a good colour shampoo specifically for Blondes. Try Schwarzkopf Blonde me range.
If you've spent years dying your hair blonde, then it's probably prone to being dry and frizzy. Keep it looking shiny and silky with a few drops of serum everyday, I like Clynol's illuminate smoothing shine treatment.
If you're finding it hard to keep up with the high maintenance that come with Blonde hair, ask your stylist to run some darker shades throughout your hair. This will make your roots look less noticeable when they start to show.
Content courtesy of GirlzNight Mag.
P.S. Article dedicated to Alyssa Key of Love Brigade. Alyssa if you're reading this, love the new look.
Popularity: 4% [?]
You're sat in front of your dressing table, going through the motions, perfecting that Hollywood glamour girl look for the big night in town. You've got it! The glossy curled hair, the thick lustrous lashes and the painted lips; but you're not quite done yet, because there's one last thing you need to put on - a cloud of your alluring signature scent. Ah yes, The Perfume.
Have you found your signature scent or are you still looking at for one? How do you pick them out? As always, I'm here to help you step in the right direction.
How do I pick out the right scent for me?
As for choosing what particular scent, it may take some time. Think about what sort of scents appeal to you. If you like fruity citrus scents, look out for fragrances with fruity notes.
Hmmm, I still don't really know! Do you have any more ideas?
Close your eyes and think about what makes you happy! Yes, it's cheesy but it works. What do you see? Meadows with flowers, the lush ocean, freshly cut grass - choose scents that fit with your happy mood.
Tip! - If you're out and about in the shops, forget about testing it on those paper strips! Is your body made of paper? Nope! Didn't think so, so always ensure you test it on the surface on your skin, as perfume only works when it reacts with your body heat.
Tip! - And don't test it on someone else! The fragrance will be different depending on who's wearing it. So what might smell gorgeous on your mate; might just pong on you.
Ok I have found my scent, where do I put it?
Your pulse points and areas which are hot. So think of your neck, back of your knees, under your breasts, behind your ear lobes and wrists.
What's the best method of putting on perfume?
Hold your perfume bottle about 20cm away from the body. Start at your left shoulder and spray in a V shape to your right shoulder. Your shoulders are always moving whilst you walk, so this will allow the scent to waft as you move.
Are there any perfume No Nos that I should keep in mind?
Some people spray perfume in their hair to make the scent last longer! I'd personally refrain from doing this, because the alcohol will dry out your hair. For this very reason, also be careful of the skin on your chest, as it is very thin there.
And as for spraying on scents to clothes, I don't think it's as effective as working the perfume into your skin, as mentioned earlier, perfume works best with body heat. Not to mention, if you're changing your perfume daily, you should probably think again about perfuming your clothes, the scents may clash!
Often I'd read about 'layering scents' in magazines, but I never really understood what it really meant! What does it mean?
I always thought it meant taking my entire perfume collection and just spray it willy-nilly over myself until they miraculously formed a new scent? But after some research, I am a little wiser!
Layering is a process of, well, layering similar scents. Usually you start with a shower gel which is the first layer. The second layer is a scented body lotion. The third and last layer is the fragrance spray itself. The end result should be a beautiful blend of fragrances that work in harmony with each other.
If you keep an eye out whilst shopping, you will notice that high end perfumes do have various shower gels and body lotions especially for layering.
Brilliant! I'm on my way too smelling nice, but I got a bit trigger happy with the perfume, and I sprayed too much on myself. Is there anything I can do to get rid of the stench?
Try a spritz of hairspray over the areas where you applied perfume. The smell should be less cloying.
Content courtesy of GirlzNight Mag. 
Popularity: 2% [?]
After seasons of straightening, big, bouncy hair is officially back.
Big hair from the 60's & 70's has morphed into a new style and come back in a big way for the current hair season. Thankfully big hair now doesn't resemble anything like the big helmet style beehive of the late 50's… that was a big no no.
Not only is big hair popping up on all the catwalks (think Marc Jacobs & Prada at London Fashion week), you can see the return to thicker, fuller styles on celebrities like Amy Winehouse, Angelina Jolie and Heidi Klum. Everyone who is anyone is trying out fuller, volume-increased styles.
One major difference between 70's big hair and current versions is the touch-ability factor.
Hair from the 70's was heavily pumped full of firm hairspray. Softness, movement and flow are what we want for today's big hair. Since the sticky hairspray days of the 70s, the hair care industry has cleverly invented lots of lovely products that enable fuller hair without the stiffness. Hair now can have lots of volume and still have shine and movement. One of my favorites is Clynols Hair ID Massive Volume spray (RRP £7.25 200ml), which creates volume without the stiffness.
Pump up the Volume
There are a number of ways to work big hair, but remember you can never go too big at the moment, bigger is most definitely better!
Here's how…after washing your hair, towel dry to remove all of the excess moisture and apply a good volumising mousse or root lifting spray (see above) all over your hair, lifting sections to ensure you reach everywhere.
Blow dry your hair till it's roughly 85 percent dry, turning your head upside down during drying, so your roots are already being trained to lift. Then section off your hair from front to back, and begin with the section at the back of your neck: use a big round brush and use a hairdryer to work the hair away from the scalp, pointing air underneath the section. Continue this all around your head, until hair is lovely, dry and bouncy.
After this a way to add a little extra va va voom, is to take a small section at the crown of your head, apply a heat protector spray and then blast with a hairdryer till it's really hot.
Take a large roller, and set that section of hair with a grip. Leave for a while, add some hairspray, remove and voila gorgeously pumped up hair with a sexy boost at the crown!
If you want to boost your hair volume even further there are ways to make your hair look thicker that doesn't involve a blow dry.
Colour it up!
Another way to give the appearance of a fuller head of hair is to add some colour to your hair. Ask your stylist for some advice. Colour can coarsen the hair and make it appear fuller. You don't have to change your hair colour completely, just try adding some streaks or highlights to hair. The different tones will add depth, creating the illusion of fuller hair.
Content courtesy of Girlz Night Mag.
Popularity: 5% [?]
With endless days of freezing weather, filled with the dreary drizzle of rain and thick fog, it's impossible to get our heads around that fact that spring is just around the corner. But trust me, the warmer days and longer nights that spring promises aren't far away and it's time to give our hair a little pick me up to help it recover!
Whilst we cozied up in jumpers and coats to stay protected, there was no such luck for our hair, it's faced every damaging winter day naked! That's why springtime is definitely the season of renewal so here are a few professional secrets to putting the spring back into your hair!
Re-build: - All that central heating and harsh winds have drying effects on the hair and actually your hair loses keratin – the substance that keeps our hair strong and flexible – with harsh daily aggressions. Add to that blow drying and straightening and your hair could be a lot weaker than you think! Give some strength and literally add more spring to your hair.
Great hair starts with a good cut This is the perfect time for a professional haircut to ensure that your hair is free from damaged and split ends that winter caused and will make your hair look healthy. Follow up visits, which include regular trims, will also guarantee that your hair will look and feel its best. You don't need to have a dramatic cut, even the smallest of trims will keep your hair looking it's very best!
Sleeping Beauty: - When you are sleeping you're body will be trying to repair all of the damage brought on by the winter months. To ensure that your hair can get back to it's healthy self; help it along by sleeping on a satin pillow to reduce rubbing and that flyaway frizz.
Keep hair fit: - Yes you really can keep your hair fit from the inside! Your body's health can be seen in your hair so eat well and avoid smoking or drinking too much alcohol!
Lighten up! - Seeing as we're leaving the dark days of winter behind us, why not celebrate by going lighter for spring! This seasons hot look is platinum blonde (think Sarah Harding). To get the look you'll need a full head lightener (bleach) applied to the scalp and lightened up to a pale yellow then toned to remove the yellow tones to leave a clear platinum shade. Remember that you can't go lighter with anything other than a permanent hair colour so make sure it's the right choice beforehand.
This colour requires regular attention to keep it looking at its best - you can't let your roots get too big before the next application or you will start to get 'colour banding' which is very hard to correct.
Product Overload: - It's tempting when your hair is dry to go overboard with the number of products you use. This actually can end up resulting in your hair looking dull and greasy. Instead ask your hairdresser to recommend products that are light and won't cause build up like Clynol's Massive Volume Spray a light spray that gives hold, body, yet doesn't weigh hair down or make it feel sticky.
This article was written by Lisa Shepherd. Content courtesy of Girlznight Mag.
Popularity: 2% [?]
With the warmer weather just around the corner it's time to spring clean your hair along with your house and wardrobe! What better way to do that than by adding some colour! Colouring your hair is the physical equivalent of painting the walls; it simply transforms the whole character of your face…that's why it's so important to get it right!
Dying your hair is a scary prospect - what if it looks awful, turns orange, or goes patchy? There's no need to panic, hair colouring can be made easy both in the salon and at home. The colour you choose needs to fit in with your lifestyle, as well as suit your colouring, there's no point in a brunette going blonde if you don't have the time to keep getting your roots done!
Follow my top ten hair colour tips, and avoid nasty mistakes!
1. If you're planning on going from blonde to dark then firstly, leave it to the professionals! If you want a minimal change then its not so risky but if you are thinking of a drastic change don't try to do this at home. Hair colourists have a skilled eye and will know instantly what will and won't suit.
However, 'bitter' colours flatter almost everyone…think chocolate, cappuccino, biscuit and caramel and get the celebrity look by using a selection of shades throughout the hair. If you're worried about it, the best solution is to go for chunky zones of chocolate and lighter browns – then by adding this into your blonde you can see it next to your face and decide whether you'd like it all over or not. Finally though, the general rule is to keep the darker colour a natural tone.
All too often when going dark, the result is too warm, which makes the colour look quite fake and by insisting on a semi permanent or direct tone in addition, you'll get mega shine and improved condition.
2. If you are going lighter, choose a shade that is a maximum of 2-3 shades lighter than your own. Check on the box what your result will be and if it is not possible on your hair colour PUT THE BOX BACK ON THE SHELF! You also need to begin by lifting the existing colour with a colour remover. Depending on how dark you are and how much colour is on to begin with will affect the length of this process. If you hair is naturally dark then you will simply lift with a lightener or high lift tint.
3. Highlights are always best when tackled by a professional. Always have several shades of highlights rather than just one. This will make the result look more natural and will give less of an obvious re-growth.
4. Semi-colours or toning mousses are great for reducing warm tones if you make a mistake and also for refreshing blonde tones.
5. As a general rule, pale and pinky toned skins look better with cooler tones – creamy blonde, caramel, and olive skins can take warmer shades – however if you aren't sure then go for neutral shades of coffee, chocolate and biscuit which suit virtually everyone.
6. Do read the instructions carefully before using a colour product always stick to the development times and always do a skin test 48-72 hours before you colour if you are going to apply colour to your scalp. We use Colour Start Skin Tests in the salon that are like a temporary tattoo. Ask your salon if they stock them!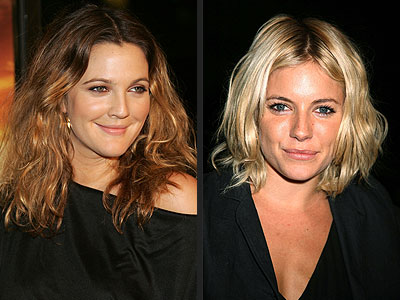 7. Do be careful when re-applying re-growth. Don't let the roots get too out of control or you are likely to get a 'banding' effect on the next application.
8. Do care for your coloured hair properly – choose shampoos and conditioner products that are specifically for coloured hair like Clynol iD Colour Care Range.
9. And if you colour your hair regularly then also treat it regularly with repairing treatments. You can get ones to use at home that will put moisture back into your hair and help repair split ends. Or you could give your hair a real treat and have salon treatment like NANOMAX Repair or Intensive .
10. It's always a safer bet to get a professional to colour your hair, but it can be done with success at home. Firstly it's always a good idea to get a helping hand, someone else helping you can reach the difficult areas underneath your hair and will reduce the risk of patching! Plus it's worth considering what length your hair is. If you have very long or thick hair, one box of dye will not cover all of your hair!
This article was written by Lisa Shepherd, the hair colour doctor of the UK. Content courtesy of Girlznight Magazine.
Popularity: 7% [?]
Looking for all the classic indie goodness you've come to love.
CLICK HERE to be taken to our old site and view some classic posts.
Popularity: 4% [?]