Runway

Sportswear International invites you to join Unruly Heir for a preview of the Spring/Summer 2008 collection
6 - 8pm
@ Bloomingdales Soho
504 B'WAY (btwn Spring + Broome)
Men's Lower Level
RSVP - bloomingdales@unrulyheir.com
Popularity: 2% [?]
I've been feeling really nostalgic for days when the runway was filled with men who looked like real men and not skinny little boys (Hey men also have pressures from the runway to look pencil thin and 16).
Here's some looks from the possibly defunk menswear designer, Pierre Balmain, who's house was once run by Oscar de la Renta and now only caters to women.
Popularity: 2% [?]
Remember the "We are your friends" video that Justice and Surface To Air worked on? Of course you do, that song still plays in every single club in NYC and LA. Well that partnership spawned an exclusive collection of designs by the two artistic love birds.
The two's shared love for leather jackets recently brought them to the design table of Surface to Air Paris studio. Together, they designed X & G's dream leather jackets.
These limited edition series of 3 jackets (150 pieces) conceived and designed by Justice for Surface To Air. With a very exclusive distribution, the line will be available beginning June at the following locations: Surface To Air Paris, Surface To Air Brazil, Colette, Barneys, Lane Crawford, Isetan, Le Bon Marché, Paris Texas, Asylum, Le Shop, Incu.
I need them. I want them. And I will kill you if you get one and I don't!!!
Spotted by FashionWindows
Popularity: 3% [?]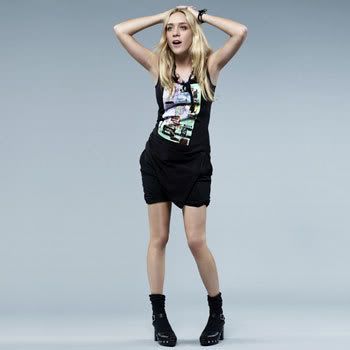 UNIQLO has just released their newest spring collection of t-shirts. As usual I want every single one in the collection.
Big surprise, they decided to jump on the Chloe Sevigny bandwagon by featuring her in their new ads.  So now Chloe owns Opening Ceremony and Uniqlo, two of the top SOHO destinations. Can a Chloe store be in the near future?  We have picts from the new collection below and indie queen Chloe to the left.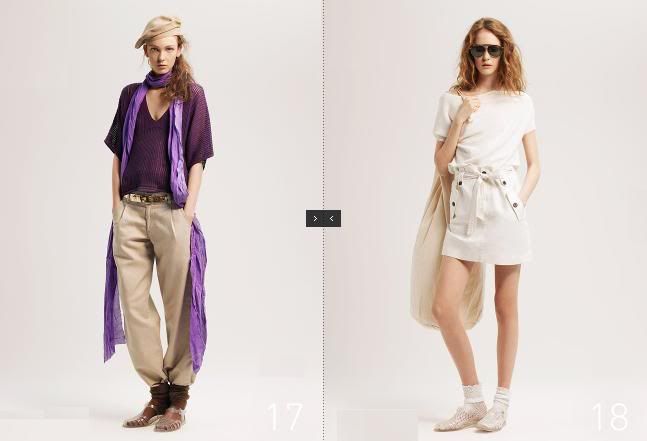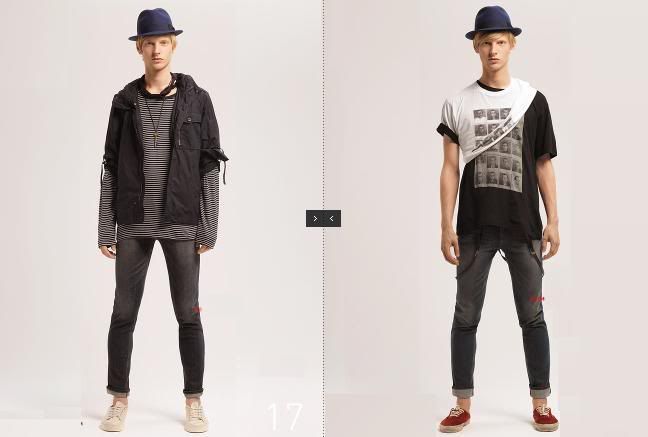 Popularity: 2% [?]
Wrath Arcane has long been a favorite at Fashion Indie and this concept hoodie from the Cleveland based brand shows that the duo who enjoy "fucking" big labels on the regular are in no rush to stop producing the best looks we've ever seen.
Their Concept Hoodie available now at Blackbird.
Popularity: 1% [?]
We continue to present you some of the more comfortable pieces for your feet and present you the Spring/Summer 2008 offering in terms of sneakers by Martin Margiela. Here you see the Tennis shoe, coming in a nice beige canvas and a navy canvas with beige pinstripes. This style has been a staple in the Margiela collection for ever and has been executed in many fabrications and colourways, but these new colorways are particularly good. Now available at Oki-Ni.
Popularity: 2% [?]
Swedish label Fifth Avenue Shoe Repair finds inspiration in conserving tradition as well as breaking those same norms. The label is inspired by an old shoemakers shop in London that has gone from generation to generation passing on knowledge in craftsmanship and traditions of this old profession.
Since classic tailoring, pattern making and authentic knowledge always stays a priority and a necessity in the collections the label was named Fifth Avenue Shoe Repair in 2004. The designers, Astrid Olsson and Lee Cotter focus on a creative draping technique where the silhouette progresses through sculpting. In contrast, advanced shapes are combined with classic wear such as the old man's chino or the classic white shirt. Attention to detail and love of fabrics is something they work hard to achieve.
Popularity: 2% [?]
Satchel of Gravel recently got an update from Cameron Beamon (the kid who got stuck in his own jeans) and it looks like the young man has turned tragedy into success by becoming a spokesmodel for streetwear brand Mishka.
[Congrats Cameron on turning your love for testicle crushing denim fits into a career!]
In a related note, we'd like to point out that Mishka's Spring '08 line is so dope that it accomplishes not one, but two things:
1. Paying homage to Suicidal Tendencies by not paying them.
2. Ensuring that by wearing their gear, women will never take you seriously.
The line get's extra "kudos" for producing some of the tightest/whitest jeans in history. Alright, that's not completely true, but these jeans look ridiculous.
Popularity: 2% [?]
We've been seeing a lot of Black Magic influences on the streets, so we love Cavern's fall/winter collection, called Midnight Terrain- a shadowy nod to the exotic nocturnal.
Executed in a jewel toned color palette of deep blacks and eggplant hues with pops of electric chartreuse and radiating purples, the artwork throughout the line was inspired by dusty moonlight, black jungle cats, ancient ritual masks, and texture. Bold painterly patterns found their way onto leggings, scarves, wovens, denim, jersey and fleece.
Oversized drapes, patent leather detailing, mirrored jewels, metal embellishments, and sculptural circular necklaces were made to create an unconventional rhythm of elements.
Popularity: 3% [?]
Public School– the collection designed by Dao Yi Chow and Max Osborne is now entering its second season with fall 2008– the Overachiever Collection. The duo just shot their fall look book and we've got a sneak peek.
The fall collection is chock full of details, and convertible styling. A long leather coat zips off to become a badass jacket. A luxuriously soft knit turtleneck pulls up to a balaclava, leather jackets come with detachable sleeves and zip off gloves. Trousers are a fuller cut, and often feature suspenders for an old world feel.
Can't wait till fall? The spring line is selling well at Barneys, Revolve Clothing and other top doors around the world. Go and get it while it's still in stock!
Popularity: 2% [?]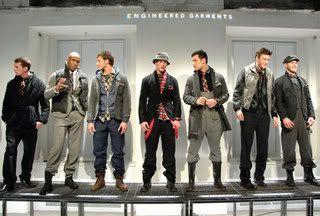 The party to fete the menswear designers who were competing for the GQ/CFDA award for best new menswear designer was one of the year's best. And  the title has gone to…Engineered Garments.
Designer Daiki Suzuki beat out stiff competition from Steven Alan, Gilded Age, Obedient Sons, Rag & Bone, and Spurr to take home the first-ever prize. Up next: creating a mini-collection to be sold this fall at levi.com and select Bloomingdale's locations for one month (and other retailers thereafter), not to mention finding a way to spend the $50,000 award.
Courtesy of TheMarket.
Popularity: 1% [?]
Never underestimate minimalism as such conservative view bears such immense talent a designer could do to keep a well balanced and a powerful impact from toning things down. I really admire such designers who could present a simple collection yet amidst the simplicity there is that level of craftsmanship that you could admire. Mayer's clothes also show this sense of fluidity as I look at them closely probably because they do not fit around the body but the fabric falls down on a certain way that makes it look sharp and extremely modern. The cuts and the silhouette seemingly reminds me of Hedi Slimane.
Review Courtesy of Ginecilephile.
Popularity: 2% [?]
Oh yes m'loves, these shoes are just that D'lishuous, nice knowin ya Ma! I first found out about these futuristic gladiator shoes in one of my favorite periodicals, V-MAN (THE Bible to ye lesser ones). I was so excited because they instantly reminded me of the lego-like pumps from Balenciaga that so many people were pissin their panties for.
And I know what you're saying, "these are from the S/S 08′ season". Yes, but this is an art peice, it's sooo outside of the box that it surpasses seasons. It's something that stays in your wardrobe for years to come and when your son becomes a fashion obsessed "metro", you can give them to him oooorrr make him wait till you die and pry them from your cold, narled corpse……..I choose the latter.
Raf Simons is a Belgian born designer with a back ground in industrial furniture design. He's the type of artist that explores fashion in a deeper more emotional way through music and art, incorporating tradition and roots, attitudes and moods. His brand was one of the 1st to begin to experiment with slimmer, more feminine lines for menswear back in 95′. His clothes and perspective are masterful, his shoes however are worthy of armed robbery, I'm plottin' one right now…..you should see my bedazzled stocking cap, you gotta be cute when you break federal laws.
Raf vs. Balenciaga
-Z'maji, The Glam'rist
Popularity: 4% [?]