Shopped
John Varvatos
Deal: Up to 75% off sportswear, tailored clothing, shoes and accessories
When/Where: Thursday, May 8th through Saturday, May 10th. Thu 8am—8pm; Fri 8am—6pm; Sat 11am—4pm. 26 W 17th St between Fifth and Sixth Aves, ninth floor (no phone).
From Racked.com
Popularity: 2% [?]
The opening of Leffot should have all men running, being one of the only high end men's shoe stores around. Owner Steven Taffel hand picks his shoes and offers an array of designers not seen on this side of the world, including Aubercy and Gaziano & Girling. You can also customize your own, now that's something not many shoe stores offer!
According to Urban Daddy, "this store has a formidable purpose—it aims to be your one-stop shop for some of the world's best men's shoes, side by side, all in one place (shown above) and at your disposal."
Leffot, 10 Christopher St (between Gay St and Greenwich Ave), 212-989-4577
Popularity: 2% [?]

Arbitrage will be launching our Spring/Summer Collection at Rothmans in Union Square. Guests will enjoy complimentary cocktails and hors d'oeuvres, as they shop and view the latest slim fit shirts and our newest Krona hooded shirt designs.
6 PM to 9 PM
@ Rothmans
200 Park Avenue South (NE corner of Union Square)
RSVP by email at rsvp@arbitrage.com and feel free to bring along a few friends.
Source Partycrasher.us
Popularity: 2% [?]
Our generations Warhol, Damien Hirst has just teamed up with (red) to produce these limited edition, most likely worth more in five years than right this second, t-shirts.  If you love art or care about Africa, grab one of these tees pronto. Not only will you look like you know what the hell is going on in the world, you'll look artistic too. Which means, mucho cred points on the street, boyz.  The tees will run you $30 bucks on Other Criteria.
More tees after the jump.
Popularity: 1% [?]
The Market spotted these limited edition sneakers from Oki-ni.  The work of rising design star Julia Hederus this new limited edition footwear collection is inspired by the style of K-Swiss wearing Hackney youth's - who each add unique stylistic twists to their outfts.
Hederus's work has already drawn favourable comparisons with the 'clean and clever' approach of Belgian menswear futurists, whilst her minimal yet subtly playful approach also carries distinct echoes of the Japanese school.
The shoes are only available through pre-order so shop the site now to get this futuristic sneaks.
Popularity: 2% [?]
Even in today's weekend economy, retails spots are popping up like pimples on a greasy teenagers forehead.  Ten new store openings from major brands like Alexander McQueen, Steven Alan and John Varvatos are making it seem like it's okay to spend again.  NYTimes The Moment's retail lover, Christene Barberich, compiled a nifty field guide to some of the most notable openings.  So get out your wallets and get ready to spend indies.  If you've got the cash monies head to everyone (it will require a flight to LA, San Fran, and Paris) and drop some doughskies, but call me up first (cause I could totally be your shopping bitch).
Alexander McQueen Los Angeles
The Brit provocateur Alexander McQueen recently made his L.A. debut, joining Marc Jacobs on Melrose. A soaring stainless steel deity — "Angel of the Americas" sculptured by Robert Bryce Muir — is suspended in the storefront to greet guests. [via La Times and WDD]
8379 Melrose Avenue, 323-782-4983; Alexander McQueen.
Steven Alan (men's and women's wear) Los Angeles
His roots are in New york, but Steven Alan recently proved his street-chic mini-frocks and outerwear are L.A. compatible when he opened two new outposts. The Westward expansion continues with another Steven Alan shop set to open in Venice next month. [via Refinery29]
West Hollywood: 638 North Robertson Blvd; 310-854-1814.
Brentwood: 11677 San Vicente Blvd, number 111; 310-820-4700; Steven Alan.

Jan & Äya (home and accessories) Brooklyn
The newly opened Jan & Äya offers more proof that Brooklyn's Greenpoint is in a state of metropolitan takeover. The ethereal white nook opened by a Swiss-born couple is a finely curated assortment of treasures, from tea towels to quirky handmade artworks. [via DailyCandy]
99 Franklin Street, Brooklyn, 718-609-1404; Janandaya.
Thistle & Clover (women's wear) Brooklyn
Fort Greene's fashion crowd can now get a quick fix — and a spot of coffee — at Thistle & Clover. St. Kilda's diamond star stud earrings are a steal at $198. [via Clinton Hill blog]
221 DeKalb Avenue, Brooklyn; 718-855-5577; Thistle & Clover.
(Piera Gelardi)
Acne, (men's and women's wear) New York and Paris
Acne's creative director Jonny Johansson has brought his sleek Swede styles to an airy shop on Greene Street and Paris's Jardin du Palais Royal, opening nearly simultaneously. [via Style and Vogue (UK)]
10 Greene Street, New York. 212-625-2828
124 Galerie Valois 75001 Paris. 011 33 01 42 60 16 62; Acne Jeans.
Jerome Dreyfuss (accessories) Paris
Somehow, Jerome Dreyfuss makes "status" bags that aren't obnoxious. In his new Paris boutique, devotees will want to take hold of his oversized Diego sac (about $700) or his party-perfect Jean clutch (about $450). [via Refinery29]
1, Rue Jacob 75006 Paris. 011 33 01 4354 7093; Jerome Dreyfuss.
Dunderdon (men's wear, women's wear, accessories) New York
The Swedish invasion continues with the arrival of Dunderdon, an A.P.C.-esque line of men's shirts, jackets and trim trousers founded by a carpenter and naturally inspired by traditional Scandinavian workwear. [via Glam]
25 Howard Street, 212-226-4040; Dunderdon.
John Varvatos (men's wear) New York
With the opening of John Varvatos in the old CBGB space, guys can shop for sport coats and suits amid the ghosts of the New York Dolls and the Ramones. (Varvatos preserved the old posters and grafitti on the walls.) [via FashionIndie and Forbes]
315 Bowery, 212-358-0315; John Varvatos.
Acrimony (women's wear) San Francisco
Hayes Valley lives up to its rep for hosting the city's most intriguing new boutiques with the arrival of Acrimony, a chandelier-and-pale-wood-clad one-stop shop for emerging labels, including April 77 and Common Projects. [via Refinery29]
515 Gough Street, San Francisco. 415-861-1025; Acrimony

Den (men's wear) New York
The pop-up emporium Den has given the German men's-wear designer Robert Geller a new home, literally. The tiny space, which opened on Monday, features a wood-beamed "house" to frame Geller's sharp neutral separates. Stay tuned for New York-based Common Projects to take over the rotating boutique this summer.
330 East 11th Street, 212-475-0079; Den.

Popularity: 3% [?]
Martin Margiela Line 11 billfold wallet is just about the coolest thing I've spotted this week. Layered to look like a wad of cash, the 11 Billfold is made from leather and paper to keep it looking authentic. Of course at $375 bucks, it's a bit more expensive than printing your own money. Find it at AR.
Source Selectism
Popularity: 1% [?]
John Varvatos opened his new boutique at 315 Bowery this weekend — the former address of New York's CBGB. According to Varvatos, who took MTV News on a tour of his latest store, the club's original walls — punched-in holes, cracked paint and all — went untouched, as did the antiquated ventilation system that runs throughout the space.
It remains, along with the graffiti and band stickers, some of them hanging by a strand of glue. The staircase leading to what once were the club's restrooms, which have now been converted into storage space, is still covered in marker and stickers.
John's love of music and rockstars allowed him to have a heart in preserving this monument to the 80's wave of punk that once dominated New York. We're excited about his promise of monthly bands and his must have spring collection.
Popularity: 2% [?]
Endovanera's new store got a great write up on Urban Daddy:
"Occasionally, your quest for original attire takes you to some pretty strange places.Like a secret, signless store cloaked in the dark shadow of a dingy overpass. Which is where you'll find Front St., the just-opened shop from burgeoning label Endovanera. Pronounced "end of an era"—so subversive, these fashion people—the line began attracting attention last fall.
The next step, of course, was to set up shop in a run-down (and thus officially credible) Echo Park building—a small "1154″ above the door is the only confirmation you're in the right spot. Inside: concrete floors, salvaged light fixtures and just a few minimalist racks of the well-cut basics a rock star might wear to a business meeting—grey vests, slim black pants, well-cut black-and-white button-downs and military-inspired coats. If you see something you like but it's not quite right, the on-site design studio, behind the white curtain, is filled with Japanese fabrics and Italian denim for all your customization needs. The proprietors can recreate that military coat in a different color, for example, or build a pair of jeans from scratch. So you can stand apart from even those who stand apart."

Front St. by Endovanera, 1154 Glendale Blvd (S. of Sunset Blvd overpass), Echo Park, 213-413-6666

Popularity: 1% [?]
New Yorkers who used to stalk the Barney's Co-Op denim section for Acne tube jeans can now breathe a little easier in, well, their high-waisted jeans—the Swedish sensation has finally landed stateside with their first U.S. boutique. The store opened last week in Soho at 10 Greene Street between Canal and Grand (R.I.P. the Cloak boutique). Known mostly in these parts for their desirable denim, the label actually encompasses an entire range of clothing and shoes. And, in fact, the label isn't just a label, it's a collective, with arms in film, media and publishing. So, in addition to a new pair of jeans, a super-soft jersey tee and a pair of Nylite sneakers (part of their collaboration with Tretorn), you can also pick up a copy of Acne Paper, the company's biannual, large-format, coffee table magazine.
Acne's studio profile includes outposts in Stockholm, Berlin and Vienna, and the opening of the Soho studio coincides with its first French location, in Paris, naturallement. The Parisian store is located within the intimate shopping arcade inside the Jardin du Palais Royal, and counts Marc Jacobs and Didier Ludot as neighbors. While all the studios are representative of the overall concept of the brand, each one has a separate identity. In Paris, the grandeur and finery of the Palais are reflected in the airy space, while the Soho atelier's small scale injects a more intimate feel into the experience. The entrance into the New York retail landscape, and the expansion into France, are both part of creative director Jonny Johansson's overall goal to build the identity of the brand well beyond dungarees.
—Meredith Fisher
- Stolen from the JCReport.
Popularity: 3% [?]
JC Report just gave us this scoop on three new mens wear stores in New York: a haberdasher for Dapper Dan, a flagship store for non-sneaker freakers and an East Village boutique with international reach.
Roberto da Carrara, 202A Mott Street
Mott Street has turned into a kind of select Saville Row, with a bevy of bespoke tailors and shirtmakers opening in the past few months. The newest addition to the Nolita neighborhood is Roberto da Carrara, a swank suit shop that has a hip Firenze feel. After two years as a wholesale operation, creators Robert Mazzucchelli and Victor de Leon embarked on this retail adventure to give more men the chance to experience their high-quality custom and ready-to-wear collections. Yet, despite the downtown locale, the prices are uptown—suits are in the $6,000 range, while shirts will run you $400. But boys still looking for Florentine-style finery will be happy to see that the Niformis line, designed by De Leon, is on hand at more palatable prices, $225 for shirts and $1,750 for jackets.
Shane & Shawn, 238 Mulberry Street
Another design team is also making its debut in Nolita this spring. The identical twin designers Shane and Shawn Ward are set to open up on Mulberry Street next week with their first flagship location. The Detroit-born boys launched their Detny line in 2003, with the goal of making comfy but chic shoes—basically an alternative to sneakers for men (and women). For an encore, they launched Shane & Shawn in 2007, a more upscale but equally walkable range. Both lines will be available in their sleek new space (a converted fire station), where the walls are as comfortable as the shoes—the store's black leather upholstery references their patent pending "Luxury Liner," the quilted material that goes into all their shoes. And even if you're not in the market for a new pair, the store will also house a pool table and fully stocked bar. Cheers!
Cry Wolf, 111 St. Marks Place
And Eastside boys have yet one more reason to celebrate, and shop, now that Cry Wolf will be carrying international brands previously unknown in these parts, like Sweden's Denim Denom and Belgium's Junk de Luxe. Local labels round out the racks, such as Public School, whose collection of perforated leather jackets and other bomber-inspired shapes are way more detention room than study hall. The stock slants toward sophisticated streetwear, and is the collaborative effort of husband-and-wife team, Abiri Ward and Nina Wolff, who live in the neighborhood. "Our main goal is to seek out small, up-and-coming international designers and introduce them to the East Village," says Abiri. So far, we say: mission accomplished.
—Meredith Fisher
Popularity: 3% [?]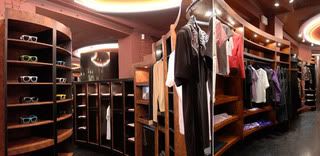 Vintage record label and denim producer April 77 has just taken up residence in a retail space right down the block from the company's headquarters. Designer Brice Partouche tapped interiors guru Steven Thomas after reading a book on Biba, the '70s retail monolith that Thomas also designed. The circular space recalls a turntable with its dark vinyl'esque floors and gleaming steel beams, a choice that complements Partouche's rock-n-roll-inspired, super-skinny unisex denim styles and fitted double-breasted blazers. Vintage radios are stashed throughout the displays to further address the line's affinity for beats.
Popularity: 3% [?]
Pairs of experts often complement each other's talents: without his even-keeled son, Paul Teutul Sr. would never complete a chopper, and without Pinky, The Brain would never not take over the world. For gear curated by experts in complimentary aesthetics, hit up Cry Wolf. A tiny, chandeliered EV boutique purveying a rarified array of gear/kicks/accessories, CW's the first shop from a former model and his architect wife — she designs beautiful things, and he is professionally handsome. The natty includes perforated leather bombers from NY's Public School, knee-length shorts and hoodies from Belgium's Junk de Luxe, and jeans from Sweden's Denim Demons — carried nowhere else in the US, they're the perfect cover-up for your terrifying pair of UnderBoos.
CW'll also outfit you in select U.S.-based kicks, from Creative Recreation's leather loafers, to Gram's multi-hued hi-tops, to black wingtips from Morphine Generation (Lazy Boomers). CW also carries rare vintage wayfarers from Cutler and Gross, and mirrored aviators from Italian lensmaker Carrera that're co-branded with Porsche — complimentary experts who will allow you to say you own a Porsche Carrera, even as your MetroCard quietly expires.
Popularity: 3% [?]