Fashion Indie's Top 25 Best Dressed Indies
Vanity Fair released their list. Here is ours!
Top 25 best dressed:
Tavi, the 12- year-old blogger, always takes a dose of fashion daily. Starting at young age, it's clear fashion is in her roots. Embracing her style, the blogger takes a picture daily for all to see her stardom.
Walking off the Gossip Girl set Blake Lively never steps out of her fashion forward character. The actress is always looking trendy and perfectly put together.
Camilla Belle never fails to strut her success with the perfect outfit. Camilla always accessorizes perfectly for her unique outfits.
Taking after her mother, Lourdes Leon never fails to make a statement. It's clear Lourdes is just one step away from becoming the daring icon, who's footsteps she follows.
Zoe Kravitz never fails to impress us with her fashion choices. She's a gal who certainly knows how to accessorize while choosing bright colors to make a statement.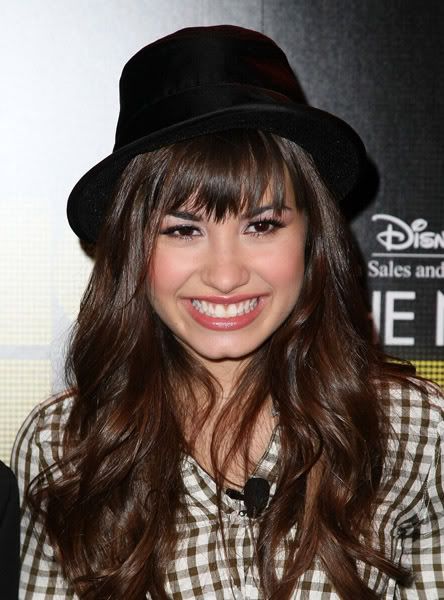 Demi Lovato emerges into fame the right way with fashion at the forefront. Demi always looks dressed to impress with the latest trends, while bringing her personal style to the table.
Katy Perry's fame hit us from the blindspot, but we're not complaining. We like a girl who isn't afraid of expression; Katy's always been a girl who speaks, or sings, her mind; her fashion choices reflect this as well.
Joe Jonas takes no backseat to fashion. The trendsetter is always looking on his game in ties, jackets, and our favorite hats!
Our man Kingston Stefani always has his fashion cap on. Kingston doesn't need Gwen! He's been a trendsetter since day one.
Suri Cruise, the emergin fashionista herself, is always looking ready to strut in her adorable dresses and skirts. I don't think this gal has ever repeated an outfit!
Bijou Phillips doesn't just look style ready in her ad campaigns. The supermodel's always in character with elegant skirts, coats, and our favorite chic dresses.
Emergin teen actress Selena Gomez hits the scene with the perfectly trendy outfits. We love that this girl knows how to dress her age while still keeping her unique sense of style in mind.
Emma Watson has shed her Harry Potter gettup nowadays and she's ready to hit the streets as an icon for current fashions. We think she's doing a good job! Keep the cute dresses coming.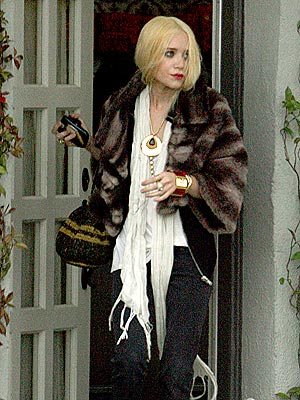 Though Mary-Kate Olsen is often judged for her "out-there" fashion choices, we like that she knows how to make an entrance. She's not afraid of her style and she certainly knows how to put together an outfit.
Jessica Szohr may look simple, but she always looks trendy. The actress is always camera ready with her fashion foot forward.
Taking after his father, Jaden Smith never fails to impress. When the 10-year-old enters a room all eyes are on him because he's the trendsetter.
Known for being self-induldged and overly confident teen on Gossip Girl, Ed Westwick has style with a voice. Talks of Ed's own clothing line are emerging, and if it features his own style, we can't wait!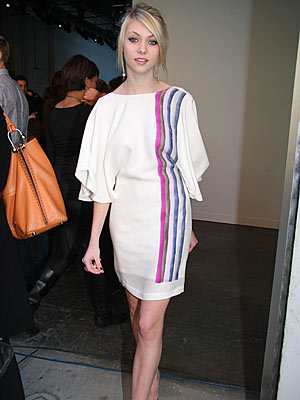 15-year-old Taylor Momsen has stepped into the limelight lately, and she's done so with the right idea. Known as "Jennie" on Gossip Girl, Taylor's always looking fabulous in the perfect variety of dresses that never ends.
Starring in Weeds, Hunter Parrish doesn't ever forget where the cameras are. Hunter's always looking great in suits, jackets, and colors that work wonders.
Coming close to the release of her new movie, Alexis Bledel is looking better than ever! The actress has been seen in a vartiety of elegant dresses looking red-carpet ready constantly.
Being Leo Dicaprio's girlfriend certainly has its perks. Now, not only does the supermodel have the camera on her during shoots, she has the camera on her nearly all the time. Bar Rafaeli keeps her style alive as she pursues a unique spin on popular trends that always turns out on a positive note.
Becki Newton certainly knows how to accessorize. The actress loves her dresses and numerous styles of shoes, which she brings to the red carpet in confidence.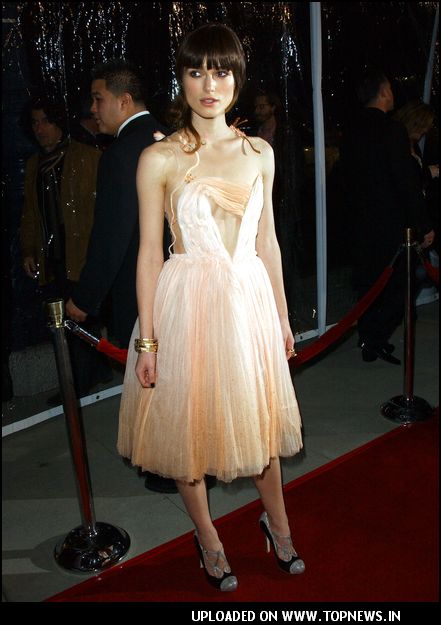 Keira Knightley knows what it's like to be famous on two fronts. Keira's not only known for her acting talents, but she's a fashionista in her own right. Keira loves her elaborate dresses, and so do we! She's always in iconic character.
Designer's daughter on Gossip Girl, Leighton Meester certainly follows up her character's fashion choices in real life. Leighton always picks the right ensemble.  Whether its pencil skirts with heels or chic dresses with the perfect handbag, Leighton never fails to impress
Top 15 Worst Dressed:
"Do, Do You Got A First Aid Kit," for her face! This Danity Kane singer is always wearing to much makeup and not enough clothes. Aubrey O'Day used to look good, but she has really been a tranny mess of late.
Amy Winehouse used to be such a cute innocent girl from England. She used to dress well, and fairly conservative too. Now she is a cracked out drug and alcohol abuser who spends more time "powdering her nose" than getting dressed (if she event puts clothes on).
She started out as a "Heroine Chic" hipster forerunner. Now Cory Kennedy is just a heroine user who just blends in with all the Williamsburg hipsters. She has become surprisingly unoriginal, and could seriously use a shower.
I can't stand the fact that Rihanna is tricking the impressionable minds of the American youth that leather leggings are fashionable. We give her props for trying to support smaller indie designers, but when you look like that you're almost giving them a bad rep. Let us not forget that week span where she was photographed wearing the same outfit everyday.
What did we really expect from the offspring of a professional wrestler and 2008′s cougar of the year. I think it is safe to say Brooke Hogan doesn't know best.
Kim Kardashian has really lived up to her sex tape making reputation by continuing her slutty appearance off camera. You know your dad always says how you may give the wrong impression to guys with the way you dress? Well this is what he was talking about.
There is someting ironic about dressing like a tough rocker and then proceeding to threaten transexuals like Trace Cyrus does. If you were ever confused on what an "emo" kid looks like, well here is your answer. I personally have never had problems with tattoos, but facial piercings are a totally different story.
I thought we were over the guy liner and flat ironing our hair phase, but Pete Wentz just won't let it go. Not that I don't occasionally enjoy wearing a comfortable hooded sweatshirt. But when thats all you wear and you always have the hood up, it gets old fast. Lucky for him his wife isn't the sharpest tool in the shed, or she might force him to change his look for once.
Is it bad that "Little Miss Sunshine" makes me want to puke every time I see her? Yes, she may be twelve but regardless Abigail Breslin dresses like crap. We live in a decade where twelve year old girls are supposed to look eighteen, and well it's no fun when you actually look twelve. Can someone say stylist?
When you are following in the footsteps of Cory Kennedy (who is already on this list), what did you expect? You are a wannbe hipster who spends your C-list celebrity paycheck on coke and alcohol. Oh and the OC wasn't even that good! Guess this is what happens when you have to go back to shopping at Urban Outfitters because your career is over.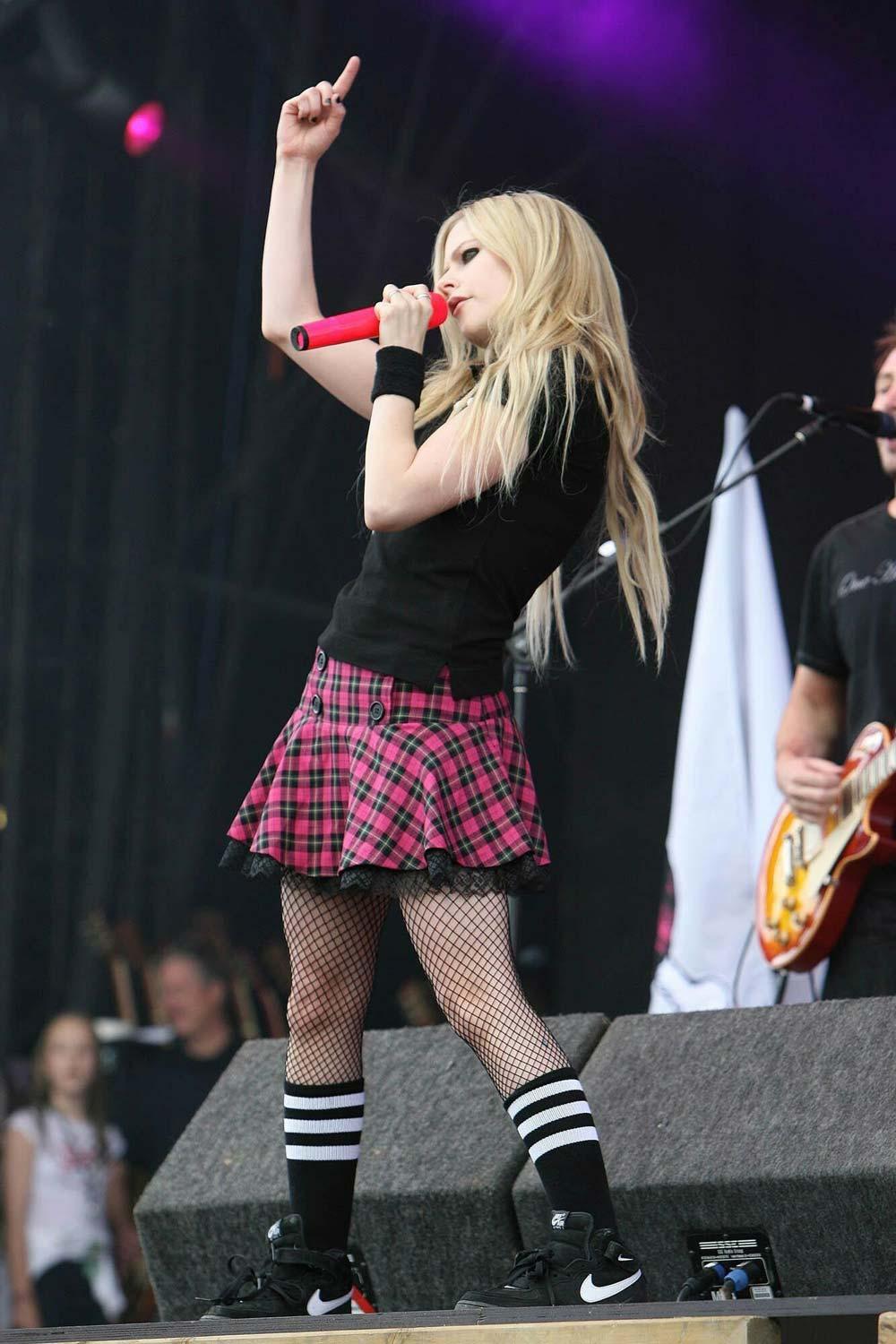 This Canadian punk wannabe, Avril Lavigne, should be deported immediately. The pink, black and white color scheme was done years ago, right along with pink streaks in your hair. You tour is doing terrible and so is your stylist.
Sam looks decent for a guy, but still not even that good. We are over the whole fedora and high top sneakers everyday. I would pay to see her in a dress, but I guess one of them had to be the man of the relationship, and it seems like Lindsay wouldn't give in.
Since her boy toy Spencer came out and said how he gets paid to go places and gets all this free stuff, we can't help but think that the disgusting clothes Heidi wears were free. Heidi is exactly what fashion shouldn't be. Her style is terrible and as fake as her chest…and nose…and hair color…and reality show!
Well Tila Tequila does dress right for the job of being the biggest MySpace whore of all time. She is the only one with bad enough style that both guys and girls don't want to date her.
This self proclaimed "trendsetter" couldn't be any further from that in my eyes. When you show up to red carpet events in graduation gowns and turbans claiming to be fashionable you know you have a problem. You know you aren't looking so good when every other poorly dressed person on this list is complimenting you, and every one on the best dressed list is laughing at you from a distance. I will say his best accessory is his little "mushroom cut" rocking friend Anna Wintour, but only because it dumbs down his awfulness. Fashion should be different and outlandish at the time, but practical at the same time. Andre doesn't have that.
*Commentary on our worst dressed is courtesy of Corey Moran.. so hate him!