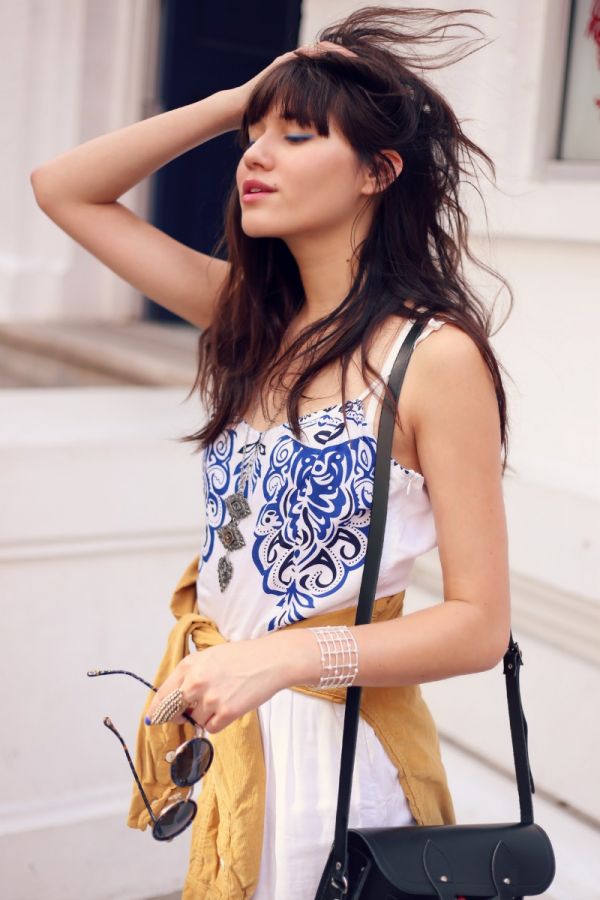 (MLM the label dress, Civilianaire corduroy shirt, Sseko sandals, The Cambridge Satchel Company handbag, RAEN sunglasses, Adore Me white bra, BOERA knuckle ring, Grandmother's Buttons necklace, IPPOLITA diamond silver cuff)
There's something about this blue eyeliner. I just got it, and some how it reminds me of a water creature...a dolphin...and I love how it compliments anything SUMMER. So subtle, yet still brightens up my whole face. Blue eyeliner...and DIAMONDS on my wrist?! It's quite the mix and I'm loving it. I'm thinking by end of fashion week, I'll sneak away for a really nice beach escape, where I can wear any color of the rainbow and a bikini. Where anything goes. These past few weeks, there's just been so much going on. I have been getting home past 10pm nearly every night here in the city, and finally I escaped to the family home of my boys at Modern Vice out on the island for the weekend. Swimming, diving in, and showering under the mini waterfall felt so refreshing. So yes, the weekend has consisted of some needed R&R, a night out with H&M to a Beyonce concert, and tearing when she sang Whitney Houston's "I will Always Love You." One song that always makes me cry. SO embarrassing. Anyways, here I am snapped by Dylana after a really long week where we wanted to just get boba and CHILL (something I need to make more time for here.) A white dress, corduroy shirt, and sandals that allow you to wrap your feet any which way (talk about rad!) Paired with some of my favorite jewelry...from vintage Grandmother's Buttons to a gorgeousdiamond cuff by the lovely IPPOLITA. I mean, diamonds ARE a girl's best friend. I surprised my boyfriend with my blue lids during dinner. He said he liked it way more than black. Score.
Oh, and notice that little demi bra shown here?! Tonight I'll be at Adore Me's FIRST Google HANGOUT! RSVP here and tune in tonight at 7:30-8:30 PM EST as I chat about all my favorite LINGERIE! Here is my favorite set here!

Follow all my upcoming adventures on
Instagram
! Next week? LA!