Get Punked. How to DIY a Beaded Cluster Bouquet Ring.
May 31, 2013 - by Ms. Fabulous
Did you have a chance to see the Metropolitan Museum of Art's Punk: Chaos to Couture exhibit yet? I wanted to add a little something inspired by the studded embellishments I loved from Vivienne Westwood's punk fashion. I thought a quick, beaded cluster bouquet ring was an easy project that anyone can do in an hour.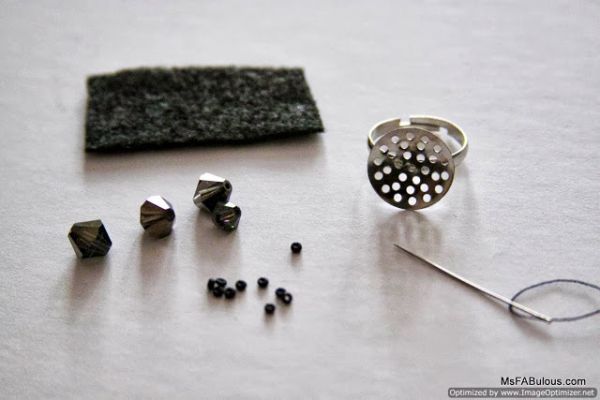 You will need:
Multiple hole ring backing
Beading Needle + Thread
Bi-cone beads in various sizes.
Small seed beads
Tiny piece of felt


You can find most of this stuff at your local craft store or bead store.
When I'm lazy, I can find a lot of things on
Ebay
or Amazon
You will start by cutting a small circle of felt that is about the size of the base of your ring. Knot the end of your thread and start stitching the bicone beads to the felt, topped with the seed bead. Make sure you draw you needle through the holes at the ring base and stitch though another hole when you come up.
Repeat with different beads or different sizes to create a clustered, bouquet effect.
When you have enough beads for your bouquet, knot off the thread on the underside of the felt.
There you have it! Now go forth and bead...