#INDIEinMiami Chapter 1 #MBFWSwim
Jul 19, 2013 - by INDIE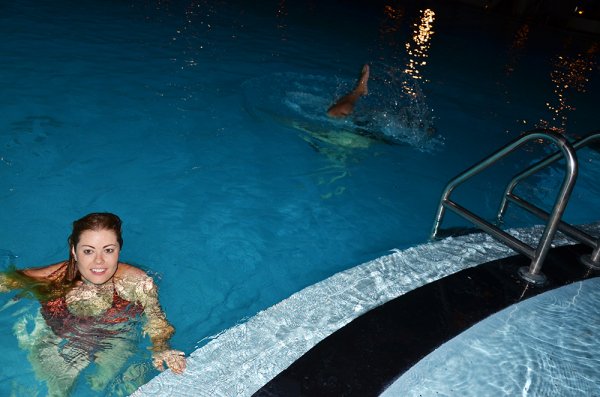 I landed in Miami Wednesday night, #TeamIndie in tow, excited and ready for another season of SWIM.
We hit up Walmart, the only place with wine at 2AM, and picked up a few bottles of Cupcake Winery, downed a few bottles, and passed out in anticipation of the next day.
In the morning, I read Racked's Kerry Folan's take on Miami Swim's impending circus, and headed to The Raleigh Hotel to check in and get ready for poolside adventures (they keep it open 24-hours a day, so midnight swims were a must).
In the room I was greeted with a W Magazine, fresh orchards, a fruit basket and a note that was addressed to Mr. Alexander Beca. It's surprising how often I'm mistaken for a dude since officially changing my name.
A few hours of answering emails and finalizing nominees for the Socialyte Gala, I threw on a dress from RTR, a service that has saved me from having to constantly invest designer for appearances. They provide return labels, so when ever I travel I can easily ship out the items, while filling my suitcase with new things I've bought on my trips.
My Indiegram followers told me to rock out with my frock out in this Emma Cook paradise print mini shift. For a moment I was freaking that my fake bake would have rubbed off on the dress, but Tribeca Beauty Spa has a process that doesn't bleed on your linens. They rub self tanner on you after a good scrubbing instead of spray, which is more natural and gives you a streak-free tan with longer lasting color. My skin is so sensitive, so I was happy to finally find a treatment that gives me a glow without the burn or an allergic reaction. While mentioning TBS, I'd also highly recommend their facials, they offer one of the best I've ever experienced in NYC.
I paired the Emma Cook dress with my favorite shoes by Isabel Toledo for Payless, honestly, if they ever die, I don't know what I'd do, they've been a staple in my wardrobe for about 3 years now. For accessories, the sultry sis's from Tuleste gave me ample amount of items for the trip, and since I'm obsessed with their star collection, I added a gold necklace with matching earrings and cuff.
Yellow gold was the theme, so I added my new Michele diamond watch from their Serein collection, which has officially replaced my Cartier Ronde Solo as my daily timekeeper of choice. I've wanted one for so long. I feels good to have some weight on my wrist. I finished the look with a DVF cross-body.
Opening night of Mercedes-Benz Swim Week, held poolside at The Raleigh, was a pop dance party for Roxy hosted by Chelsea Leyland. A Mara Hoffman designed Benzy greeted guests at the entrance while liquid libations kept the crowd twisted. We hung out for a few hours, running into the local lovelies like Daniella from Nanys Kloset, Kristin of Living In Color Print and Ria Michelle, who updated us on where to be through the week. After ogling girls with zero body fat, we headed over to the SLS for an after party and fashion show.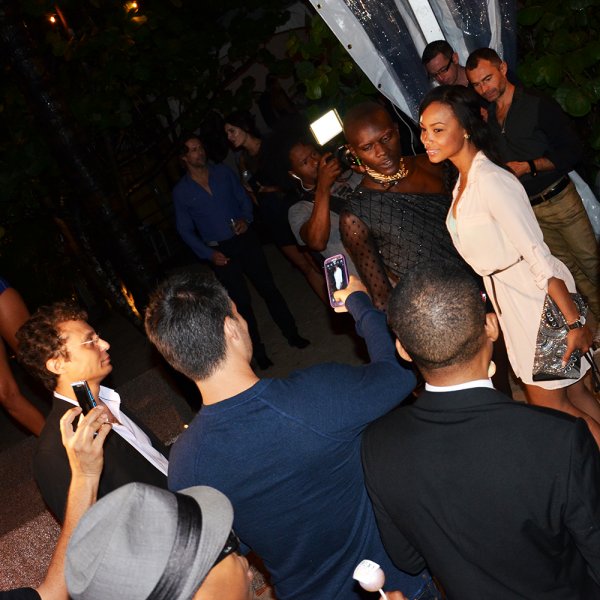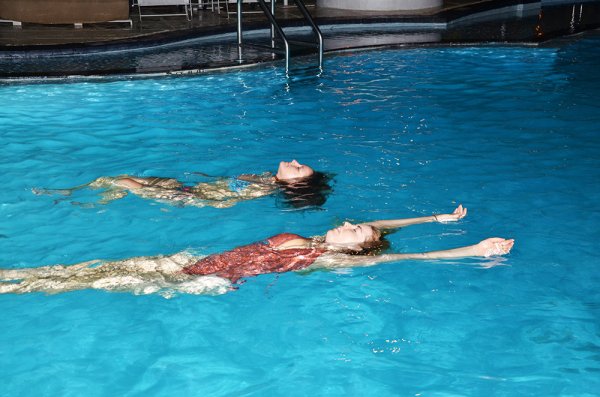 Milking it for the camera.
Hanging with Mara Hoffman.
A runway was built on top of the pool, and models wearing smiles and few strips of fabric strutted their stuff. After, a quick stop at the Ocean Drive Magazine party, the team unanimously decided it was time for a late night swim.
After a quick change, and a few shots at the bar, and we jumped in to the heated water, a starlit sky above us and no one in sight. We ended up in bed at 4:30AM, it's been a while since I partied like a 17 year old...thank you Miami for bringing out the party animal within!!!