An Indie in Miami
Jul 31, 2013 - by INDIE
Can I just say again how much I LOVE Miami...because I do!
It is a beautiful paradise, a perfect escape from NYC, a quick hop, skip and flight away from a relaxing beach where you are surrounded by beautiful people (most of who tend to be topless).
On day three of Swim Week, team INDIE headed to The Standard Hotel to celebrate Pavan Liqueur hosted by one of my favorites, Daniela of Nany's Klozet. The view from the hotel pool deck was incredible since the property sits on a private island (public islands are just so middle class). I could simply sit and stare out into the water for hours, especially with a Pavan Sangria in my hand.
My days in Miami were magical. They were filled with sunshine and getting dressed for daytime festivities. I chose to focus on accessories because when it's 90* outside clothing become limited (as in you want to wear as little of them as possible). As a NYC girl, shoes were my first focus (I think Carrie Bradshaw made a point of this throughout Sex & the City) and I chose Mara & Mine spine sandals. Then came the handbag and jewelry. I had to rock my Mugler bag (no reason necessary, it's a Mugler bag). For my jewelry choice, I went with the HEET cuff, a piece that not only matches everything but goes perfectly from day to night and compliments the Cartier Ronde Solo on my other hand (my baby).
Wearing: Printed H&M shorts, Equipment Blouse, Victoria's Secret Bra, Mara & Mine sandals, Nicole Formichetti for Mugler Bag (currently on sale on ShopBop), Cartier Watch, and HEET Cuff.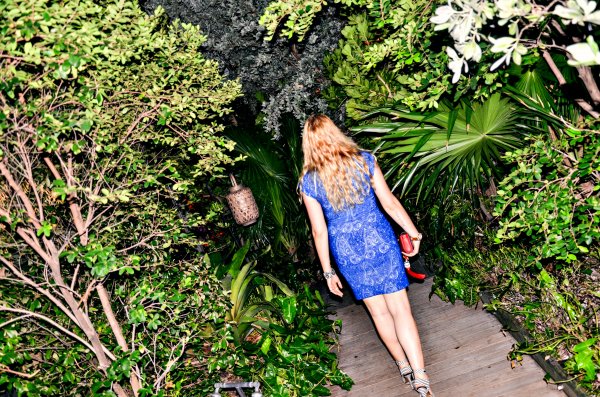 After a quick stop back at my home away from home, aka the Raleigh Hotel (aka heaven), I quickly changed into another dress rented from RTR (so convenient for traveling). This dress hugs my body in all the right places (or so says my husband).
Next stop on the itinerary was the Soho Beach House for my favorite presentation at Swim Week, the Chloe Runway Show. It was held on top of the pool surrounded by hundreds of people trying to get a glimpse of the incredible collection worn by the most beautiful models. I was lucky enough to stand with the photogs on the media riser, which gave me access to the best seat in the house (thank you press pass).
Accessories for the evening include my favorite shoes from Isabel Toledo, DVF clutch, HEET cuff, and Michele Diamond watch.
Jealous of my trip? You should be! In fact I would be if I were you, but I am not trying to rub it in. Actually my dear friends at The Raleigh have graciously offered an amazing deal for my INDIE followers. When you purchase one night, you get the second 50% off! Take advantage ASAP! Seriously...now...do it!