The Perfect Base: BLK DNM + White Tee
Aug 13, 2013 - by INDIE

I'm celebrating finally fitting into my "skinny bitch" jeans by showing you three ways to style two closet staples, a pair of black jeans and a white tee.
I'm currently gluten free, a 'trend' my friend Masha laughs at, and constantly tells me which food items I'm currently consuming at dinner that are not gluten free AFTER I've eaten them. So, I've lost a few pounds and was able to hold my breath long enough to squeeze into my BLK DNM high waisted skinnies, a pair of jeans that have held a spot for far too long, mocking me every morning from an eye-level shelf in my closet.
To celebrate this momentous occasion, I'm going to be wearing these BLK's pretty much everyday until my mensies comes back. I put three distinct outfits together wearing the newly fitting jeans with my fave white tee from True Religion. Each outfit was paired with a jacket, shoes, and jewelry and each outfit could easily take me from day to night with a touch of bright lipstick.
Look 1: Club Monaco Karina blazer (on sale for $89), Kara Ross necklace ($475), Kurt Geiger shoes, BCBG bag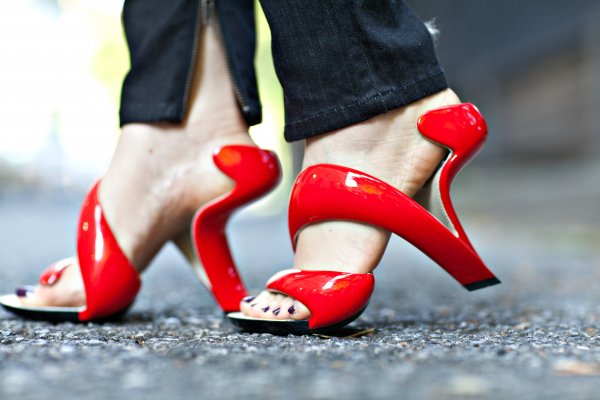 Look 2: Moschino Cheap & Chip Tuxedo jacket (found in the men's department), Kara Ross necklace, Julian HakesMojito shoes, Tous bracelet, Miriam Salat ring ($275), and vintage camel brooch.

Look 3: Vintage sequin jacket, Maison Martin Margiela Candy Wrapper clutch, Marc Jacobs shoes ($995), Kurt Geiger sunnies.
Photos by Lydia Hudgens